John Blaxland on the Re-Focus on Australia's Direct Defense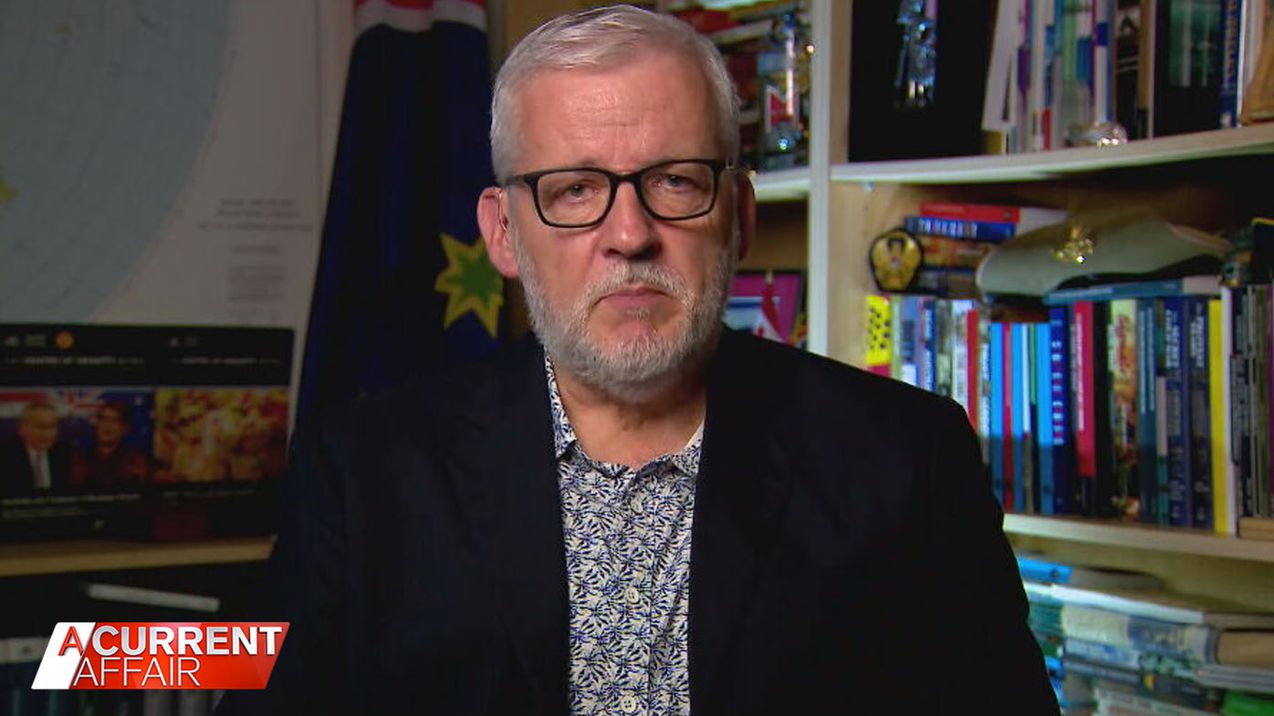 Recently, my colleague John Blackburn and I met John Blaxland who is currently Professor of International Security and Intelligence Studies at the Australian National University. Blaxland has had a distinguished career in the ADF and in government, and his resume can be read at the end of this article.
We discussed a number of issues affecting the way ahead for the ADF, but none more importantl than the question of determining what the defense perimeter for Australian direct defense is and how best for the ADF to operate in that strategic space.
We focused on what we agreed most logically defined the defense perimeter: Operations from the continent to Australia's first island chain, which is outward from the continent to the Solomon Islands and across to Papua New Guinea, Timor L'este and Indonesia.
This is how Blaxland defined how to shape an approach for this strategic space with the ADF operating an appropriate maneuver force supported by appropriate infrastructure in Northern and Western Australia which could support such a force.
"We need to be mindful of our history and our geography and our neighborhood is a neighborhood with a history of violence. When we faced existential challenges in the past, we have had to forward deploy into the island chain to Australia's north."
He argued that the initial efforts to project such a force did not work out all that well in the early years of World War II but by 1944, Australia had sorted out a more effective capability to operate outward into the first island chain. He noted: "when we faced an existential crisis in 1942, it came through the archipelago, through Indonesia, through Papua New Guinea and the Solomon Islands.
"That is increasingly contested space today, and it's all the more important that we invest in a strategy that capitalizes on the relationships with those countries in the archipelago. From a force structure point of view, that means actually thinking about how we structure our forces to enable deployment in that space and to operate alongside the neighbours, but in a contested environment."
As a former Army officer, he discussed how he saw the future of the Army working with the joint force in the strategic space defined by operating form the continent to the first island chain.
He argued that defense diplomacy coupled with an enhanced ability of the Army to operate forward in support of the air and sea forces was critical.
To project air power at range likely would require maintenance of lilly pad-like forward operating bases for which a ground force has an important defensive role – including capabilities that would ensure overmatch against a would-be adversary – including mobile, protected armored platforms with the ability to reach out and touch someone at range.
With regard to defense diplomacy, this is what he underscored: "We have for the last two decades basically been distracted by operations in the Middle East, what I call our niche wars in Afghanistan and Iraq.
"We've dropped the ball in terms of building relationships, understanding the culture, the language, the people, the networks in our neighborhood. We are starting to reinvest in that space, but we've got a long way to go.
"Very few of our seniors and our middle level commanders and managers speak the relevant languages, for example."
He underscored that "we have designed a force to plug and play with the Americans, but that is not what we need for the future.
"Interoperability with the Americans remains important for sure, but Australia needs to be able to conduct its own operations in the neighborhood in a self-reliant manner, as well as alongside neighbours."
What this also means is that Northern and Western Australia need to see significant infrastructure development to sustain and operate such a force. And frankly, this is a whole of government issue, and not just about what the Department of Defence can fund.
Such a shift towards enhanced capabilities for direct defense of Australia clearly has implications for core allies like Japan and the United States.
Blaxland argued that "the best thing we can do is make Australia more self-reliant, more resilient, more able to defend its own turf, and collaborate with neighbors to defend our common strategic space."
"If Australia provides a firm base, and if we have a leavening effect on our own neighborhood, then that takes away the stress of planning for others who might be thinking about other contingencies, and a key point to my mind is this is all about deterring war, deterring the prospects of war.
"We need to dissuade adventures from competitors and would-be adversaries while being reared to fight and win when deterrence fails."
John Blaxland is Professor of International Security and Intelligence Studies in the Strategic and Defence Studies Centre (SDSC), Coral Bell School of Asia Pacific Affairs, College of Asia and the Pacific at the Australian National University (ANU).
John holds a PhD in War Studies from the RMC of Canada, an MA in History from ANU and a BA (Hons 1) from UNSW. He is a graduate of the Royal Thai Army CSC (dux, foreign students) and the Royal Military College, Duntroon (Blamey Scholar). He has extensive experience in the intelligence community including as the principal intelligence staff officer (S2) for the Australian infantry brigade deployed to East Timor in September 1999, as an intelligence exchange officer in Washington DC, and as Director Joint Intelligence Operations (J2), at HQ JOC.
In addition, he was Australia's Defence Attaché to Thailand and Myanmar.  At ANU, he teaches undergraduate students "Honeypots and Overcoats: Australian Intelligence in the World"; and "Southeast Asia's Security Choices" New Colombo Plan Mobility Course.
He is a Senior Fellow of the Higher Education Academy and a Fellow of the Royal Society of New South Wales. At ANU, he teaches "Honeypots and Overcoats: Australian Intelligence in the World" and supervises several PhD students.
He lectures regularly at the ANU National Security College (on the Geostrategic SWOT Analysis for Australia) and Australian Defence College (including the Defence and Strategic Studies Course, Command and Staff Course, Australian Defence Force Academy and Royal Military College, Duntroon).
He also addresses conferences and workshops on security in Australia (RUSI, U3A, Army Research Centre, Seapower Conference, etc) Malaysia, Korea, Thailand (Thammasat, Chulalongkorn and military academies), the Philippines, Taiwan, UK (Kings College London), the USA (Minerva, CSIS, East West Centre, etc) and Canada and offers commentary with The Australian Institute of International Affairs, The Guardian, The Age & Sydney Morning Herald, Canberra Times, The Australian, The New York Times, Bangkok Post, The Straits Times, The Jakarta Post, Asia Times, Australian Foreign Affairs, The Conversation, The Saturday Paper, Lowy Interpreter, The Mandarin, East Asia Forum, SCMP, World Politics Review, The Diplomat, Policy Forum, The RAND Blog, Voices of War, Security Challenges, The Australian Army Journal, Defence Connect and the Journal of Global Strategic Studies.
He also occasionally offers comments on television and radio including on the ABC, BBC, CNN, SkyNews, TRT World, Arirang, WION, France24 and CNA.
Some of his recent articles include:
John has also published articles and chapters in edited works on drones, leadership, intelligence, Second World War intelligence arrangements, Australian Army infantry, US-Australia security ties, Australia-Canada military relations, Defence Cooperation in Asia and Southeast Asian security.
His monographs include The US-Thai Alliance and Asian International Relations, (2021), Niche Wars: Australia in Afghanistan and Iraq (ANU Press, 2020), In From the Cold: Reflections on Australia's Korean War, 1950-1953, (ANU Press, 2020), A Geostrategic SWOT Analysis for Australia (SDSC, ANU, 2019), MANIS: Time for a new forum to sweeten regional cooperation (SDSC, ANU, 2016), The Secret Cold War: the official history of ASIO, Vol. III (Allen & Unwin 2016), The Protest Years: the official history of ASIO, Vol., II (Allen & Unwin, 2015), East Timor Intervention: a retrospective on INTERFET: (MUP, 2015), The Australian Army from Whitlam to Howard (CUP, 2014), Strategic Cousins: Australian and Canadian Expeditionary Forces and the British and American Empires (MQUP, 2006), Revisiting Counterinsurgency: A Manoeuvrist Response to the 'War on Terror' for the Australian Army (Duntroon, Land Warfare Studies Centre, WP No. 131, 2006), Information Era Manoeuvre: The Australian Led Mission to East Timor (LWSC WP No. 118, 2002), Signals: Swift and Sure (Signals Committee, 1998), & Organising an Army: The Australian Experience 1957-1965 (SDSC, ANU, 1989).
Sources: https://researchprofiles.anu.edu.au/en/persons/john-blaxland and https://researchcentre.army.gov.au/about-us/contributor-biographies/john-blaxland