Lt. General (Retired) Klaus-Peter Stieglitz on the German Defense Reset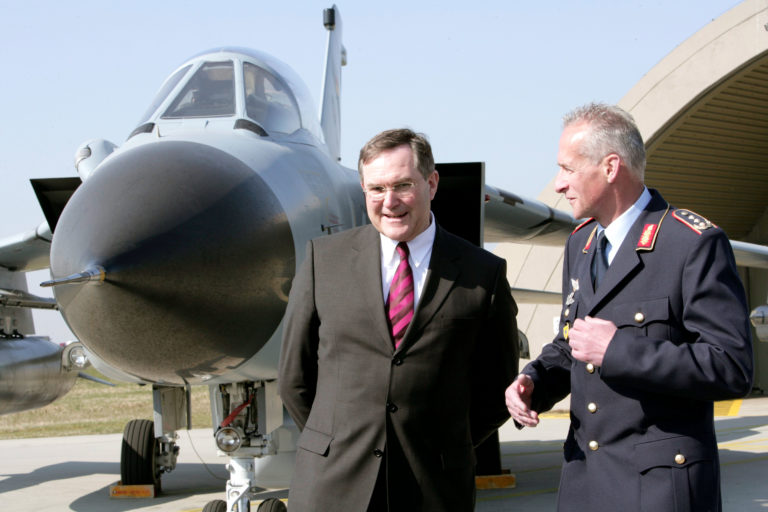 Shortly after the Chancellor of Germany's announcement on increased defense spending, I talked again with Lt. General (Retired) Klaus-Peter Stieglitz about this decision to change course on defense and security. I first had the opportunity to meet Lt. General (Retired) Klaus-Peter Stieglitz, a former German Air Chief, last Fall in Berlin at the International Fighter Conference.
During my visit to Germany in February 2019, where I was continuing my look at the challenge of building a 21st century approach to the direct defense of Europe, I had a chance to meet with him again, this time in Bonn, to discuss the challenges facing a German reset on direct defense.
According to my discussion with Stieglitz during the visit to Bonn in 2019: "The strategic environment has changed and requires Germany, a nation in the heart of Europe with more than 80 million people, to pay it's fair share for the collective defense and to shape and focus on a force appropriate to the new situation.
"Obviously, the new defense effort requires more money. This is starting to happen.
But we are facing a significant rebuild given the state of readiness of the force today and the need to repair that force.
"Just undertaking the repair of todays state of readiness will make the Bundeswehr a construction site for the next years. We are almost back to 1955 when we had to build a new Bundeswehr.
"Our rebuild for the new strategic environment today is as significant as during these early years of the Bundeswehr. And all that happens after decades enjoying a peace dividend, where savings certainly have not been spent within the Bundeswehr."
"But money alone is not enough. We are talking about changing the focus and building a 21st century defense force which can play its role at the heart of Europe."
Unfortunately, not much progress has been made since that conversation.
But has Stieglitz put it in our recent discussion in the midst of the Russian invasion of Ukraine, there is a decisive shift in Germany now to make this happen.
He underscored that "The German chancellor in day 3 of the Russian invasion, announced a major shift in German defense policy. Not only was new money generated for the Bundeswehr, but a new attitude was expressed towards the priority upon defense."
He also noted that German companies were now leaving Russia and the Nordstream II pipeline stopped. He added: "I don't see such a project getting support in the future. There is a new attitude and a new approach."
"We are now discussing and will procure weapons systems which the German forces are missing very badly. Those steps will be taken in the next few weeks and months. But the really key point is the decisive action by the Chancellor and the government towards Russia and the focus on the defense of Europe and the forces for the NATO alliance.
"We have a new situation in Europe since the invasion. The war from the Russian side with the support of Belarus is a decisive change for Germany and for Europe.
"The government deployed German fighter aircraft to Romania. We will support the Baltics with air defense. We will strengthen the German ground deployment in the Baltics.
"We will enhance our role in safeguarding the airspace of Europe to the East. These steps have already been taken within the past few days. And this is in stark contrast to what Germany did after the 2014 Crimean takeover by Putin."
With Lt. General (Retired) Klaus-Peter Stieglitz's core emphasis on the Chancellor's announcement and his focus on that statement being an important turning point, let me turn to what the Chancellor indeed said in his policy statement of February 27, 2022.
The Chancellor underscored that the Russian attack on Ukraine means that "we have entered a new era." He clearly warned Putin to not threaten NATO states with a direct attack.
"President Putin should not underestimate our resolve to defend every square metre of NATO territory together with our allies!
"We are absolutely serious about this. When we welcome a country into NATO, we commit to defending that country as a partner and ally. Just as we would defend ourselves!
"The Bundeswehr has already bolstered its support for our eastern allies – and will continue to do so. I thank the Federal Defence Minister for this important gesture!
We have deployed additional troops in Lithuania, where we lead the NATO battlegroup.
We have extended and enhanced our participation in air policing in Romania.
We want to contribute to the establishment of a new NATO unit in Slovakia.
Our navy is helping to secure the North Sea and the Baltic as well as the Mediterranean with additional vessels.
And we are also prepared to contribute to the defence of our allies' air space in Eastern Europe using anti-aircraft missiles."
"The page has been turned and Putin's real agenda is clear to Europeans."
As the Chancellor said: "Anyone who reads Putin's historicising essays, who has watched his televised declaration of war on Ukraine, or who has recently – as I have done – held hours of direct talks with him, can no longer have any doubt that Putin wants to build a Russian empire.
"He wants to fundamentally redefine the status quo within Europe in line with his own vision.
"And he has no qualms about using military force to do so. We can see that today in Ukraine.
"We must therefore ask ourselves: What capabilities does Putin's Russia possess? And what capabilities do we need in order to counter this threat – today and in the future?
"It is clear that we must invest much more in the security of our country. In order to protect our freedom and our democracy. This is a major national undertaking. The goal is a powerful, cutting-edge, progressive Bundeswehr that can be relied upon to protect us.
"At the Munich Security Conference a week ago I said that we need aeroplanes that fly, ships that can set out to sea and soldiers who are optimally equipped for their missions. That is what is important. And it is quite certainly something that a country of our size and our significance within Europe should be able to achieve.
"But we should be under no illusions. Better equipment, modern technology, more personnel – all of this costs a lot of money. We will therefore set up a special fund for the Bundeswehr. And I am deeply grateful to Federal Finance Minister Lindner for his support on this! The 2022 federal budget will provide a one-off sum of 100 billion euro for the fund. We will use this money for necessary investments and armament projects.
"We will now – year after year – invest more than two percent of our gross domestic product in our defence. And I now appeal to all parliamentary groups within the German Bundestag: We must secure this special fund in our Basic Law!
"There is one thing that I would like to add. We have set this goal not only because we have made a promise to our friends and allies to increase our defence expenditure to two percent of our economic output by 2024. We are also doing this for us, for our own security.
"In the awareness that the Bundeswehr alone does not have the means to contain all future threats.
"We therefore need strong development cooperation. We will therefore strengthen our resilience – in terms of technology and as a society – for example against cyberattacks and disinformation campaigns, against attacks on our critical infrastructure and channels of communication.
"And we will keep pace with new technology. This is why it is so important to me, for example, that we build the next generation of combat aircraft and tanks here in Europe together with European partners, and particularly France. These projects are our utmost priority. Until the aircraft are operational, we will continue to develop the Eurofighter together.
"Another encouraging development is that the contracts for the Eurodrone were finally signed this week. We are also pushing ahead on the purchase of the armed Heron drone from Israel.
"And with regard to nuclear sharing, we will procure a modern replacement for the outdated Tornado jets in good time.
"The Eurofighter is set to be equipped with electronic warfare capabilities.
"The F-35 fighter jet has the potential to be used as a carrier aircraft.
"And finally, ladies and gentlemen, we will do more to guarantee a secure energy supply for our country. The Federal Government has already initiated one important measure to address this.
"And we will change course in order to eliminate our dependence on imports from individual energy suppliers.
"After all, the events of recent days and weeks have shown us that responsible, forward-looking energy policy is not just crucial for our economy and our climate. It is also crucial for our security. This means that the faster we make progress with the development of renewable energies, the better. And we are on the right track. We are an industrialised country aiming to become carbon-neutral by 2045!
"With this goal on the horizon, we will have to take major decisions. For example, on building up a reserve of coal and gas. We have decided to increase the amount of natural gas in storage via long-term options to two billion cubic metres. Furthermore, we will acquire additional natural gas on the world markets – in consultation with the EU. And finally, we have made the decision to rapidly build two LNG terminals in Brunsbüttel and Wilhelmshaven. I would like to expressly thank Federal Economics Minister Habeck for his efforts to facilitate this!
"Our current short-term needs can dovetail with what is already needed long-term for the transformation to succeed. An LNG terminal that today receives gas can tomorrow be used to import green hydrogen. And amidst all this, we will of course not lose sight of the high energy prices. They have now been driven up yet further by Putin's war.
"This week we have therefore agreed on a relief package, which includes lifting the surcharge under the Renewable Energy Sources Act by the end of this year, as well as an increase in the commuter tax allowance, a heating subsidy for low earners, subsidies for families and tax relief measures. The Federal Government will act swiftly to set these in motion. Our message is clear. We will not leave individuals and businesses to face this situation alone.
"Ladies and gentlemen, this watershed does not just affect our country. It affects all of Europe. And this, too, is both a challenge and an opportunity. The challenge consists in strengthening the sovereignty of the European Union sustainably and permanently. The opportunity lies in preserving the united front that we have demonstrated in recent days in agreeing the sanctions package.
"For Germany and for all of the EU's other member states, that means not simply asking what they can extract in Brussels for their own country. But asking: What is the best decision for our Union? Europe is our framework for action. Only when we understand that will we prevail over the challenges of our time."
We closed our discussion by this thought – perhaps the Russian invasion of Ukraine is as decisive a moment in the minds of the new generation of Germany as it was for the German and European generations at the time of the Berlin Airlift.
Lieutenant General (ret) Klaus-Peter Stieglitz was Chief of Staff, German Air Force from 2004 to 2009.
Lieutenant General Stieglitz joined the Luftwaffe in October 1968 and commenced officer training, followed by pilot training in the USA to become a fighter pilot. During his flying career he has accumulated more than 3.600 flight hours, mostly on combat aircraft, i.e. the F-104 Starfighter, F-4F Phantom, Mig-29 and Eurofighter/Typhoon. In 1981 – 83 he attended the German Armed Forces Staff College.
During his career he held numerous national and international staff and command positions, i.e. squadron commander, group commander, commander of a fighter wing, staff officer within the German MOD, staff officer at NATO Headquarters SHAPE, Belgium, commander of the NATO AWACS Component, Director Flight Safety of the German Armed Forces, commander of a German Air Division in Berlin and Deputy Commander NATO Air Forces Northern Europe, Ramstein.
In his last assignment he was Chief of Staff of the German Air Force from January 2004 to October 2009. Today he is engaged as senior advisor and consultant.
The featured photo shows the day when the Tornado bombers of the German Air Force are sent to their mission to Afghanistan.
Franz Josef JUNG l CDU federal minister of defence is together with general Klaus Peter STIEGLITZ/
April 2, 2007.
Credit: Alamay.