Romanian Defense Modernization: Frigate Upgrades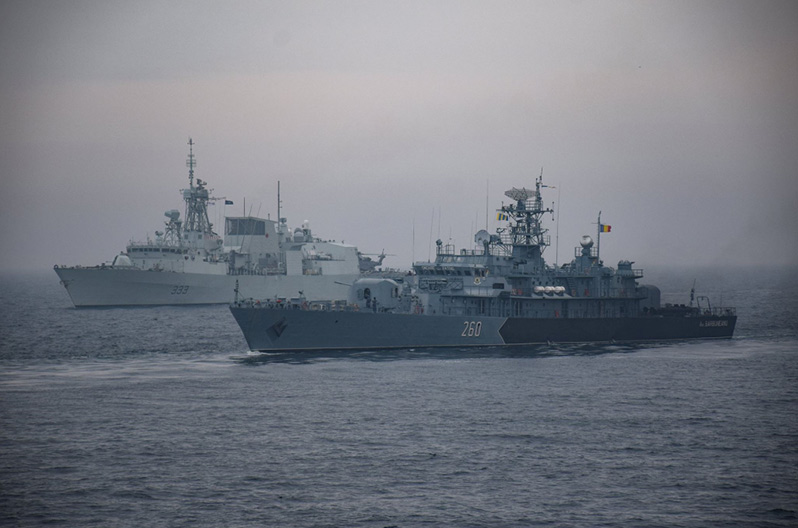 Paris – Romania has picked for contract talks Naval Group (NG) and its local partner to supply four Gowind multimission corvettes and upgrade two Type 22 frigates in a deal worth €1.2 billion ($1.4 billion), the French armed forces ministry said.
"The first corvette will be delivered by 2022, the value of the contract (four deliveries and two upgrades) is €1.2 billion," the ministry said in a July 3  statement.
The selection follows  a competition and includes setting up training and service centers.
Negotiations to close the deal are expected to take a few months, an industry source said.
The two Type 22 frigates are former Royal Navy warships bought from the UK.
The Romanian selection "will have a positive economic impact" and support more than 400 jobs for Naval Group over the next five years, the ministry said.
That boost for the French economy and employment can be seen as the government's attempt to calm concerns over jobs, as the warships will be built by the Romanian partner, Santierul Naval Constanta (SNC), at a shipyard at Constanta on the Black Sea.
Paris has agreed to transfer technology to allow SNC to build, assemble and service the ships.
Naval Group formed June 14 a joint venture with SNC to back its bid for the corvette deal.
Armed forces minister Florence Parly tweeted France winning the Romanian deal, signifying European cooperation, industrial excellence, employment and support for European defense.
NG pitched its Gowind warship equipped with Setis combat management system, Thales sonars and MBDA Mica-VL and Exocet missiles, the ministry said.
That French offer beat a rival offer worth €1.25 billion from Dutch rival Damen and a bid worth €1.34 billion from Fincantieri of Italy, the industry source said.
The Italian firm had lodged an appeal against the selection of NG, but the Romanian authorities rejected that attempt to sink the French offer.
Fincantieri and NG signed last month an industrial cooperation agreement seeking to coordinate their efforts in foreign markets for warships.
Romania brings to 22 French warships picked in foreign tenders over the last six months, the same number as France sold overseas over 30 years, the ministry said.
An NG spokesman declined to comment on a media report the United Arab Emirates  acquired two Gowind frigates earlier this year.
Other recent foreign selections of French warships include 12 mine-hunters, equipped by ECA Robotics, equally shared between the Belgian and Dutch navies.
Argentina ordered four offshore patrol vessels in December in a deal worth €319 million, business website La Tribune reported. That Argentine deal went through with financial backing from Crédit Agricole Corporate and Investment Bank, Natixis, and Spanish bank Santander.
A large part of the Romanian program will conducted by local partners, with NG working with design specialist Icepronav to meet specific requirements of the Romanian navy, the ministry said.  Local partner Interactive will build the communications system, based on technology transfer, and SNC will build and assemble the ships at its yard at Constanta.
NG sites at Lorient and Toulon, respectively in western and southern France, will supply the major systems, the ministry said.
The first corvette is due for delivery in 2022, with the program intended to run for seven years.
"Naval Group and SNC's offer is based on the complementarities of their partnership, which will ensure Romania's sovereignty and autonomy since SNC will receive the necessary know-how to support the complete life cycle of the corvettes, from building to maintenance and modernisation," NG said in a statement.
The corvette is designed to conduct anti-submarine, anti-air and anti-surface operations.
France hailed the Romanian selection as a boost for the project for European defense, by turning to its European Union partners in acquiring weapons and building its defense industrial base, while respecting its commitment to Nato.
NG, partnered with Royal IHC, is pursuing the Dutch order for submarines, seen as the next major European arms deal.
The French company is reported to be competing with Navantia of Spain, Saab Kockums of Sweden, and ThyssenKrupp Marine Systems of Germany.
The featured photo highlights a NATO exercise with the Romanian Navy in the Black Sea earlier this year.
BLACK SEA (April 11, 2019) Five ships from Standing NATO Maritime Group Two (SNMG2) are participating in the annual Romanian-led naval exercise Sea Shield in the Black Sea April 5-13. 
This year, more than 20 ships and crews from Romania, Bulgaria, Canada, Greece, the Netherlands and Turkey are working with Maritime Patrol Aircraft (MPA) from the US and Turkey to conduct the exercise designed to practice joint warfare tactics and techniques used against underwater, surface and air threats. 
In addition, the Romanian Air Force is providing MIG 21 LanceR and F-16 air defense threats specialized units including Explosive Ordnance Disposal (EOD) divers, the 243 Radioelectronics and Observation Brigade, the Marine Hydrographic Directorate, the Center 110 Communications and Information Technology, the Center for Information Technology and Cybernetics are providing specific support from the shore.
"Sea Shield is an excellent exercise for the Standing NATO Maritime Group," said SNMG2 Commander, Commodore Boudewijn Boots. "It offers the opportunity to work together with NATO Allies that border the Black Sea to ensure interoperability and readiness."
SNMG2 currently consists of flagship Royal Netherlands Navy frigate HNLMS Evertsen, Bulgarian Navy frigate BGS Drazki, Royal Canadian Navy frigate HMCS Toronto, Romanian Naval Forces frigate ROS Regele Ferdinand and Turkish Navy frigate TCG Yildirim. SNMG2 is conducting a routine patrol in the Black Sea as part of their annual schedule of operations. While in the Black Sea, the group has conducted port visits in Odesa, Ukraine, Poti, Georgia and Constanta, Romania.