Indian Navy Air Acquisitions: Looking Ahead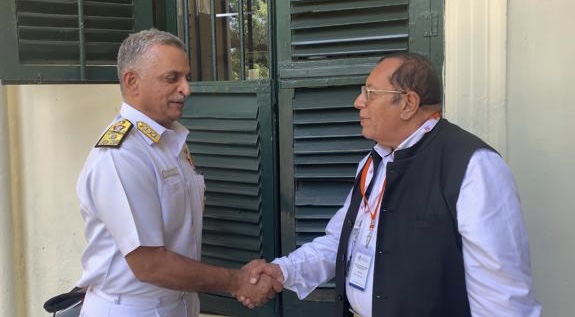 Vice Chief of the Naval Staff Vice Admiral Ashok Kumar told India Strategic on the sidelines of a seminar that a tri-Service process for acquiring Predator drones from the US General Atomics was in motion and that while he could not speak for the Army or Indian Air Force, the Navy was firm on getting 10 SeaGuardians. Other aircraft in the Navy's sight are an additional number of Boeing P8-I Long Range Maritime Surveillance Aircraft (LRMR) as well as deck-based combat jets from whoever can supply them.
The Navy had initially planned for 22 SeaGuardians, but then the other two Services jumped in and indications are that they have also put in requirements for 10 each in discussions with the Ministry of Defence.
Vice Admiral Ashok Kumar said that the Navy as well as the other Services periodically update and revise their requirements to mix and match the capabilities coming from various assets, and that helps maintain a balance in the required strength and numbers.
The Vice Chief was here to inaugurate a seminar on India and the Indian Ocean: Dynamics of Geopolitics, Security and Global Commons organized by The Peninsula Foundation, where he pointed out that India juts a thousand nautical miles in the Indian Ocean, and with two island territories of Andaman & Nicobar in the East and Lakshadweep and Minicoy to the West, "our EZ (economc zone) totals 2.02 million sq km. That is a huge responsibility for the Indian Navy.
The Navy has a Maritime Capability Perspective Plan (MCPP), and various proposals to move forward in terms of Long range, Medium Range and Short Range assets are progressed appropriately.
The Navy also has a plan to acquire 10 more Boeing P8-Is, in addition to the eight delivered and four more ordered. In due course, this will also get progressed, he pointed out adding that while MoD clearance for a project may come within a couple of months, the actual process for securing deliveries takes time. "The process of getting approval can happen within a couple of months" but the "normal procedure" has to be followed.
"Numbers are always based on the responsibility we are tasked with, the area we need to cover, induction of different types of aircraft," and then the rationalization of all these inputs. "It's always a mix of assets to meet our entire requirements. If one goes up, another may come down to equalize that."
For instance, the Navy is also inducting eight new HAL-made Dorniers which have all the newer technologies available in the market, like an EW system, Radar, Glass Cockpit, and so on.
The Vice Admiral also spoke about the next aircraft carrier, Vikrant, saying that the plan right now is to use the 45 Russian Mig 29K aircraft, but there is a proposal to acquire more deck-based combat jets from whoever operates them and makes them. We are inviting all of them.
The Navy has alsready projected a requirement of 57 aircraft.
INS Vikrant, being built indigenously, is due for delivery in 2021 and will add a huge capability to the Indian navy's reach. Notably, an aircraft carrier moves with its own flotilla of frigates, destroyers, submarines and an assortment of aircraft for detection and \deletion of hostile targets.
The Navy wants twin-engine fighters, and according to industry sources, besides the Russian Mig 29K, the other two on offer are US Boeing F 18 Advanced Super Hornet and French Dassault Rafale. All these aircraft are in production and deployment with their home countries and others.
Vice Admiral Ashok Kumar observed that the Indian Navy wants peace and stability in the Indo-Pacific region, like everyone does, to ensure free trade for all in the Global Commons. And for the neighbouring countries particularly, the Prime Minister has already issued a directive: Neighbourhood First.
The Indian Navy has been there to help every neighbor in the recent years, from the 2004 Tsunami till now, when it was the first, and only, Navy to reach Mozambique for disaster relief in the March cyclone tragedy, saving lives of some 200 people and giving relief to many others.
The admiral pointed out that historically, navies have not always been deployed for combat, but also for goodwill and friendships. "An overseas deployment always has a foreign cooperation element.
The Indian Navy has responsibilities to ensure peace for maritime trade in the region and it has given support not only to Indian ships but to those of some other countries also. There is an Indian Navy ship always near the Gulf of Aden for instance to escort any vessel from any country, and in this effort, many other countries are also contributing and cooperating.
This article was first published by our partner India Strategic.