Remember D-Day? BALTOPS 50 Kicked Off on June 6, 2021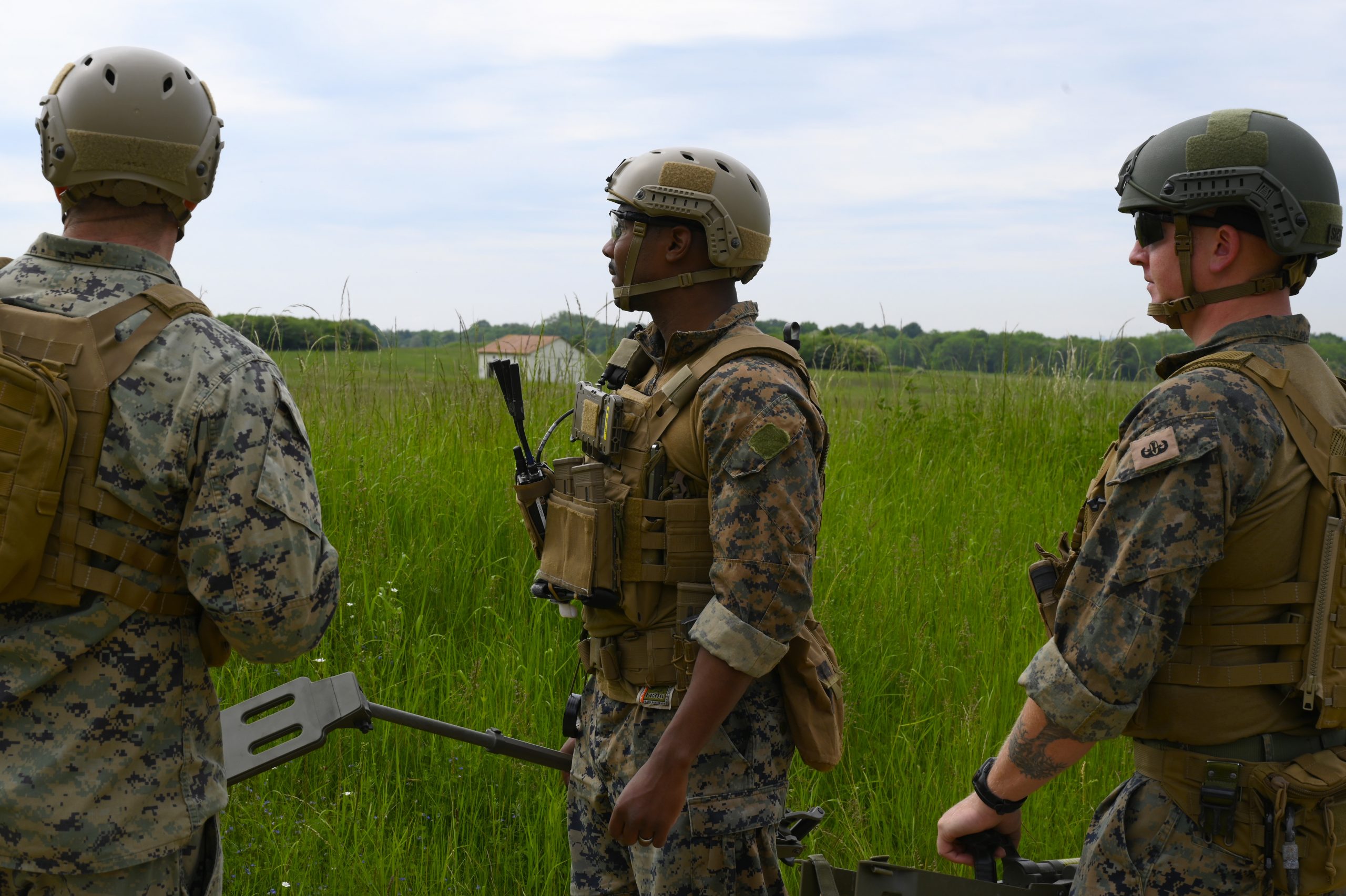 You remember D-Day?
Well, NATO kicked off BALTOPS 50 on the anniversary of D-Day.
This is how the press release from Naval Striking and support Forces NATO highlighted the launch of the exercise:
BALTIC SEA – The 50th Baltic Operations (BALTOPS 50) exercise, the premier maritime-focused exercise in the Baltic Region, kicks off today, June 6.
Between June 6-18, air and maritime assets from 18 NATO Allies and partner nations will participate in live training events that include air defence, anti-submarine warfare, amphibious operations, maritime interdiction, mine countermeasure operations.
"This year, we celebrate the 50th BALTOPS, an exercise that sets the foundation of interoperability across the Alliance," said U.S. Vice Adm. Gene Black, commander, Naval Striking and Support Forces NATO and commander, U.S. Sixth Fleet. "BALTOPS stands as the keystone of our exercise season, demonstrating half a century of the unwavering commitment of our partners and Allies. Lessons learned in BALTOPS enable international strike group operations, advanced missile defense capabilities and seamless surface action group missions."
BALTOPS 50 consists of two at-sea training phases: the combat enhancement training (CET) and force integration training (FIT) portion and the final tactical phase of the exercise (TACEX).
During the first six days (the CET/FIT phase), ships and aircraft will transit through the Danish Straits, focusing on maritime operations in critical chokepoints, ensuring access and freedom of navigation in the Baltic Sea.
The exercise will continue to move East during its two phases, operating in accordance with international law and supported by participating Allies and partners. The exercise will culminate with the TACEX phase, where the exercise paradigm will shift into a "free-play" portion, and commanders are given more freedom to run their own tactical programs. The TACEX phase is designed to better represent operating in real-world situations.
For the first time, exercise design incorporates defensive cyber warfare tactics, techniques and procedures as BALTOPS continues to adapt and train to ensure an asymmetric advantage in the era of modern warfare.
Naval Striking and Support Forces NATO (STRIKFORNATO) will again command and control BALTOPS from its headquarters in Oeiras, Portugal.
2nd Expeditionary Brigade and Expeditionary Strike Group 2 will command and control exercise Marine forces throughout the exercise from aboard USS Mount Whitney (LCC 20), demonstrating international naval integration and power projection ashore for an amphibious demonstration in Lithuania.
BALTOPS 50 involves participation from 18 nations. The 16 NATO and 2 partner nations will provide approximately 40 maritime units, 60 aircraft, and 4,000 personnel.
The participating nations are: Belgium, Canada, Denmark, Estonia, Finland, France, Germany, Italy, Latvia, Lithuania, the Netherlands, Norway, Poland, Spain, Sweden, Turkey, the U.K., and the U.S.
BALTOPS, held in the Baltic region since in 1972, is a joint, maritime-focused exercise that brings together NATO Allies and partners in order to increase interoperability and enhance flexibility among the participants.
In a press release from the 26th MEU dated June 6, 2021, this is how their role in the exercise was described:
LISBON, Portugal – U.S. Marines with the 26th Marine Expeditionary Unit are participating in combined Exercise Baltic Operations with 18 NATO allies and European partners.
BALTOPS, the premier maritime-focused exercise in the Baltic Region, began in 1972 and is now in its 50th iteration and continues to build on a legacy of high-end interoperability between allied and partner maritime forces.
Approximately 30 Marines and sailors from the 26th MEU commanded by Col. Dennis Sampson along with Marines and sailors from 2nd Marine Expeditionary Brigade from Camp Lejeune, North Carolina are participating in Baltic Operations 50. 
"Baltic Operations 50 is a great opportunity for 26th MEU to operate in a competitive space, while simultaneously conducting disaggregated operations from Camp Lejeune, North Carolina, France, and Portugal," said Col. Dennis Sampson, the commanding officer of the 26th Marine Expeditionary Unit. 
During Baltic Operations 50, Marines with the 26th MEU will participate in a constructive, scenario-driven exercise, enhancing staff proficiency across various warfighting domains, as well as test advanced expeditionary warfare concepts in effort to contribute to our increased lethality, interoperability, and integrated warfighting. 
"Exercises in Europe provide us with an opportunity to enhance relationships, interoperability, and interdependence with our allies and partners," said Sampson. "Baltic Operations 50 and other similar exercises ensures the 26th Marine Expeditionary Unit remains ready, relevant, and capable, ready to fight tonight and win in any clime or place."
The exercise, commanded by Vice Adm. Eugene H. Black, Commander U.S. Sixth Fleet and Striking and Support Forces NATO, demonstrates NATO's commitment to promote peace and security in the region by exercising an international team of forces that can rapidly respond in a time of crisis.
And this press release highlighted the role of the USS Roosevelt in the exercise.
GDYNIA, Poland – The Arleigh Burke-class guided-missile destroyer USS Roosevelt (DDG 80) arrived in Gdynia, Poland alongside other NATO ships prior to the start of BALTOPS 50, for a scheduled brief-stop-for-fuel, June 5, 2021.
Roosevelt is one of more than 40 ships from 18 nations scheduled to participate in the 50th iteration of BALTOPS, the premier maritime exercise in the Baltic sea, June 6-18. 
Roosevelt moored in Gydnia to refuel following its recent participation in At-Sea Demonstration/Formidable Shield 2021. During the exercise, the ship launched two Standard Missiles (SM-2) against four drone targets, while simultaneously launching two SM-3s against Enhanced Dynamic Test Targets (EDTT).
"Roosevelt's participation in At-Sea Demonstration/Formidable Shield 2021 highlights U.S. commitment to interoperability and warfighting excellence with our NATO Allies and partners," said Cmdr. Ryan Kendall, Roosevelt's commanding officer. "We look forward to future opportunities such as Exercise Baltic Operations 50 to hone our skills and further these professional relationships."
Roosevelt, forward-deployed to Rota, Spain, began its second Forward Deployed Naval Forces-Europe (FDNF-E) patrol March 29 in the U.S. Sixth Fleet area of operations in support of U.S. national security interests in Europe and Africa.
Roosevelt is one of four U.S. Navy destroyers based in Rota, Spain, and assigned to Commander, Task Force 65 in support of NATO's Integrated Air Missile Defense architecture. These Forward-Deployed Naval Forces-Europe ships have the flexibility to operate throughout the waters of Europe and Africa, from the Cape of Good Hope to the Arctic Circle, demonstrating their mastery of the maritime domain.
U.S. Sixth Fleet, headquartered in Naples, Italy, conducts the full spectrum of joint and naval operations, often in concert with allied and interagency partners, in order to advance U.S. national security interests and security and stability in Europe and Africa.
For an article which looks at BALTOPS 19 which was the first exercise for the newly re-established Second Fleet, see the following:
The Evolution of a Startup Command: Second Fleet and the 4th Battle of the Atlantic