International Maritime Exercise (IMX) 2022: The Autonomous Systems Piece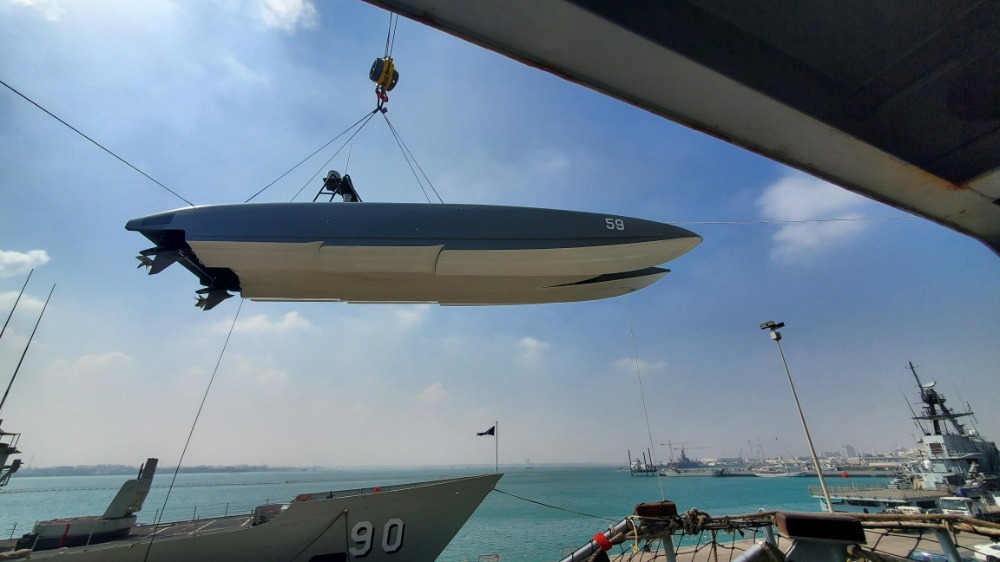 The U.S. Navy, partners and allies have begun a major international maritime exercise on January 31, 2022.
A feature of this exercise is expanding the role of maritime autonomous systems in maritime operations.
A press release from the U.S. Fifth Fleet published on January 31, 2022 highlighted the exercise as follows:
International Maritime Exercise (IMX) 2022, an 18-day biennial naval training event led by U.S. Naval Forces Central Command, combines with exercise Cutlass Express (CE) led annually by U.S. Naval Forces Europe-Africa in East African coastal regions and the West Indian Ocean.
The combined training includes 9,000 personnel and up to 50 ships from more than 60 partner nations and international organizations operating across two regions.
"This level of representation demonstrates shared resolve in preserving the rules-based international order," said Vice Adm. Brad Cooper, commander of U.S. Naval Forces Central Command, U.S. 5th Fleet and Combined Maritime Forces. "This is a unique opportunity to increase our capabilities and interoperability while strengthening maritime ties."
IMX/CE 2022 is not only the largest multinational naval exercise in the Middle East but also the largest unmanned exercise in the world with more than 80 unmanned systems from 10 nations participating.
During the exercise's first day, His Royal Highness Prince Salman bin Hamad Al-Khalifa, the Crown Prince, Deputy Supreme Commander and Prime Minister, witnessed part of the International Maritime Exercise, where he was briefed on new unmanned technologies and engaged in the exercise. His Royal Highness visited Naval Support Activity Bahrain where he also was briefed on the activity of the Royal Bahraini Navy participating in the exercise.
In addition, His Royal Highness the Crown Prince and Prime Minister stressed the importance of protecting international maritime traffic from threats that adversely impact global trade, thanking the U.S. for their role in this regard, and stressed the need to unify international efforts to further strengthen regional maritime security.
The exercise will allow participating forces to test unmanned systems and artificial intelligence in different training scenarios and ultimately apply the lessons learned to future real-world operations. Training will also focus on enhancing capabilities in command and control, sea control, maritime security operations, and mine countermeasures.
International naval forces participating in IMX/CE 2022 are divided into four geographical combined task forces led by the United Arab Emirates, Egypt, Kenya and Oman. A combined task force called Task Force X was also established for conducting portions of the exercise focused on unmanned systems and artificial intelligence integration.
Cooper is the exercise commander and commodores from Pakistan and the United Kingdom serve as the deputy commander and vice commander respectively.
This is the seventh iteration of IMX since its establishment in 2012. Training evolutions during this year's combined exercise will span across the Arabian Gulf, Arabian Sea, Gulf of Oman, Red Sea and North Indian Ocean.
The exercise is scheduled to conclude Feb. 17.
A Defense News story published on February 2, 2021 provided further information on the autonomous systems piece of the exercise.
Cmdr. Tom McAndrew, the exercise planner for unmanned systems and AI integration, told reporters in a Feb. 2 media call that AI and machine learning were integrated in the bulk of the events that would take place.
Though he said he couldn't provide specific details for security reasons, he did note that a major theme is AI and ML in support of maritime domain awareness. For example, a task group commander might have access to a lot of imagery — from sensors on ships and aircraft, from unmanned systems, from public access cameras, social media and more — but the images alone don't necessarily create a clear picture of what's happening in the operating area. AI and ML tools can help collect the images and process them into something the commander can use to make informed decisions.
Additionally, he cited search and rescue as one topic that would be covered in the exercise and could benefit from unmanned systems and AI tools. Unmanned systems, especially when fielded in large numbers and employed on a continuous basis, can search the water faster and more accurately than manned platforms, McAndrew said, and some platforms can assist the rescuee until a manned ship or aircraft arrives.
An article by Justin Katz published by Breaking Defense on February 2, 2022 also provide further detail on the autonomous systems element of the exercise.
McAndrew also described testing unmanned systems' ability to operate for extended periods of time without human intervention and the advantages of not needing to refuel them them as frequently as a traditional intelligence, surveillance and reconnaissance assets.
The exercise could provide a proving ground for that particular use, after lawmakers have expressed skepticism about whether the service has fully vetted the technology. There are also policy questions about the autonomous, long-endurance proposition the military rarely discusses publicly, such as how to prevent adversarial units from boarding the vessel or recovering the ship if it is disabled by extreme weather.
In the past, Navy leadership has often countered these questions by saying unmanned technology will assist sailors, but it will never fully replace them. Nonetheless, lawmakers' concerns about unmanned systems have been pervasive in public discussions for at least three years now since the Navy tried — and failed — to persuade Congress to retire an aircraft 25 years early in exchange for a raft of funding for future unmanned technologies.
The success or failure of exercises such as IMX are certain to play a big part in helping the service justify its future budget requests, and more specifically as it asks for Congress to buy into unmanned systems.
And as a result of the Abraham Accords, Israel is participating along with the Gulf states in the exercise. 
The featured photo highlights the arrival of a MARTAC Devil Ray T-38 for the exercise. Credit: MARTAC.
We highlight and discuss the coming of autonomous systems to the U.S. and allied defense forces in our forthcoming book, Defense XXI: Shaping a Way Ahead for the United States and its Allies.