Visiting Euronaval 2022: Shaping a Way Ahead for the Maritime Kill Web Force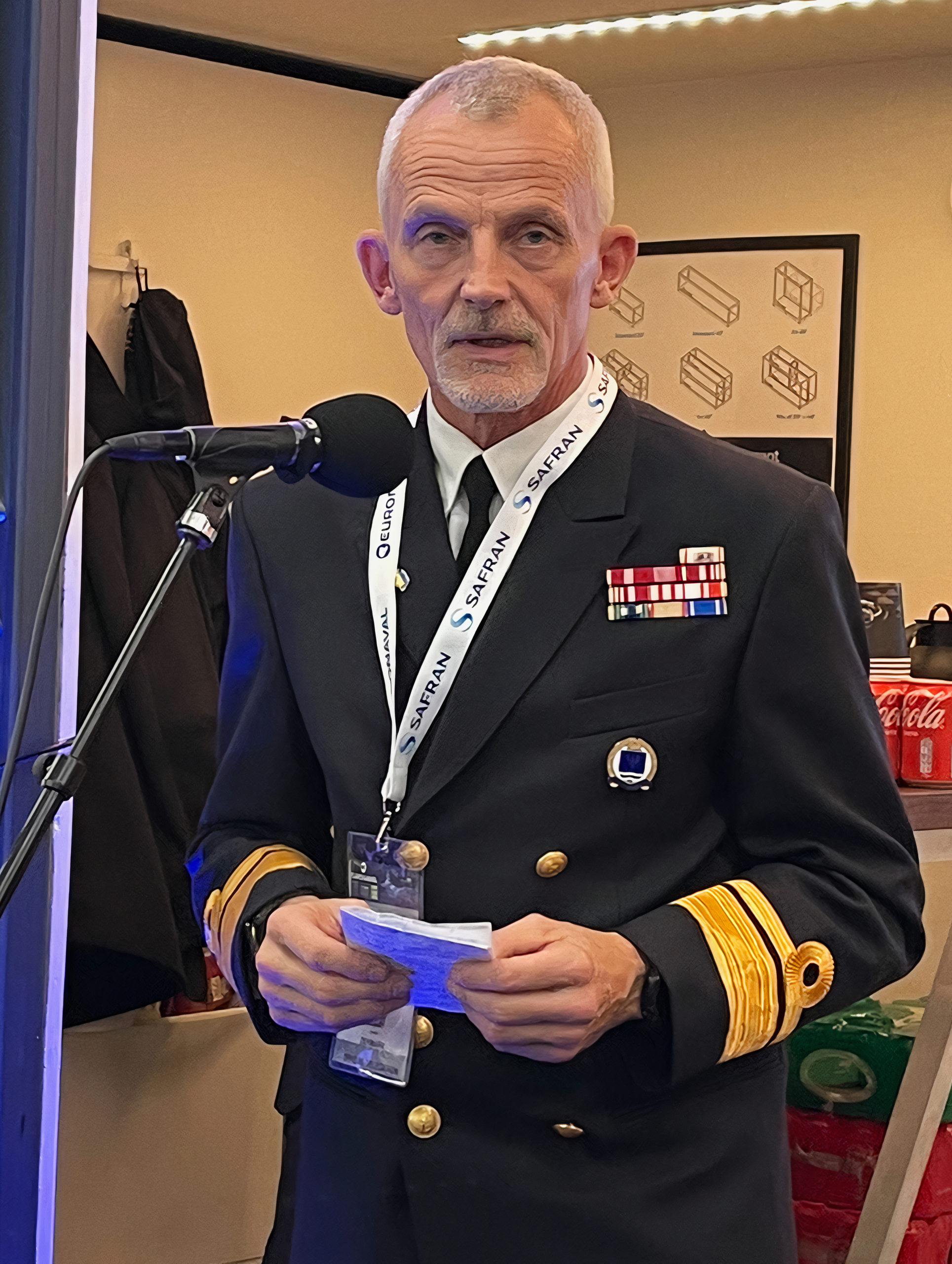 I was in Paris for the Euronaval salon which was held during the week of October 16, 2022.
I have just come from Australia where I focused on the shift to direct defence of Australia by the ADF and discussions with ADF officers and Australian defence analysts with regard to ways to ramp up capabilities in the 3-5 year period. That formed one perspective I brought to the exhibition.
The other is the work which I have done over the past decade with regard to force distribution and integration across the joint and allied defence forces, and the central role which the kill web concept of operations shift plays in enhancing the lethality and survivability of the force.
The confluence of those two factors – how to ramp up in the short and the mid-term and to do so with modular task force capabilities – shaped my perspective in visiting the salon.
A key theme which was evident in the salon which provided a way to consider both factors is the growing importance of modularity in building the force, operating the force and sustaining the force.
I would note that although sustainment to a distributed force is a critical piece of the combat capability puzzle going forward, there was very little emphasis on such capabilities at the show itself.  For example, the two most innovative contributions for the U.S. Navy and USMC to supporting a distributed force, the CMV-22B and the CH-53K, were not highlighted at the show.
With regard to modularity, there are three key aspects of modularity which are central to shaping a way ahead for 21st century combat forces.
And frankly, this is a subject which should deserve much greater focus of attention going ahead to get the full value for a joint or coalition force going forward.
First, modularity is key part of shipbuilding going forward.
Shipbuilders are shaping ways to build ships more rapidly by building modular blocks and then assembling the ships from those blocks. This can allow an expanded engagement in either national or allied manufacturing – not limited to traditional shipbuilders – and to a change in how prime contractor ship builders themselves assemble the ships.
If taken to its logical extent, this could allow for a significant expansion of the "arsenal of democracy," if restrictive national policies on who can participate in building "national" ships does not get in the way of a 21st century breakthrough in the technology to build ships.
As a 2019 article by Ray Essén underscored: "The introduction of prefabrication, modularisation and partitioning in shipbuilding goes hand in hand with the evolution of ship size and technology in general. Some big shipyards, with their clusters of specialist companies, have in cooperation with shipowners and other stakeholders gradually learnt to build ever bigger and more complex cruise ships. Among a number of other important factors making this evolution possible, prefabrication and modularization have played an important role.
"The design and engineering process and engineering itself have undergone dramatic changes over recent decades. Engineering offices have adapted to the evolution of modularisation and, in many instances, have been facilitators in this change process.
"Despite being somewhat different in nature, prefabrication, modularisation and partitioning are driven by the same factors. The three main drivers behind the modularisation evolution are the need to decrease construction hours, the need to shorten delivery times while maintaining high quality, and the growing size of ships."
The Danes have been key innovators in this concept of modularization in shipbuilding.
Their frigates have been designed and built with shipbuilding modularity as a key capability. And at the show, a model of the British variant of the Danish frigate being built for the Royal Navy (Arrowhead 140) was on display.
According to Giles Ebbutt in an article published in the Day 4 Euronaval 2022 News:
"Jonathan Walton, Babcock vice-president for business development, observed that a critical characteristic of the design is that it is modular and can be block built, enabling construction to take place in several different shipyards followed by final assembly. He said that this could even take place in different countries, and therefore could enable an existing customer ultimately to have the opportunity to export modules."
But there is a second meaning to modularity which focuses on how combat ships can operate in various configurations to achieve an ability to operate as multi-mission vessels.
Of course, the French company Naval Group was very evident at the French-based naval show. And Naval Group places a great deal of emphasis on this second meaning of modularity as it works its 21st century concepts of shipbuilding.
This how Naval Group described its approach in a 2017 article:
"Designed as a multi-mission frigate, the 4000t-displacement Belh@rra® frigate positions itself between the 2500t corvette-class Gowind® and the 6000t FREMM. This state-of-the-art frigate is a versatile addition to Naval Group' catalogue and completes the Group's range of frigates with what is a truly innovation-ridden vessel.
"The Belh@rra® was designed by Naval Group for the French Navy's needs, but was above all designed to be the most customisable–and therefore the most easily exportable–of frigates. With every navy around the world having their own particular requirements in terms of equipment, software, crew size, weaponry and so on, Naval Group saw the opportunity to design a versatile frigate that can be easily upgraded and that answers the particular needs of navies from across the world…
"Thanks to its flexible design, the Belh@rra® can be proposed in different versions with adapted combat payload and platform arrangement. The on-board modularity of the Belh@rra® gives potential clients the opportunity to acquire a vessel that truly fits their current needs; all whilst keeping the door open to future upgrades."
A third way to think about modularity is how the sea bases which ships represent can supported at sea not simply with food and fuel but can be re-configured in mission terms at sea.
This approach can expand the array of weapons provided to re-supply the fleet by which I mean maritime autonomous systems as well as lethal weapons and the two combined in innovative new ways.
The most evident representation of this at the show was by the Danish company, SH Defence.
I will focus on this company and the implications of the adoption of their modular approach can mean for a maritime combat force in later articles.
But for now, let me just indicate what their approach is. This was highlighted in an article by Justin Katz of Breaking Defense. Here is what he wrote:
"A Danish defense company here announced today it had launched the second iteration of its unique system designed to rapidly move containerized payloads on, off and around warships.
"The system, produced by SH Defence and dubbed "The Cube," uses steel tracks and hydraulic pulleys to quickly — around 10 minutes — load and place containerized payloads onto a ship equipped with the system's infrastructure.
"The upgrades between the first and second iterations allow for modules to be loaded directly into the mission bays from side of the ship as well as from the stern and the top.
"The utility of a system such as "The Cube" comes from the diversity of payloads that can be installed in the containers. Renè Bertelsen, the company's CEO, told Breaking Defense in an interview that the 300 payloads currently available range from torpedoes and anti-torpedo torpedoes to unmanned systems to mine countermeasures and anti-submarine warfare.
"We make a lot of agreements with [original equipment manufacturers] and it's not an exclusive" deal, he said. "Everybody comes with their OEM product and we integrate it into our modules. The idea is to have a module standard where you're able to replace whatever kind of equipment you have, and modules into that platform. That's the key."
This is without any doubt a key element for the way ahead for the maritime kill web force, a force in which payloads to missions define the combat force rather than capital ship platforms in capital ship defined task forces.
We are looking at the age of modular task forces, rather than capital ship defined task forces.
The Danish Navy clearly gets this, and has created a new position in its Ministry of Defence to deal with the transition. The Chief of Navy has been moved to a new position, Executive Director Navy Programs, Defence Command, Denmark. RADM Torben Mikkelsen spoke at the SH Defence booth at the launch of a new capability enabled by the Cube concept.
Here is what he had to say about what for the Danes is the second generation of modularity:
"We started 30 years ago with our modular frigate. But now we can take modularity to a new level. The cube system provides us with the tactical flexibility to adapt to the future. We cannot see into the future; but we can prepare for the future. This also allows nations sharing differently. We can build a concept where we can actually loan modules to tother navies and vice versa."
This expands the notion of "supply ships" or "sustainability" to encompass "swap outability."
This can allow for a new type of ship for such an understanding of sustainability, which might be called a Multi-Combat Ship, rather than a Multi-Mission ship.  Here the ship would be able to accommodate the standard 20- and 40-foot containers which would be carrying weapons systems and platforms of various sorts that could be launched where appropriate directly into the water or offloaded at sea to a variety of appropriate sea bases or ships if you prefer.
Let me return to my original take away from my most recent trip to Australia – how do you ramp up capabilities in the next three to five years.
The answer which the Head of Force Design focused upon was robotic systems. MAJGEN Anthony Rawlins, Head of Force Design, put it this way:
"Has the hardening of expensive, exquisite, arguably irreplaceable platforms now reached its logical zenith? This is manifest in the arguments for the cheap or the expendable as a supplement or potentially a replacement for expensive crewed platforms going forward.
"Defence is not just investing in exponential developments in autonomy, artificial intelligence, remote sensing, etc., etc. as an R and D line of effort. But defence is doing so with a view to fielding capability in the immediate short term.  And it hardly meets the definition of survivability to be investing in platforms and capabilities that are designed to be expendable."
How might one combine the various elements of modularity evident at the Euronaval show with the rapid ramp of capability required by the ADF?
One answer is uncrewed maritime systems which can operate as a wolfpack or a modular task force.
At the show, there was one example of how modularity in terms of build, multi-mission flexibility, and swapability within Cube containers can be combined. At the Euronaval Show and located in the U.S Pavilion among the defence industrial giants was MARTAC, more like David than Goliath.
But leaving size behind and looking at operational capabilities averrable right now, the MARTAC platforms are built modularly, can swap out capabilities onboard the vessel to provide for wide range of capabilities, and can fit into SH Defence cubes.
And they could be transported to the area of interest and directly launched into that area of interest by a Multi Combat ship or an MSC ship or whatever.
By bringing synthesized modularity into what could be a wolfpack or modular task forces of autonomous vessels managed by the mission command element which could onboard a manned aircraft or ship, a whole new capability can be brought to the fight and expand significantly crisis management capabilities.
In short, modularity in all its senses is a key dynamic as the maritime kill web evolves and gains traction. 
Featured Photo: RADM Torben Mikkelsen at the Euronaval 2022 Salon.
Also, see the following: