"How do we learn what we have not done before?": The Role of the RAAF's Air Warfare Centre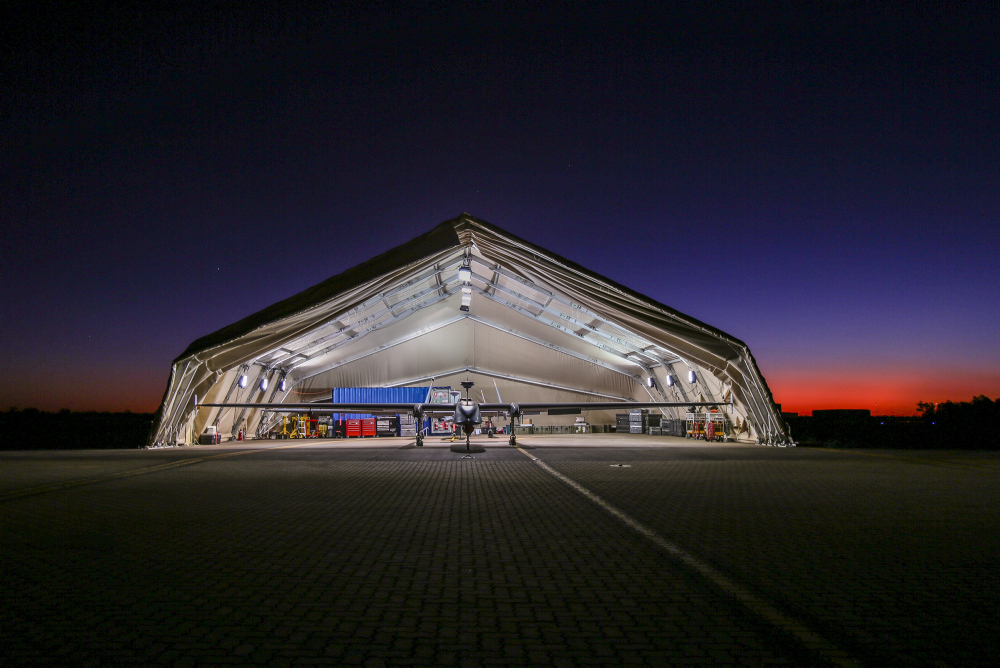 During my most visit to Australia in March 2018, I had a chance to discuss the way ahead for the newly established Air Warfare Centre with its dynamic director, Air Commodore Joe "Vinny" Iervasi.
The Air Warfare Centre was launched as part of the Plan Jericho initiative at the time when Air Marshal Geoff Brown was the air chief, and was forged, designed and shape to work 21st century force integration, not simply to train air warriors to fight in a legacy manner.
In part this was done in recognition that the F-35 is not a legacy fighter, but a "flying combat system" which can form the foundation for a kill web approach to warfare, in which the relationship among sensors and shooters changes and with that the need for a new C2 approach and learning new ways of doing things.
As Air Commodore Iervasi puts the challenge: "How do we learn what we have not done before?
"We can train and get better at legacy approaches, but how do we learn what we have not experienced before and how do we leverage our new platforms to transform and create an integrated force?"
His focus is upon a 2-6 year period ahead and how to prepare the force to execute new concepts of operations leveraging ongoing integration capabilities.
He even projected the notion that the best outcome for the Air Warfare Centre would be to be transformed in a decade into a Joint Warfare Centre.
He sees the RAAF with their new platforms, new thinking and evolving approaches as being in a good position to lead a transition, but one which is about forging a very different force from the legacy force.
One aspect of the difference is that the separate force elements train and prepare for joint exercises, but how do they know what is an evolving joint capability and how do you train for what you don't know"
He advocated moving more training time into joint exercises and training rather than the relative high proportion of time spent on service or platform specific training.
The overall challenge facing the Air Warfare Centre is to shape a fifth generation force and how that force might come together in combat situations to prevail.
"The Air Warfare Centre is focused on the blending between bottom up initiative, top down direction, and to foment and facilitate the ideas, the concepts, the wherewithal, the tactics of actually knowing and shaping what an integrated force needs to do in the evolving combat environment we are facing."
"Because we're trying to integrate a force the way a force has never been integrated before, we're going to have to do so in innovative ways. Innovation is going to be a byproduct of integration.
"It is going to be a byproduct of immersing ourselves in current and emergent technologies and sort out what they actually might mean operationally.
"In other words, it's our drive to integration that's actually going to necessitate an innovative approach."
Throughout the interview, he was very clear on the importance of breaking out of legacy patterns and thinking and finding ways to train for the future fight with the force you are crafting.
"Our senior leadership, including myself, has never grown up in the combat environment which is now evolving rapidly. We need to unlearn as well as learn to shape an effective way ahead."
How do you shape a future force structure based on where you need to go, rather than what you have inherited?
From this point of view, how do you leverage the simultaneous acquisition of the F-35 by Australia and its core allies to drive change in new ways rather than simply treating it as nice new toy?
Illustrative of his approach is setting up a working group to meet in Adelaide later this month to work on ways to work leveraging the F-35. Nellis, NAWDC, the RAF Air Warfare Centre as well as the Aussies will meet in Adelaide to discuss ways to think about fifth generation operations.
"Each of our warfare centers inherently has a particular strength.
"How do we leverage those strengths and come up with an approach where we can generate collectively initiatives to test and experiment and drive operational changes in the joint force?"
"How do we actually create an expanded multi-disciplined team and collaboration environment in Australia such that we are open to the opportunities that present themselves?
"Doing things better is the bottom line.
"When I talk about multi-disciplined teams, I am speaking broadly. I am not just focusing on the operators of our airfleets.
"It's the engineers, scientists, industry, and academia coming together with operators to develop new concepts for emergent domains, specifically cyber and space.
"What we're attempting to do in our air warfare center is create multi-disciplined teams physically co-located at our major bases Amberley, Williamtown, and Edinburgh, with each service's main warfighting elements."
"For example, Williamtown is close to Sydney where we've got Forces Command HQ for Army and Fleet Command HQ for Navy. Up in Brisbane, we have HQ 1 Division and HQ of the Amphibious Task Group in proximity to Growler, Super Hornet, Combat Support Group and a large portion of our air mobility fleet."
"Our core integrators are our air warfare instructors and we see them in the role of driving operational integration initiatives within a 2-6 year time line of implementation."
In effect, the Air Warfare Centre is generating various vignettes of the evolving operational environment and then testing capabilities, and new ways of using those capabilities, against that projected operational environment.
And by working within a 2-6 year time frame, they can be realistic, drive change and not get excessively metaphysical.
It is not about the world in 2030; it is about driving change for a fifth generation enabled force able to shape a more effective and integrated force in the near to mid-term.
And doing so, with close collaboration with the other services and the allies who are themselves rethinking their approach to combat operations.
Air Commodore Joe 'Vinny' Iervasi, AM
Commander Air Warfare Centre
Royal Australian Air Force
Air Commodore Joe Iervasi was born in Sydney. He joined the RAAF in 1985 and completed flying training in 1989. He has been flying the F/A-18 Hornet since 1991.
Air Commodore Iervasi served at No 3 Squadron as a junior pilot before proceeding on exchange to No 5 Squadron RAF flying the Tornado F3. During this tour he deployed on Operation Deny Flight enforcing the no-fly zone over Bosnia-Herzegovina (1995). Upon return to Australia he served as a flight commander at both 77 Squadron and 75 Squadron.
In 2001 Air Commodore Iervasi completed the inaugural Australian Command and Staff College at Weston Creek and was subsequently posted to Capability Systems in Russell Offices. During this period he was responsible for the development and sponsorship of F/A-18, F-111 and Hawk major capital equipment projects, with the most notable being the Hornet Upgrade Project. In 2005 he returned to Williamtown as the Senior Operations Officer at 81 Wing and subsequently assumed command of No 3 Squadron in Dec 2005. He was promoted to Group Captain on 12 Jan 2009 and served as Chief of Staff Air Combat Group.
In 2010 Air Commodore Iervasi completed the Defence and Strategic Studies Course and was appointed as Officer Commanding No 81 Wing (F/A-18) in December of that year. In January 2013 Air Commodore Iervasi was posted as Chief of Staff to the Vice Chief of the Defence Force.
Following this posting Air Commodore Iervasi was promoted to his current rank of Air Commodore and deployed to the Middle East as the Director, US Central Command 609th Combined Air Operations Centre at Al Udeid Air Base in Qatar. He returned to Australia and was appointed Director General Air Command Operations (Headquarters Air Command) and Director General Air (Headquarters Joint Operations Command) where he commanded global air operations including Operation OKRA.  In December 2016 AIRCDRE Iervasi was appointed Commander Air Warfare Centre.
Air Commodore Iervasi has over 3000 hours flying fast jets and is an A Category Fighter Pilot. He holds a Bachelor of Science Degree, a Masters of Management in Defence Studies and a Graduate Diploma in Strategic Studies.
He has been awarded the Medal in the Order of Australia (2009), Australian Active Service Medal (Balkans and ICAT Clasps), Afghanistan Medal, Defence Long Service Medal with Third Clasp, and the Australian Defence Medal. He was appointed as a Member in the Order of Australia in 2016.
The Air Warfare Centre
The Air Warfare Centre was built on part by incorporating elements of the former Aerospace Operational Support Group or AOSG which comprised the Development and Test Wing and the Information Warfare Wing, and also had responsibility for the Woomera test range.
In its place the new AWC is structured into directorates, comprising Integrated Mission Support, Capability and Logistics, Test and Evaluation, Information Warfare, Air Force Ranges, and Tactics and Training.
"By working with the other force element groups, Army, Navy and defence industry, the AWC will allow Air Force to generate rapid, cogent and integrated capability solutions that are needed now and into the future," Air Commander Australia Air Vice-Marshal Gavin Turnbull said at the opening of the Centre.
"It will identify innovative solutions and translate those into capability by driving integrated tactics and advanced warfare across Air Command."
The establishment of an air warfare centre was heralded by then Chief of Air Force Air Marshal Geoff Brown in his launch of Plan Jericho in February 2015.
The subsequent Plan Jericho 'Program of Work' document noted that: "Air Force lacks the systemic ability to generate rapid, cogent and integrated combat capability solutions in response to current and future capability gaps and bottom-up innovation opportunities."
In response it promises that: "an Air Warfare Centre … will become the centre of innovation and thinking for integrated operations."
The Air Warfare Centre (AWC) exists to deliver timely and relevant advice to the warfighter in response to operational and tactical problems facing the products and services delivered by the Air Force. It is deliberately structured to draw on Subject Matter Experts from across all Air Force domains in formulating recommendations and seeking answers to operational and tactical warfighting challenges.
It will actively engage Joint, Allied, Australian Defence Organisation and Industry Stakeholders to deliver the best possible operational solution. Cross‐platform, multi-domain integration is at the heart of the AWC intent and culture. Where obvious solutions do not exist, the AWC will harness the broader workforce to deliver innovative alternatives.
It will provide highly specialised military facilities and services including innovative military aviation prototyping and solutions to enhance air warfighting capabilities in every sphere. It is critical to establishing the Royal Australian Air Force as a modern and fully integrated combat force that can deliver air and space power effects in the information age.
Why create an Air Warfare Centre?
The AWC was created at the direction of the Chief of Air Force to address opportunities to improve Air Force's ability to maximise the operational effectiveness of fifth-generation, networked capabilities through improved integration across Defence and increased knowledge sharing with allied AWCs.
What is the Air Warfare Centre?
The AWC is a Force Element Group (FEG) within Air Command. The AWC was established on 11 January 2016 and will achieve Final Operational Capability in 2020.
AWC is comprised of the following:
Headquarters AWC
Headquarters AWC provides the staff functions that enable AWC operations headed up by Chief of Staff for core functions, and a Director of Capability Assurance, for technical governance, logistics and capability development.
Integrated Mission Support (IMS)
IMS is located at RAAF Edinburgh in South Australia. The IMS mission revolves around the key tenets of 'Integration', 'Innovation' and 'Information'. IMS drives Innovation across both the AWC and more broadly across Air Force through leadership, organisational change and the engagement of a diverse array of subject matter experts to rapidly solve complex Operational problems as part of 'Integrated Project Teams'. The 'Innovation Hub', the 'Jericho Dawn' and the 'Science and Technology' programs focus on engagement with industry to develop and demonstrate innovative solutions to address capability gaps in the force‐in‐being.
The 'Operations Analysis' and 'Knowledge Management' sections ensure critical decisions across the organisation are underpinned by appropriate research and credible evidence and that the AWC product is available to the 'right people at the right time'. Finally, IMS liaises with and provides information exchange on behalf of the AWC with allied peer organisations through our Liaison Officers.
Information Warfare Directorate (IWD)
IWD is located at RAAF Edinburgh in South Australia and centralises the Air Force's tactical information warfare elements. It provides the wider RAAF with an integrated and tailorable information warfare operational capability drawn from the Intelligence, Electronic Warfare and Information Operations fields. IWD enables the development and management of the RAAF's Information Warfare capabilities.
Test and Evaluation Directorate (TED)
TED is located at RAAF Edinburgh in South Australia and delivers comprehensive, timely and integrated Test & Evaluation through a flight test squadron, aviation medicine and a unique engineering/manufacturing capability.
TED provides support and advice throughout a weapon system life‐cycle including preview testing (risk reduction to inform acquisition), developmental, acceptance and operational Test and Evaluation (T&E). It enables the warfighter through the provision of specialist medical advice, research and training and aeronautical information service.
Air Force Ranges Directorate (AFRD)
AFRD is located at RAAF Edinburgh in South Australia and improves the way Air Force conducts Live, Virtual and Constructive simulation with other elements of Defence and our coalition partners, in order to deliver more effective warfighters. AFRD enhances the way Air Force tests war material and trains the warfighter and standardises all range requirements to deliver a more realistic and practical testing environment.
em>Tactics and Training Directorate (TTD)
TTD is located at RAAF Base Williamtown in New South Wales and is tasked with the development of multi‐discipline, high‐end integrated tactics and training across the Air Force through a combination of training, education and integrated exercises. TTD transforms the way we think about and teach air warfare. It also conducts operational analysis to inform integrated tactics analysis to better enhance warfighter effects.
https://www.airforce.gov.au/about-us/structure/air-command-headquarters/air-warfare-centre
Credit Photo: Exercise Diamond Storm, run by the Air Warfare Centre, is one of the practical components of the Air Warfare Instructors Course which graduates students who are experts in Australian Defence Force capabilities and integration across the services, and also have technical mastery of their own roles, capabilities and systems.
June 22, 2017
Australian Department of Defence
The video above shows the USAF with the RAAF working together at RAAF Williamtown in March 2017.
As the 18th Aggressor Squadron out of Eielson Air Force Base, Alaska, closes out its final days in Australia, we highlight the key attribute of this exercise: joint interoperability. Both the pilots and the maintainers capitalized on this unique environment and the exercise to learn a little bit more about a joint partner nation, the Royal Australian Air Force, and even about themselves. This video is part three of a four-part series.
Pilots with the 18th Aggressor Squadron, Eielson Air Force Base, Alaska, are working with Royal Australian Air Force Air Warfare Centre instructors to train and prepare RAAF fighter combat instructors, airspace battle managers, fighter intelligence instructors and fighter combat controllers.
Exercise Diamond Shield 2017, the second of four Diamond Series exercises conducted by the RAAF Air Warfare Centre, is an Australian Defence Force training activity where high-readiness forces deploy quickly to remote locations in Australia in response to a simulated security threat. The exercise will see members of the ADF Navy, Army and Air Force rapidly deploy to counter a fictitious force posing a threat to Australia's national security in the Kimberley region in North Western Australia.
Note: For the upcoming Williams Foundation Seminar, see the following:
The Imperative for an Independent Deterrent: A Joint Strike Seminar August 2018