The Strategic Shift and Enhanced Readiness: Raising the Bar on Maintainabilty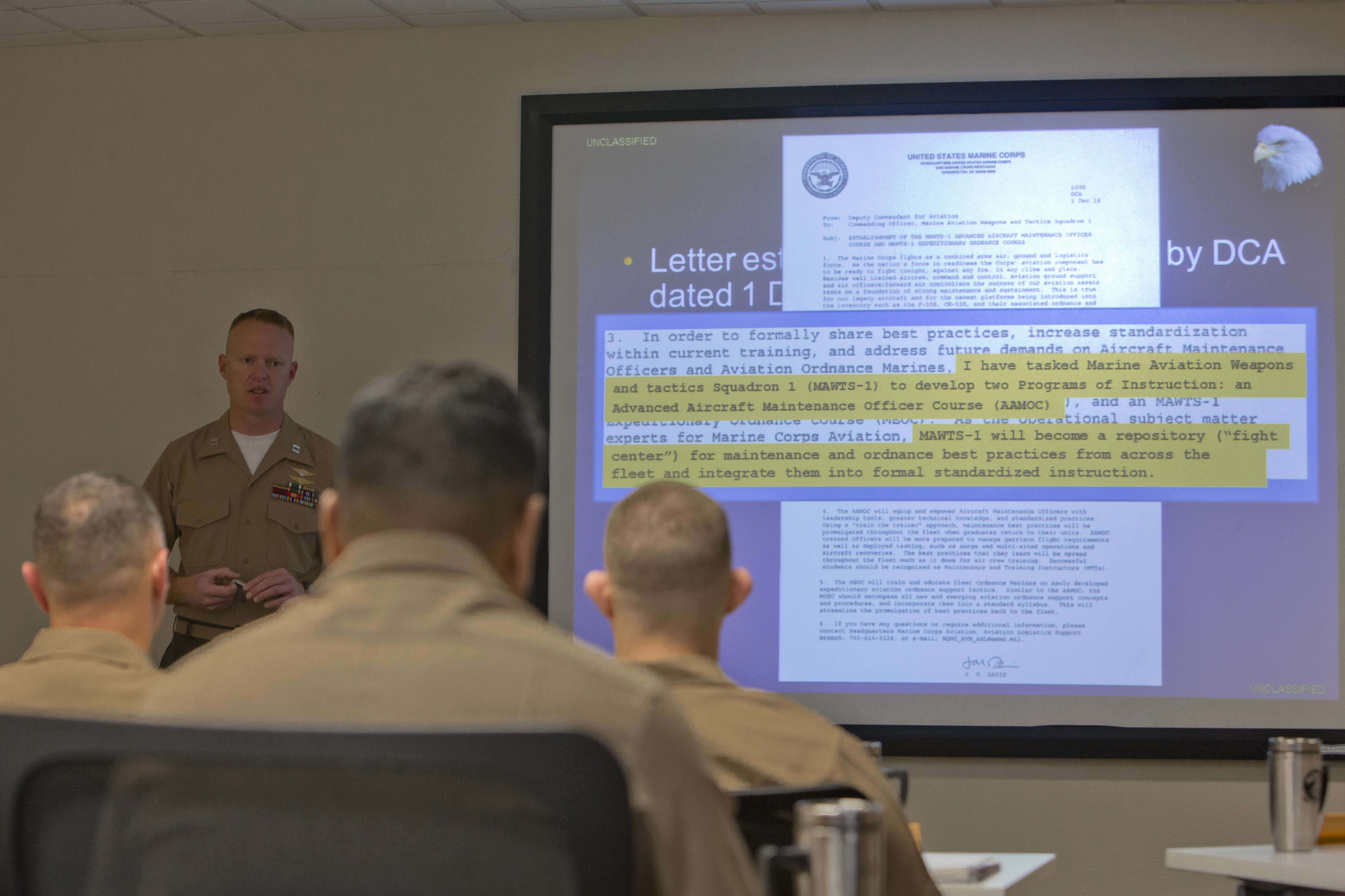 Maintainability is a key aspect to ensure aircraft availability to support combat operations. The readiness crisis of the past few years has also included the challenge of upgrading maintenance support efforts as well.
The strategic shift from counter-insurgency to preparing for force-on-force conflict and a more rapid battle rhythm affects the maintenance side of the force as well.  The wars in the desert have been tough on the aircraft, and pushing out their operational life has been a challenge.
But with a more rapid pace of combat as a key focus of attention, how to ensure better aircraft readiness, and fleet availability?
It is difficult to get a fleet approach if there is not commonality among the aircraft and understanding of best practice standards.
This will not happen without shaping the most effective standard practices for maintainers in supporting aircraft, and ensuring that there is an effective rhythm between maintenance to support daily operations and ensuring that a maintenance cycle that provides for aircraft to have regular maintenance that ensures longer performance cycles as well.
One way to address this is to ensure that best practices can be established throughout the maintainer force and have an evolving understanding of the best standards to achieve maintenance of each type model and series of aircraft.
AAMOC at MAWTS-1: Getting Ready for the Strategic Shift from SldInfo.com on Vimeo.
For the Marines, a core focus is upon training maintainers who can work across a range of aircraft. The Marines are focused on expeditionary operations, and mobile basing.  And this means, the Marines need maintainers who can support aircraft that operate from the mobile base, and not aircraft that need to go to Walmarts to be maintained by maintainers clearly divided into stove piped specialties.
And the introduction of new aircraft, ones that are software upgradeable, is clearly changing the system as well.  The coming of the F-35 is driving change, and change which needs to be managed into shaping effective standardization as well.
And the F-35 highlights another change: the growing importance of the software management side of the equation.
In recognition of the central role, which enhanced maintainability, plays for the USMC in the context of the strategic shift a new course was brought to MAWTS last year. This new course and its role was well described in an article by Captain Harley Robinson published on March 15, 2017 by the 3rdMarine Air Wing.
A new course has been added to this year's Weapons and Tactics Instructor Course (WTI), held at Marine Corps Air Station Yuma, Arizona.
Advanced Aircraft Maintenance Officers Course (AAMOC) is a second-level graduate school for professional aircraft maintenance officers in the Marine Corps.
After the initial school for aircraft maintainers at Naval Air Station Whiting Field, Florida, there are limited follow-on training opportunities. AAMOC is the first of its kind and the expectation is to increase standardization, improve aircraft readiness and to minimize aircraft mishaps.
"Our primary school we go to is a Navy school, and that program is extremely successful for the Navy and its officers, but when Marines graduate, we train slightly different once we leave the school," said 1st Lt. Jared Hasson, an assistant aircraft maintenance officer with Marine Aviation Weapons and Tactics Squadron (MAWTS) One and AAMOC instructor from Winter Haven, Florida.
In an ever-evolving job field, the course's main purpose is to create a higher understanding and standardized learning platform for professional maintenance officers.
"There are training gaps with what is taught in the school house and what is actually being done in the fleet," said Capt. Scott Campbell, an a chief instructor and AAMOC developer from Amarillo, Texas. "This class is an attempt to formalize, consolidate and structure information that goes into the fleet that isn't getting taught to the Marines."
The curriculum consists of an initial and final exam, roughly 62 hours of academic course work and additional training outside the classroom. There will be daily evaluations of the students by the instructors on class work, practical application and projects. The students will receive grades on every subject and must maintain an 80% grade average to graduate. The course will run a total of seven weeks.
"If every person in the class room is able to walk away with something they didn't know beforehand, then I would deem this a success," said Campbell. "This isn't going to immediately stem the flow or in no way is designed to be the sole thing that fixes aircraft readiness. But teaching our maintenance officers how to better utilize their aircraft, where the demand of the aircraft comes from and how to manage that, absolutely contributes to better readiness numbers."
Graduation is scheduled for April 30, which is the end of WTI. Graduates from AAMOC will be granted signing authority for 2000 level codes in the newly minted T&R manual, and will have the title of Maintenance and Training Instructors (MTI).
During my visit to MAWTS-1, this April, I had a chance to meet with Captain Campbell and Lt. Hasson and to discuss this fleet focus. It was quite an experience.
I have never encountered more enthusiastic maintainers in my life, and listening to them it was clear that being a maintainer for today's Marine Corps is a worthy calling in service of the nation.
It would be difficult for me to convey the sense of enthusiasm, passion and commitment these two Marine leaders provided in our discussion.
Suffice it to say, that the sense of urgency in getting the readiness upsurge and the re-set of maintenance standards is a core part of reshaping the force and getting ready for the next fight.
Their core effort is upon reshaping the culture of maintenance in the USMC.
They are focusing on what they can do at their level and have targeted their efforts on enhanced training and effectiveness of those Marine Corps officers who are training the maintainers.
By so doing, they are generating a ripple effect throughout the maintenance culture of the USMC itself.
According to Captain Campbell:
"What is our objective with The Advanced Aircraft Maintenance Officers Course?
"What we're doing is standardizing the MOS.
"Because I can't control, at my level as a company-grade officer, contracts. I'm not going to be able to control procurement.
"So what can I control?
"We are focused on how we do things; how we share knowledge about best practices and how we keep from having to keep reinventing the wheel."
He highlighted the inventive quality of Marines, which is a plus, but the downside is that unshared individual innovations will not drive overall change unless knowledge is shared and best practices are determined.
And the course is taught in such a manner that whatever the baseline of the course going in, it is altered in the interactions with the students and articulation of best practices.
For the WTIs a large number of Marine Corps aircraft come to the course, to the exercise.  This provides an opportunity to bring significant experience from throughout the Marine Corps with different aircraft concentrated in Yuma.
And this provides a significant learning opportunity.
As Captain Campbell put it: "The maintainers comes to Yuma as if on a deployment.
"They are in barracks together and they generally don't know one another.
"They cross learn during their time at WTI and with regard to the course, those participating in the course will shape a cross learning network which informs the course and provides an interactive baseline as we push forward effective standardization."
1st Lt. Jared Hasson underscored that they have in the class maintainers who are new to the game and those who have written the book with regard to particular aircraft.
"At the outset, the gray beards look around and ask why are the newbies here?
"We wrote the book.
"But then the newbies challenge the way things are done and look for new ways to do things and soon a cross learning process is underway."
The course is part of an effort to generate broader understanding throughout the maintenance community of best practices and how to work from the evolved best practices to generating further progress.
An example cited by Captain Campbell was with regard to the F-35.  He worked earlier on the F-35 and one of the concerns was how to get the F-35 maintenance system to plug into and work with the broader Marine Corps Maintenance IT system.
He noted that the Green Knights are currently deployed at sea and they are sorting this out.  His task then is to find out how they have done it, and move that learning into the course and then share the knowledge so that the Marines do not have to have one-off learning efforts; rather they want to shape a learning curve.
Captain Campbell also underscored that the coming of the F-35 highlighted another change. "More of our maintenance is going to come from software and avionics than anything else."
1st Lt. Jared Hasson highlight another aspect of their work at MAWTS-1, namely generating Capstone projects. These projects are generated by the students to develop point papers on a subject of their interest and work through ways to deal with a problem of their own choosing.
"They figure out how to address the problem; and they work on that throughout the course.  And at the end of the course, they present their capstone project findings and some of these projects come to the attention then of the Naval Postgraduate School which then further pursue them."
And shaping best practices is a key element for enhancing readiness and maintainability of the ACE. Bringing a new focus within MAWTS-1 to this challenge certainly will help the overall efforts to transform the force going forward.