Building Counter Drone Technology: Rafael Leverages Iron Dome
Late last year, the drone incident at Gatwick highlighted the ever present threat which drones can pose to security and defense operations.
We noted in an article published last December:
Hundreds of flights have been canceled December 20 and 21 2018 and tens of thousands of airline passengers have been stranded because of the buzz of unauthorized drones over London's Gatwick Airport — demonstrating how disruptive a simple aerial strategy can be.
British regulations call for a no-drone zone within 1 kilometer (0.6 miles) of an airport's perimeter, while the Federal Aviation Administration restricts drone flights in a five-mile radius around airports such as Seattle-Tacoma International Airport.
In more sensitive areas, such as the National Capital Region around Ronald Reagan Washington National Airport, restrictions are in force within a much wider radius — ranging from 15 to 30 miles, depending on the type of activity.
The persistent drone crisis at Gatwick, located 45km south of London and which serves 43 million passengers a year, has had ripple effects throughout the international air travel system.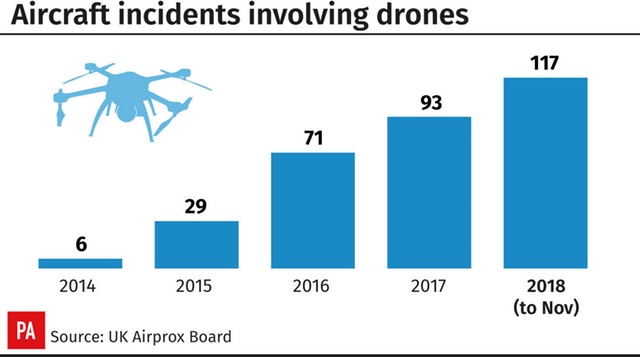 The Gatwick drone disruption is clearly not the only one as the chart above highlights.
And the problem is a ongoing challenge facing airports as well as other technologies such as laser technologies.
Several companies are working the problem, and one of the leading ones is clearly Israeli defence company Rafael.
An article published by Australian Aviation highlighted the approach being taken by Rafael which is being presented at the current Avalon Air Show in Australia.
Israeli defence company Rafael is close to fielding a high-powered laser as part of its Drone Dome counter-drone system which is on display at Avalon. It is in service in Israel and a system, minus the laser, has been sold to the UK Ministry of Defence.
Meir (first name only for security reasons), the director of marketing for Rafael's short range air defence directorate, said what happened at Gatwick demonstrated the capability of drones to shut down an airport.
"Even if it was a mistake, I am sure that the next time it will be done with the intention of stopping an airport. I believe that terror organisations have learned what happened at Gatwick and they learned, too, what they can do next time," he said.
Meir said Drone Dome was based on a series of four layers – detection and location of the drone, followed by positive identification and then a decision on what action to take.
"We need to choose what to do with this drone. We can neutralise it by jamming. The fourth layer, especially for the near future challenge, like autonomous drones, is the laser capability," he said.
Even before the drone leaves the ground, detection is possible because of radio signals between the drone and its operator.
Once the drone is airborne, it's detected by Drone Dome's radar which provides 360-degree coverage out to more than three kilometres.
Because the telemetry of commonly available drones is in known frequency bands using standard protocols, it's quite possible to identify exactly what kind of drone is out there from its electronic signature.
The radar then slaves Drone Dome's EO/IR camera to make a positive identification by day or night. That discriminates between drones and other radar returns such as birdlife and can determine if the device is a quadrotor or fixed wing.
"All these processes are done automatically. Now we need to choose as operator what to do with this drone. First of all we can jam with a directional antenna," he said.
Earlier identification of the type means it's possible to jam only in its relevant frequency band, rather than across the entire spectrum. Jammed in this way, most commercial drones will return to point of origin, possibly allowing the operator to be caught.
Jamming of the GPS signal means the drone will land.
"The unique capability of Rafael is the laser. From 2.5 kilometres I can burn the drone in under seven seconds. We need some sort of hard kill because autonomous drones don't transmit," he said.
This capability is in the final stage of development and is set to be deployed in Israel by end of year.
Meir said Drone Dome could protect a fixed position such as an airport, a power station or some sensitive asset, or it could go with deployed forces.