South African Navy's New Hydrographic Survey Vessel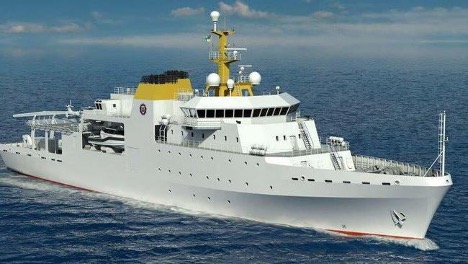 Sandock Austral Shipyards, previously known as Southern African Shipyards, is moving swiftly ahead with the construction of the South African Navy's new hydrographic survey vessel that is being acquired under Project Hotel.
Sandock Austral Shipyards, which rebranded earlier this year, said the new vessel is a first for South Africa and the continent and will not only provide detailed mapping of the ocean floor and better geographical data for vessels such as submarines but will also have massive civilian benefits.
The SA Navy's new hydrographic research and survey vessel "is a marvel of maritime engineering, hailed as one of the most sophisticated vessels to be built in Southern Africa, and by a local company," Sandock Austral said.
The vessel is being built to a Vard Marine 9 105 design. This is a 95 metre long ice-strengthened vessel with a 10 000 nautical mile range and top speed of 18 knots. She will have a 12.24 MW installed diesel-electric power plant.
Project Hotel also includes two fully integrated inshore survey motorboats and the upgrading of current shore-based hydrographic office infrastructure at Silvermine.
Subcontractors on Hotel include Veecraft Marine, which is supplying the boats, and Reutech Solutions, which is supplying four 12.7 mm machinegun turrets as well as communications systems and radars. Teledyne CARIS has been selected to deliver a full software solution to the South African Navy's Hydrographic Office as part of Project Hotel. Other partners include Wartsilla from Finland and Unique Hydra from Cape Town.
Sandock Austral last year told the South African Boatbuilders Export Council (SABBEX) that the shipyard was on track to deliver the vessel, with Armscor earlier this year saying that work on Project Hotel was "at an advanced stage".
The shipyard told SABBEX that Projects Hotel and Biro (for three inshore patrol vessels) have put South African shipbuilding back on the map.
"Project Hotel itself is a highly technical build and to boot a first of class vessel. We have had to bring a lot of the older generation back into the workforce in order to supplement our existing staff and at the same time we trust that this experience will be passed on to a younger generation of shipbuilders."
Project Hotel is supporting around 600 jobs for a period of two years.
This article was published by defenceWeb on May 27, 2020.