NATO Prepares for Trident Juncture 2018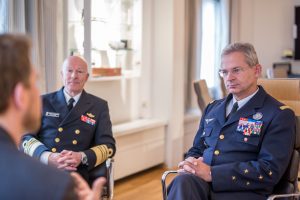 Trident Juncture 2018 is a major NATO exercise and opportunity for Norway to work its total defense concept.
In a 2017 article published on the Norwegian Ministry of Defence website, NATO will be focusing on its core mission of collective defense in the upcoming Trident Juncture exercise.
"NATO needs to hold exercises on a large scale. Only this way are we able to test all the levels in the alliance: From the troops on the ground and all the way up to a strategic level", says General Denis Mercier, Supreme Allied Commander Transformation (SACT) in NATO.
The French General thinks Norway will be ideal for an exercise on this scale.
"NATO needs realistic training, where we can combine operations in the air, at sea and on land. In Norway we get everything, this is one of the best places to train in Europe", says Mercier.
"The cold climate also brings extra challenges for the soldiers, that hones their skill."
RENEWED FOCUS
For many years, NATO has been occupied with international conflicts, but recent developments have led to a renewed focus on the core of the alliance.
"Collective defence and training for this will be key. This is one of NATO's core missions and we will spend more time on this in the future", says general Denis Mercier.
The General underlines the importance in focusing on the core mission: NATO as a defensive organisation.
"Deterrence is key for NATO. With large-scale exercises we can demonstrate our capacity and uphold our credibility."
https://forsvaret.no/en/taking-nato-back-to-its-core-mission