Working Coalition C2: RIMPAC 2018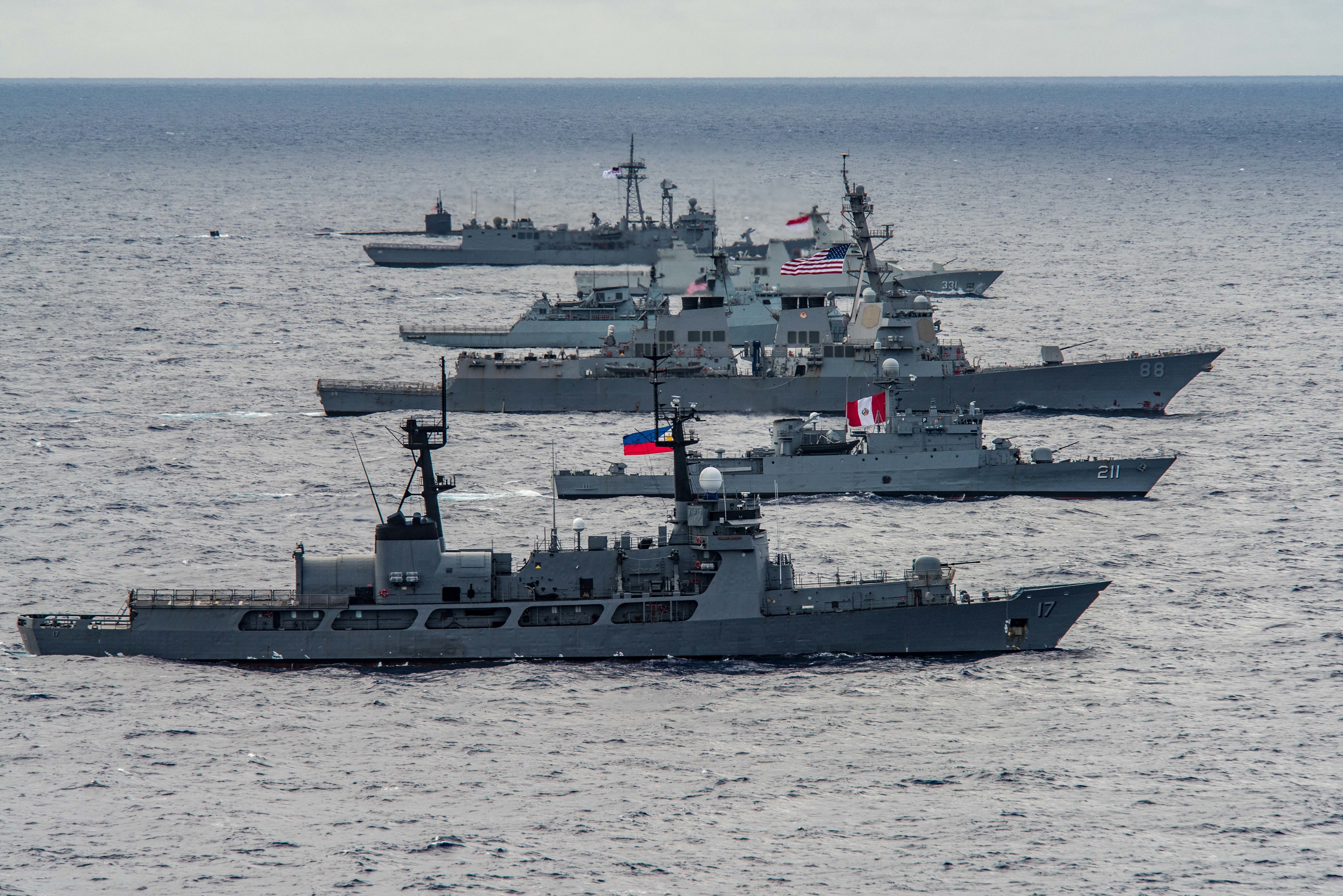 Working C2 in a coalition environment is clearly challenging but also crucial.
This is true throughout the spectrum of operations, and clearly higher end conflict preparation is seeing refinement of C2 among the US and core allies as well as working C2 through slower tempo operations as well.
In a 2016 article we addressed the evolution of C2 for Australian, Japanese and US forces which clearly are focused on higher paced operations.
With the evolution of defense capabilities in Australia, Japan and the United States, notably with the arrival of fifth generation aircraft in all three nations, there is a need to expand the capabilities to exercise together and to share data.
The challenge was well articulated by Rear Admiral Stuart Mayer in an interview earlier this year:
"There is no point designing a combat system capable of defeating supersonic threats and throttling it with a slow network or cumbersome C2 decision architecture.
"Achieving an effective network topology is so much more complex in a coalition context in which the potential for divergence is higher.
"The paradox is that a coalition network is much more likely a requirement than a national network, and yet what investment we do make is based on national systems first.
"If we don't achieve the open architecture design that enables the synergy of a networked coalition force, then the effectiveness of the coalition itself will be put at risk.
"The moment we insert excess command and hierarchical decision authority into the loop we will slow down the lethality of the platforms in the network.
"Before we even get in the battlespace we have to agree the decision rights and pre set these decisions into the combat system and network design; the fight for a lethal effect starts at the policy level before we even engage in combat operations.
"The network and C2 rather than the platforms can become the critical vulnerability."
"This is why the decision making process needs to be designed as much as the network or the platforms.
"If the C2 matrix slows the network, it will dumb down the platform and the capability of the system to deliver a full effect."
"The nature of the force we are shaping is analogous to a biological system in which the elements flourish based on their natural relationship within the environment.
"We have an opportunity to shape both the platforms and the network, but we will only achieve the flourishing eco system we seek if each harmonise with the other, and the overall effectiveness is considered on the health of the ecosystem overall.
"For example, an ASW network will leverage the potential of the individual constituent platforms and that in turn will determine the lethality of the system.
"A discordant network connection will, at least, limit the overall Force level effect of the network and at worst break the network down to discordant elements."
Clearly, a key part of the evolution is about shaping a weapons revolution whereby weapons can operate throughout the battlespace hosted by platforms that are empowered by networks tailored to the battlespace.
And that revolution will have its proper impact only if the network and C2 dynamics discussed by Rear Admiral Mayer unfold in the national and coalition forces.
"The limiting factor now is not our platforms; it's the networks and C2 that hold the potential of those platforms down.
"When the individual platforms actually go into a fight they're part of an interdependent system, the thing that will dumb down the system will be a network that is not tailored to leverage the potential of the elements, or a network that holds decision authority at a level that is a constraint on timely decision making.
"The network will determine the lethality of our combined system."
In the latest RIMPAC exercise, working multinational C2 was clearly a core focus of the exercise.
In an article by Megan Eckstein published by USNI News on August 1, 2018, the C2 dimension was highlighted.
Rear Adm. Daryl Caudle, commander of submarine forces in U.S. Pacific Fleet, told USNI News in an interview in his office that, in addition to three U.S. submarines – USS Hawaii (SSN-776), USS Illinois (SSN-786) and USS Olympia (SSN-717), "two partner countries have sent their submarines too: … from South Korea, the Park Wi (SS-065), and the Australian attack boat Rankin (SSG-78).
And two very capable countries, two very capable partners, countries that we work with frequently on anti-submarine warfare operations, anti-surface warfare operations with the submarines – so it's a relationship that's not new for us, and we just use RIMPAC to build on it."
"It's really most about command and control: it's one thing to command and control U.S. submarines, which by their clandestine nature has its own complexities because it's under the water, so I don't get to just be in constant radio communication with them. So communicating with submarines has its own level of complexity that we have honed over time to be very good at. But I don't get to do that with international partners very often," the admiral continued.
"A large training objective for me is the interoperability of our command and control, computer, information and communications systems and to be able to have those systems working together in a way that I can talk, task and command and control those forces to our common objectives. So to do that, we make sure that the ships that come over have radio equipment and computer equipment and expertise onboard to allow them to actually seamlessly feed into my command and control networks. So that's a big piece of interoperability you get by being a RIMPAC partner, is being able to feed into that collective network."
Caudle said he tried communicating with the Australian and South Korean sub on their journey to Hawaii and encountered some difficulties, but U.S. technicians worked with the subs during the harbor phase of RIMPAC to get the settings and channels just right to allow for proper communication during the exercise.
Capt. Blair Gerritsen, a New Zealand naval officer serving as the sea combat commander for the expeditionary strike group at RIMPAC, said that even with the surface ships he is commanding during RIMPAC, communication is a major issue to overcome.
"That's not a technical challenge; it's more how you communicate and what you communicate," he said.
"I think for all of us it reinforces some of the challenges of bringing a coalition together, just in terms of understanding, communications – and not just the mechanics of communication, but also how we communicate, and different cultures of different nations will interpret the same message perhaps two different ways.
"And so it's been really important for us to be really clear and concise in the direction we give to make sure that everyone's happy to come back with questions when they have them and feel confident in that. If we can communicate across the force, everything else is manageable.
"And that's the key enabler for coalition ops."
Gerritsen is commanding a range of ships – four U.S. destroyers and a cruiser, and frigates from Canada, New Zealand, Malaysia, Singapore, the Philippines and South Korea, among them – that each have their own capabilities, strengths, and areas where they hoped to improve at RIMPAC. Coming from a smaller navy himself, Gerritsen said the ability to pull all these assets together and create something more effective than any one nation could on its own is fun to be a part of…..
The featured photo shows Navy ships assembling to form a multinational fleet for a photo exercise off the coast of Hawaii during the Rim of Pacific (RIMPAC) exercise July 26, 2018.
Twenty-six nations, more than 45 ships and submarines, about 200 aircraft and 25,000 personnel are participating in RIMPAC from June 27 to Aug. 2 in and around the Hawaiian Islands and Southern California.
US Navy photo.