MBDA and Airbus Make Leadership Changes: Refocus on Defense and Preparing for Brexit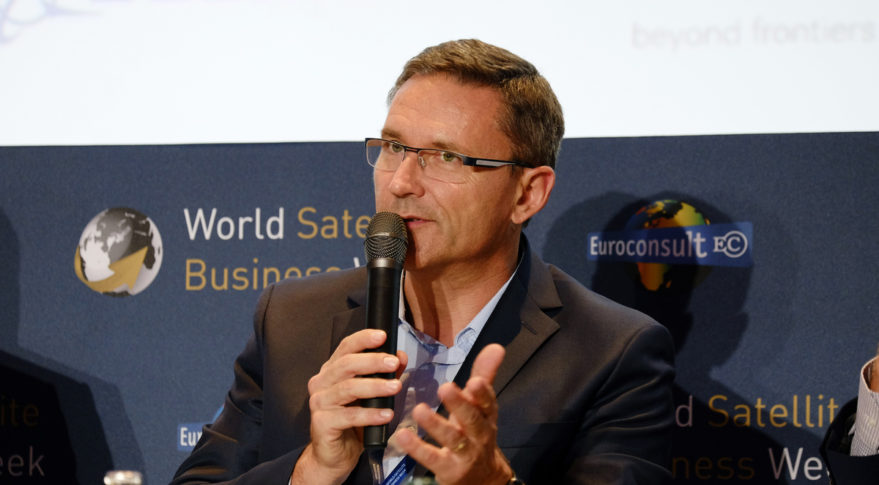 An Airbus appointment of Antoine Bouvier, chief executive of missile maker MBDA, as strategy chief can be seen as renewed importance of defense for the European aerospace group.
Bouvier will take up June 1 the post of head of strategy, mergers and acquisitions, and public affairs, Airbus said in a May 12 statement. He will report to Guillaume Faury, who was appointed CEO of Airbus in April.
The financial heart of the Airbus group is production and sale of airliners, which accounted for 84 percent of 2018 revenue of €63.7 billion, with 16 percent from defense activities.
Airbus is the longstanding rival of Boeing, with the European company seeking to hold an equal share of the world market for jetliners. That ambition fuels a race for Airbus to sell its A350, and re-engined A320neo and A330neo against Boeing's 787 and 737 MAX airliners.
At MBDA, Eric Béranger will take up June 1 the post of CEO.
Bouvier has a large contact book for defense industry, military and political leaders in Europe and around the world, where he has pursued export sales for MBDA in fierce competition with the US and Russia.
"Antoine brings a rich experience in the aerospace and defense sector as well as a strategic vision in an international environment," Faury said in a statement.
Besides Bouvier's 12 years as chief executive of the missile company, he also sits on the supervisory board of KNDS, a Franco-German joint venture in land weapons set up in 2015 by Nexter and Krauss-Maffei Wegmann.
His European credentials are underlined by the joint ownership of MBDA, with Airbus and BAE Systems each holding 37.5 percent, and Leonardo owning 25 percent.
"This is an emotional departure for me and I want to thank all the teams in each of our domestic countries who have, through their work and commitment, enabled us to turn this group into a model of European cooperation and integration," Bouvier said in a statement.
That strong CV in the defense sector signals a desire by Airbus to sharpen its military focus.
Airbus previously gave up an attempt to strengthen its defense side after an attempted 2012 merger with BAE Systems crashed and burnt.
That proposed deal was a bid to balance out Airbus's dependence on civil aircraft sales by adding BAE's extensive military business.
Political opposition in Berlin led to downing that deal.
The European group then undertook a strategic review, headed by the then strategy chief, Marwan Lahoud.
That assessment led to Airbus cutting its defence business, to focus on the airliner market.
Among the assets Airbus sold off were its stake in Atlas Elektronik, a German naval specialist, and most of its holding in a German-based defense electronics unit.
The military activities would be cut to Eurofighter Typhoon, A400M airlifter, transports including the A330MRTT, and helicopters.
Now, with a strategy chief with deep experience in the defense sector, a new flight path appears to be plotted.
"We are in a period of exceptional change in our industry and we need to prepare Airbus for the opportunities and challenges ahead," Faury said April 11, when he was appointed CEO.
Airbus plays a major role in two military projects: a wide-ranging Future Combat Air System (FCAS) — which includes a new fighter jet — and a medium-altitude, long-endurance drone.
In the former, Airbus has partnered with Dassault Aviation on a Franco-German, two-year joint concept study for FCAS, while the latter is a European attempt to break the US and Israeli hold on the world market for UAVs.
Those projects will need close attention if Airbus is to deliver results.
France plans to make announcements on launch of a project for an FCAS technology demonstrator at the Paris air show, which opens June 17.
MBDA, meanwhile, will receive a chief executive with wide experience in the space sector.
Béranger was appointed in 2014 head of programs at the Airbus Defense & Space division, having been CEO of the group's Astrium satellites unit.
He was chief executive of OneWeb,  which seeks to deliver worldwide internet connections through low-orbit  satellites.
"As a champion of European industrial integration, I am looking forward to bringing all my knowledge, experience and energy to MBDA — the benchmark of successful European integration within the defense sector," Béranger said in a statement.
He led Airbus's negotiations in exclusive talks with the UK for the Skynet 5 military communications satellite, and has also worked at France Telecom and Société Générale, a French clearing bank.
Stewardship of MBDA is critical for industrial cooperation, all the more so as the UK prepares to leave the European Union on Oct. 31.
Brexit poses a problem, but Europe should "make room" for Britain in pursuit of European defense, Louis Gautier told May 15 the French senate committee for foreign affairs, defense and armed forces.
Britain works closely with France in missiles, the defense industrial sector effectively the most integrated and one organized around MBDA, he said.
Gautier, formerly secretary general for defense and national security, has delivered to president Emmanuel Macron a report on European defense, in which he has made 91 recommendations.
That study is presently being considered by government ministries.
Lahoud was chief executive of MBDA prior to taking up the post as Airbus strategy lead.