Industry 4.0 in Aerospace and Defense: Shaping a Way Ahead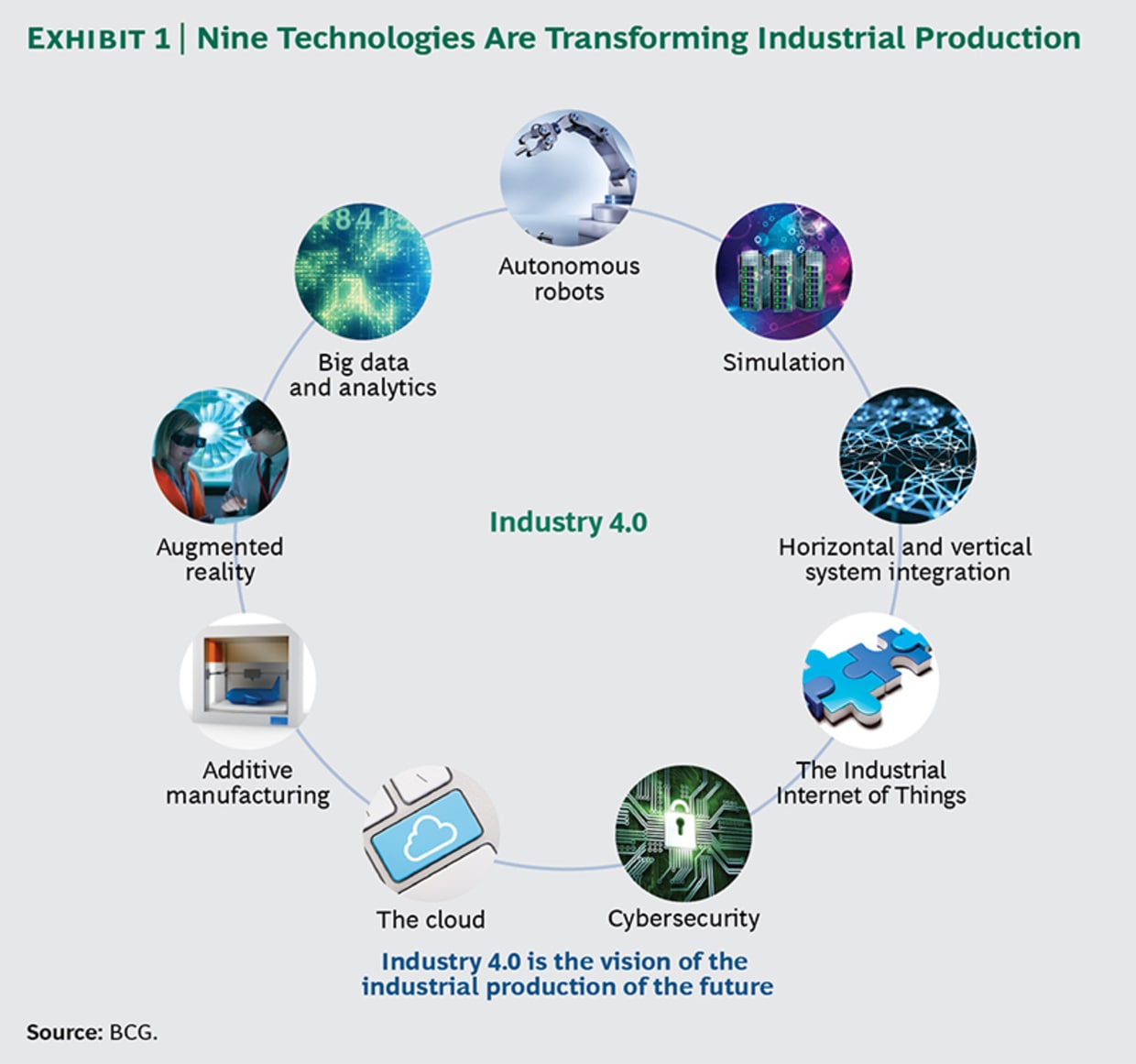 The benefits of Industry 4.0 for A&D manufacturers are enormous but involve critical decisions on digital investments and an increasingly cyber-aware ecosystem.  That means getting the building blocks in place with a forward-looking software platform for such future-proofing initiatives.
In a recent report Deloitte defines 'Aerospace & Defense 4.0' as the application of Industry 4.0 technologies for developing new cost-effective products and services, making existing products smarter using sensors and connectivity, and leveraging advanced manufacturing processes. A&D manufacturer BAE Systems has been using these principles in its New Product and Process Development Centre since 2017, where 3D printing and virtual reality technology are used to reduce costs and speed up manufacturing processes for combat aircraft.
Still, this may seem like a daunting task for many A&D manufacturers, particularly those tier two and three companies that play a vital supporting role in the manufacturing ecosystem but lack large manpower and monetary resources.
This really doesn't need to be the case.
In fact, IFS customer TEST-FUCHS is already seeing the real benefits of a dedicated digital twin approach for the ground support assets and test equipment it manufacturers, implemented as part of a company-wide push for digital transformation.
Here I pinpoint four key areas, as well as some helpful feedback we hear across our A&D manufacturing client base, all of which highlight where the right software can help A&D manufacturers deliver on an Aerospace & Defense 4.0 strategy and future-proof their business.
1. Connectivity
"Connecting outside our four factory walls is as important as any new feature we get in software"
The significance of the digital thread as a communication network is huge in scale and consequently in importance. It enables a connected flow of data and an integrated view of an asset across its lifetime through various isolated functional perspectives, through multiple factory walls. According to LNS Research, the digital thread can increase supply chain efficiency by 16% and reduce the time required to take a product to market.
Alongside these digital initiatives, more manufacturers have realized revenue gains by extending asset management into the field to supply and service customer assets. This brings in service-based contracts with Service Level Agreements (SLAs) which must be met, and the best way to manage these contracts is by providing a suitable mobile platform for field workers and data feedback from the Industrial Internet of Things (IIoT). This means A&D manufacturers need to rely heavily on their supporting enterprise software in order to provide this level of connectivity.
Open frameworks, instant collaboration
The right software tools can help them connect to this increasingly digital supply chain ecosystem by offering seamless interoperability with other solutions, either through an open integration framework or through pre-built solutions which meet specific government or industry integration standards.
With servitization-based business models becoming commonplace among A&D manufacturers, new direct customer connectivity requirements are opened up—right down to IoT, customer systems, in-house Customer Relationship Management and connectivity with third party contractors who may be carrying out repairs on assets in the field.
This means supporting enterprise software must be geared to connect these field-based requirements, with specific asset and service management functionalities bringing these various data streams together.
2. Configurability
"Every contract has new requirements. We're running a dozen different models and we need our IT to support that"
High-level manufacturing research from Deloitte shows more than 50% of customers indicate interest in purchasing custom products or services.
In the A&D sector this is even more prevalent, with manufactured parts and assets performing highly specific roles in often unique military and aerospace projects. We see A&D customers becoming more demanding in terms of delivery schedules and customization. In response to this, it is becoming a key differentiator for A&D manufacturers to have a wide range of project capabilities, who now have to operate on multiple projects for every customer, each with their own complexities. Reacting to these customer requirements means being as agile as possible. If inflexible incumbent software cannot adapt to these new demands this can result in long delays.
Agile capabilities across the business start from the inside
Accepting a customer order and then finding out you don't have the functionality available to implement and manage the contract can lead to lengthy delays and loss of business. The key to remaining agile to react to specific customer requests is having a broad functional capability from within the enterprise software you deploy. This should include fundamental manufacturing capabilities and flexible financial controls—particularly around the complexities of the assets in A&D, such as project-driven work and managing quality.
Then configure, don't customize
But once A&D manufacturers know they have a complete set of functionalities they can rely on, they need to make sure they can deploy them in a modular approach when required, and configure them to adapt to both unique customer requirements and internally-driven lean initiatives—this is the difference between customization and configuration.
This could mean configuring separate screens and interfaces for executives at the top level of the business looking at overall performance, and the engineers logging granular information into the software daily.
But here companies can also take advantage of new technologies to introduce new Industry 4.0 manufacturing processes into the factory—such as additive manufacturing machines with their specialized requirements for material control and process monitoring. The pace of technology is rapid and predicting what may be required next year isn't possible.
In such cases, the relevant screens required to manage the new processes and statistics may not exist yet, but the tools within the software to quickly and easily create them should be there!
3. Intelligence
"We made a big leap forward when we went live. Now we need to keep evolving"
A&D products produce vast amounts of information—for example the Pratt & Whitney PW1000G engine generates four million data points on every flight. Less complex systems generate less data, but at all levels the value of telemetry is well proven. A&D companies should leverage this information not only for designing, manufacturing and operating their products but also for developing new, smarter, business models.
Standing still means losing out against more forward-looking competitors, particularly as connected machines become the standard, and Industry 4.0 technologies such as additive manufacturing, artificial intelligence and virtual/augmented reality mature and begin to deliver solid ROI. Witness IFS partner PTC and BAE Systems creating interactive mixed reality (MR) work instructions for Microsoft HoloLens. MR enabled BAE to train its first-line workers 30-40% more efficiently.
Adopting technology is a constant endeavor
Enterprise IT lifecycles are long-term investments that can be expected to last for decades— 'forever ago' in manufacturing terms! As more intelligent technology enters A&D manufacturing facilities, supporting software has to keep pace. Locking into an inflexible system for a set amount of time can mean manufacturers are caught flat-footed and unable to capitalize on new tech initiatives.
In today's market conditions, manufacturers should consider evergreen software built for compatibility through open integration standards.
The goal should be to change IT operations from manual to automated processes, driven by intelligent software. The result is an approach where increasing technology investment is matched by software support comprised of components that are always up to date.
4. Security
"We used to be insulated from the DOD's cyber requirements—not anymore"
One element highlighted in the Deloitte Aerospace & Defense 4.0 report was the need for A&D manufacturers to adapt to the new cybersecurity paradigm. In commercial aviation, according to PwC's 2015 Global Airline CEO Survey, 85% of airline CEOs in the study viewed cybersecurity as a significant risk, likely reflecting the highly sensitive nature of flight systems and passenger data.
On the defense side there are increasing security expectations from military organizations such as the U.S. Department of Defense (U.S. DOD).
In fact, the U.S. DOD has just revealed plans for a set of contractor cybersecurity standards that are scheduled to be implemented by January 2020, called the Cybersecurity Maturity Model Certification. Currently, companies supplying products and services to the U.S. DOD must meet 110 security requirements specified in NIST SP 800-171 or risk losing contract awards and new regulations are unlikely to be more lenient.
Other countries have followed suit, including the UK with the Defence Information Strategy (DIS) and Australia with the Information Security Manual (ISM). The cybersecurity challenge becomes even more sensitive when combined with the proliferation of cloud-based solutions and the security implementations of access control and the International Traffic in Arms Regulations (ITAR).
Compliance and cybersecurity flow downstream
Regulatory-compliant software can be a key differentiator when bidding for A&D manufacturing contracts. Your enterprise software should be a strategic enabler for information and cybersecurity. It should be designed from the ground up with security in mind, and address risks and threats throughout all phases of the software development lifecycle. Recent cloud infrastructure has already produced workarounds for the cloud security challenge, most notably Microsoft, which has made its Azure cloud platform ISO compliant.
A fully compliant software partner and applications that demonstrate the security of the organization means A&D manufacturers can trust they are well positioned to compete in an increasingly complex digital arena.
Foundations for Aerospace & Defense 4.0
In an Industry 4.0 world, A&D manufacturers face some critical decisions which are directly linked to business success—and they can look like an insurmountable challenge. The benefits include increased efficiency, profits and security, not to mention a highly satisfied customer base.
However, these benefits can't be realized without the support of a software facilitator, which helps put the building blocks in place for A&D manufacturers to build and execute on an Aerospace & Defense 4.0 strategy.
Evan Butler-Jones
Director, Defense Product Line, Aerospace & Defense Business Unit, IFS
Evan is responsible for ensuring that the products and services offered by IFS meet the needs of defense customers around the globe. Evan's history and knowledge of the IFS Maintenix product offering dates back to 2001 to 2011, when he occupied various leadership roles at Mxi Technologies and was involved in projects, such as the Lockheed Martin F35 Joint Strike Fighter Autonomic Logistics Information System (ALIS) and the Boeing 787 "Goldcare" system development and business model analysis.
Prior to joining IFS, Evan was CEO of The Materials Joining Innovation Centre (MaJIC) in Ontario, Canada, a not-for-profit organization created to fill industry's need for practical welding expertise. He currently sits as advisor to the Innovation Centre for Advanced Manufacturing and Production (ICAMP) – Canadore College, also in Ontario.
The graphic was adopted from the following source:
https://www.bcg.com/publications/2015/engineered_products_project_business_industry_4_future_productivity_growth_manufacturing_industries.aspx
Also, see the following interview with regard to Industry 4.0 and the F-35 program: