Crisis Management and the Return of Direct Defense in Europe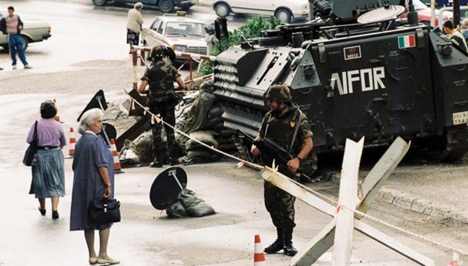 We have argued that rather than looking at the transition from the land wars as one straight to path of high-end conflict, that it is better to consider the challenge as one of operating within and prevailing in full spectrum crisis management.
Clearly, the build out of an integrated distributed force or a distributed integratable force is about tailoring a force to a crisis with an ability to reach back to have escalation control.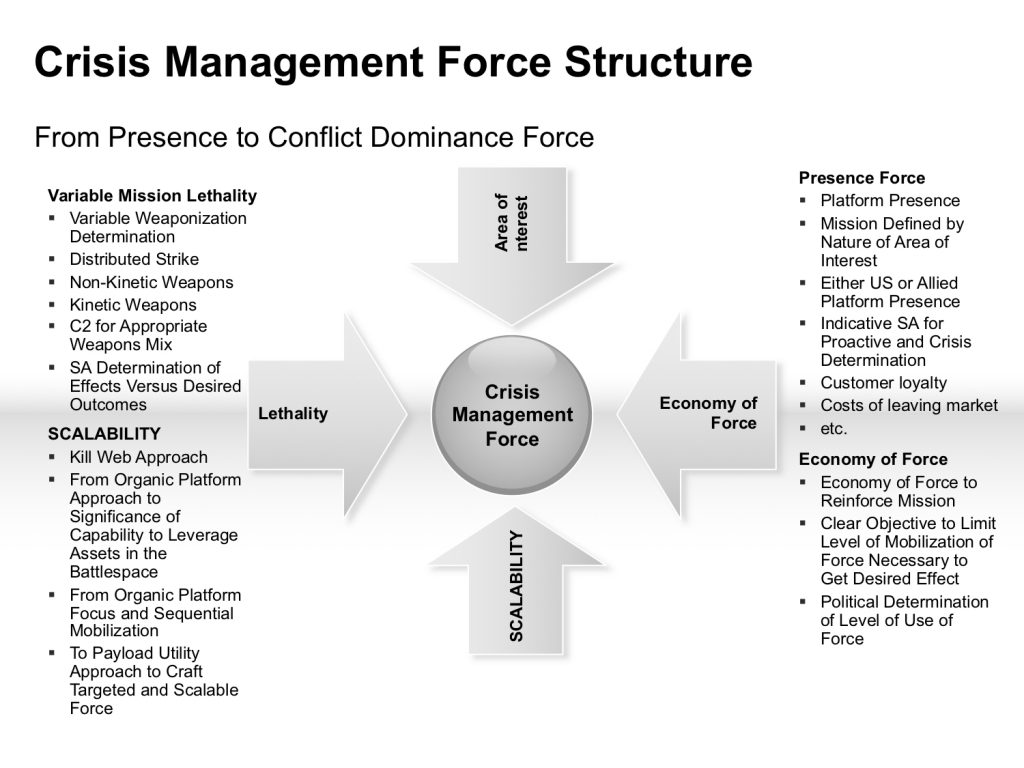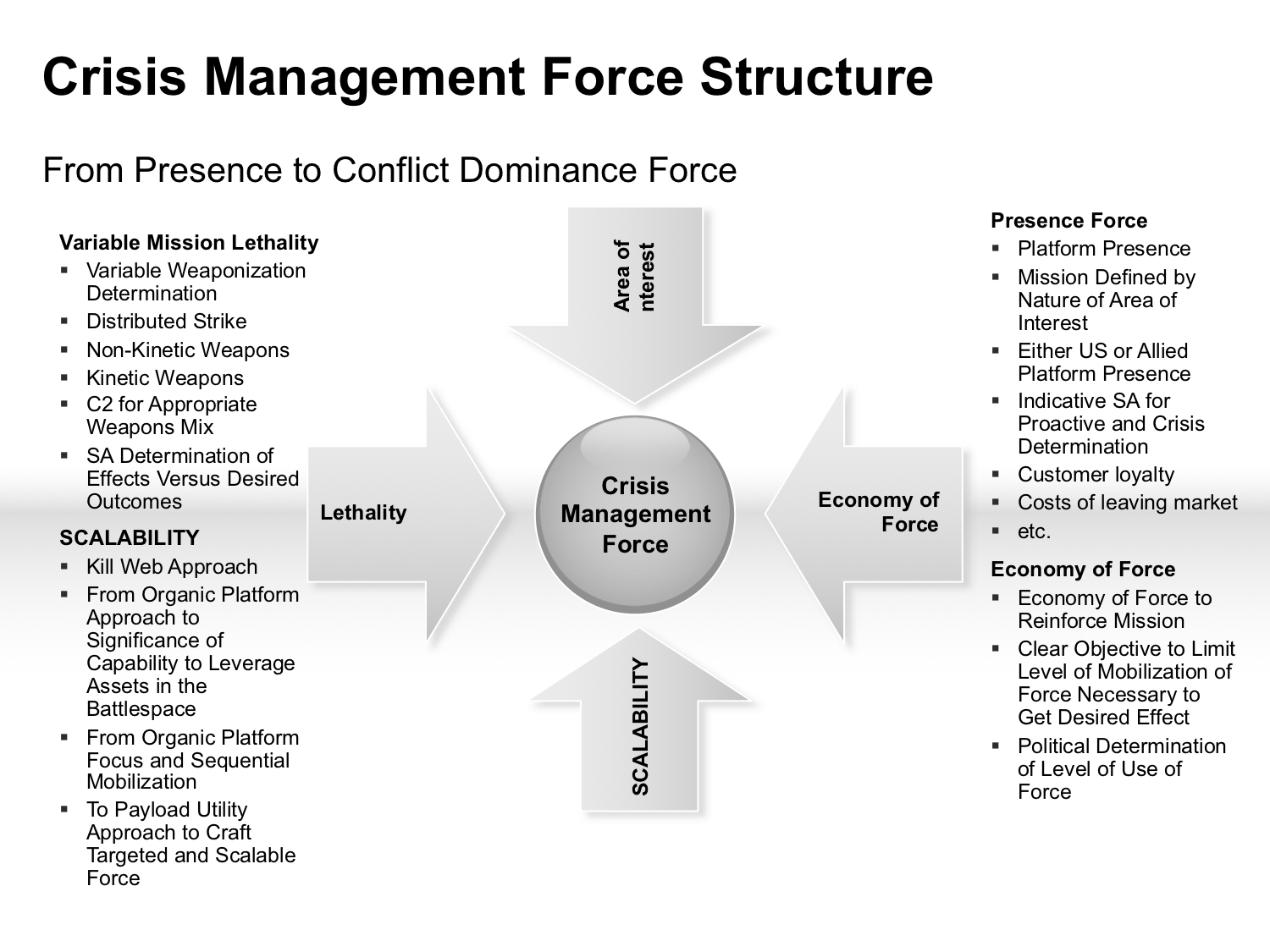 But the key question is how will civilian leaders use these tools and approach crisis management and crisis escalation control, and dominance?
And this will be especially challenging for coalitions and alliances
In a recent piece by Antoine Got published by the NATO Review this month, the authors looks at NATO and EU crisis management exercises and how the allies are shaping a way ahead.
Antoine Got works in the Crisis Response System and Exercise Section of NATO's Operations Division, which oversees the planning and conduct of crisis management exercises.
What follows are excerpts from his article:
NATO crisis management exercises allow the Alliance to rehearse and test its internal and partner consultation and decision-making procedures at the strategic political-military level. They involve civilian and military staffs in Allied capitals, at NATO Headquarters and in both Strategic Commands. Pictured: general view of a meeting of the North Atlantic Council. © NATO
For a brief moment back in May 2019, NATO was in the depths of a major crisis. Not a real one, but a simulation aimed at testing the Alliance's crisis management arrangements at the strategic political-military level. Held between 9 and 15 May 2019, Crisis Management Exercise 2019 was one of NATO's largest political-military exercises since the series was created in 1992, drawing together more than 2,000 participants from across the Alliance.
This level of participation illustrates just how much momentum strategic political-military exercises have gained in recent years within NATO and other international organisations, including the European Union. Under the Common Security and Defence Policy, the latter has organised several large-scale crisis management exercises since May 2002 to test the different layers of its crisis response processes. More recently, in September 2017 and November 2018, the European Union has held two parallel and coordinated exercises on responses to complex hybrid emergencies, together with NATO…..
Since 2014, following Russia's illegal annexation of Crimea, changes in the global security environment have renewed NATO's interest in exercising collective defence. By raising the spectre of conventional warfare, the resurgence of a threat from the East provided a new impetus for the reassessment of NATO's exercising priorities, expanding crisis management exercises in scope to include both Article 5 (collective defence) and non-Article 5 (projecting stability) scenarios.
Today's crisis management exercises are increasingly complex, mirroring the wide array of security challenges and potential crises the Alliance must respond to in its current security environment: from hybrid to potential kinetic warfare, to terrorism, to instability outside the Alliance's borders, to the spread of weapons of mass destruction. These changes have also led NATO to move from purely fictitious scenarios, to scenarios using increasingly realistic settings.
Prepare, test, adapt
Crises can be unexpected and sometimes unforeseeable events, which challenge the fundamental values and norms of a system, and call for the coordination of many different actors and urgent decision-making. Government and international organisations have historically played an important role in crisis management. In times of crisis, citizens often look to policymakers to mitigate the adverse consequences of an emergency, be it political, economic or social – and failure to respond adequately can cause irreparable damage to an organisation's image and legitimacy.
Yet crises have also significantly evolved in today's complex security environment. Increasing trans-nationalisation, globalisation and mediatisation, as well as spectacular advances in information and communication technologies have led to new forms of challenges (for example, hybrid and cyber) that undermine more "traditional" notions of crisis management. This makes it harder for governments and international actors alike to identify the warning signs of a materialising emergency, or predict their effects beyond immediate short-term consequences. In this changing landscape, crisis management exercises are re-emerging as powerful tools for decision-makers and organisations to enhance their ability to deal with the advent of disruptive and often unexpected events.
The appearance of 'little green men' and Russia's illegal annexation of Crimea in March 2014 marked a significant shift in the security environment. Today's crisis management exercises are increasingly complex, mirroring the wide array of security challenges and potential crises facing NATO. © Quora.com
One of the crucial benefits that organisations like NATO can derive from crisis management exercises, especially today, is an increase in strategic culture, risk awareness and preparedness…..
To be truly meaningful, however, an exercise should be part of a process of change in which problems that arise are transformed into opportunities for improvement…..
Finally, crisis management exercises are social processes. By fostering discussion, these exercises can help forge a shared vocabulary about a given crisis and the means to address it, thus creating a sense of unity and shared purpose….
At a basic level, they constitute opportunities for networking and for developing new contacts from across sectors, including with international organisations and partners. Of course, exercises may also generate friction and unveil intra-Alliance divisions on key sensitive issues. But by providing a framework for dialogue, including through Article 4 consultations, these exercises can also serve as useful venues for overcoming such differences. Indeed, it is far better to address these challenges in the controlled environment of an exercise than in the heat of a real crisis.
The future: tapping into new technologies
The development of new technologies is one of the most exciting trends in the field of crisis management exercises today. With the advent of artificial intelligence and advanced modelling and simulation techniques, tomorrow's crisis management exercises are likely to be more immersive, interactive and dynamic than ever.
These technologies will allow future exercises to better replicate real-life parameters and allow for multiple scenarios to play out depending on the decisions taken by participants, thus maximising their training potential.
While it may take years before such technologies revolutionise the way exercises are designed and conducted, some have already started to have a transformative impact on exercises at the operational and tactical levels, for instance on the way air force pilots are taught and trained.
With these advances promising to further increase their added value, crisis management exercises are likely to remain key tools in the future for the Alliance to prepare against the risks of tomorrow's complex security environment.
What is published in NATO Review does not necessarily represent the official position or policy of member governments, or of NATO.
The complete article can be found here:
https://www.nato.int/docu/review/articles/2020/02/07/nato-crisis-management-exercises-preparing-for-the-unknown/index.html?utm_medium=email&utm_campaign=NATO%20Update%20202006&utm_content=NATO%20Update%20202006+CID_50885c8736d15888551b94cc335be22a&utm_source=Email%20marketing%20software&utm_term=NATO%20crisis%20management%20exercises%20preparing%20for%20the%20unknown