The Australian Army in the Decade: Resilience, Regionalism and Relevance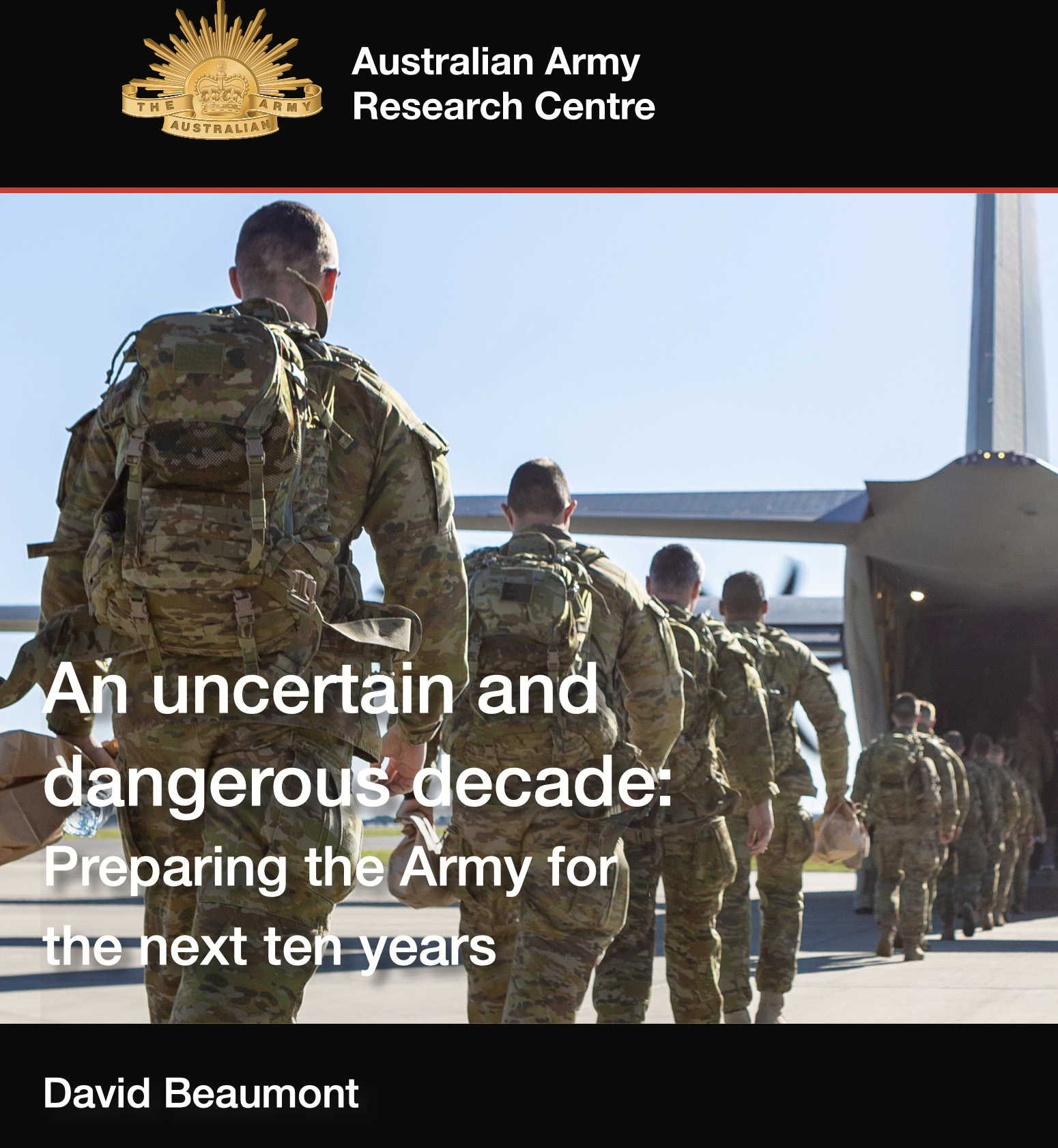 In my recent discussion with Brendan Sargeant, he underscored how significant the strategic shift facing Australia is and notably, underscored how the strategic shift impacted most directly on the question of the future of the Australian Army in the decade ahead.
According to Sargeant, "As we focus on our region, Army will have a key role, but in terms of the joint force.
"How best to work their role?
"What do they need to be able to do in the joint and integrated force context?
"One answer clearly would be for the Army to focus on how their new interest and capabilities in amphibious warfare would work within a regional joint force context?"
Recently, the director of the Australian Army Research Centre, Lt. Colonel David Beaumont, provided a way to think about the decade ahead facing the Australian Army, assuredly within its context of working within the joint force.
Readers of defense.info are very familiar with Beaumont's work as a logistician, and not surprisingly, a logistician provides a solid background for understanding how to adjust to a globally disrupted "global commons" so to speak.
In his recently published paper entitled An Uncertain and Dangerous Decade: Preparing the Army for the Next Ten Years, Beaumont sketches out some intellectual foundations for rethinking the Army and its role in the restructured strategy of Australia in dealing with its direct defense challenges.
In my view, the paper identifies what I would consider to be the three Rs affecting the way ahead for the Australian Army: Resilience, regionalism and relevance.
Resilience
With regard to resilience, the shifting focus in Australia to the question of supply chains, and the ability to deal with domestic challenges such as the Brushfire disasters provides an obvious focal point for the Army.
How can the Army be best trained, equipped and position to support the ability of Australian society and industry to ensure that Australia can prevail through a period of crisis?
As Beaumont puts it: 'National resilience' may have been an important topic before the bushfire devastation of 2019–2020; now it is seen as an alternative to a globalist economic approach that seems to have failed us.
The fragility of Australian prosperity was exposed as citizens stormed shops for basic household items, the capacity limitations of the national health sector were revealed and shown in the challenge it has been for government to deploy resources to overcome such a significant health and economic emergency.
This is a crisis of supply, rather than demand; where the problems have resulted from non-availability rather than a collapse in society's desire for them.
Military observers should have viewed this situation with nervousness, as a similar fragility exists in the supply chains required by the ADF to maintain its technologically sophisticated and otherwise highly capable joint force. 
But these observers should also consider national resilience as a pre-eminent security concern, for it is the role of militaries to protect their nation's prosperity through the use of armed force.
As geographer Deborah Cowen believes, there has always been a 'profound entanglement' between war and trade.
Resilience is a problem societal in its scale and has prompted much discussion about the limits of the assumptions that underpin our daily lives.
It is patently clear that 'national resilience' should matter to the Army. (page 14).
Regionalism
With regard to where the Army will most likely be required to operate, in addition to becoming more effectively integrated into domestic resilience efforts and HADR events within Australia, the focus clearly as indicated by Brendan Sargeant on the regional context.
The Army's role here is to be able to engage effectively in political-military or military diplomatic affairs, in the defense of the first island chain of Australia, be able to provide ground and amphibious capabilities to support effective joint operation, and to shape more effective integrateable forces with allies and partners in Australia's Indo-Pacific engagement.
This is how Beaumont put the regional re-focus for Australia.
While a narrative of US 'minimising exposure' to the outcomes of competition has been amplified during the COVID-19 pandemic, a realignment of US strategic interests will only increase the need for Australia to be regionally focused.
To this end, discussion of cooperation with India and Indonesia might become more important than ever before. Closer ties with historical partners such as Singapore, Japan, France and New Zealand will support the development of collective offsets against expansionistic nations.  
 But, most of all, the quality of the bonds established by supporting and working with smaller nations and friends across the Indo-Pacific, from Papua New Guinea to Micronesia, will be as important to security as preparing for the defence of the Australian mainland is. In coming years, the Army will have an important role in underpinning this engagement through its international engagement program. (Page 18).
Relevance
Although Lt. Col. Beaumont does not put it this way, his entire analytical effort highlights the core challenge of ensuring how Army maximizes its contribution to the nation and ensures its core relevance to an expanding set of regional threat scenarios which will emerge on top of significant challenges to ensure effective Australian national resilience.
Beaumont highlights a key way ahead for the Australian Army which would place it dead center into the overall ADF transformation for the new strategic environment.
From 2025, the Army will be well on the way to making the 'Army Objective Force' a reality. It will have balanced the requirements for infrastructure, workforce and strategic need to reshape the Army such that it is more efficient and easily sustained in peace.
This might include the consolidation of new materiel where it is to be exercised and with access to industry partners right to the reorganisation of commands to accommodate the introduction into Service new capabilities such as long-range missiles.
Some parts of Army will be heavily involved in defending Australia against 'grey zone' threats, though all of Army has a role to play in ensuring deterrence and responding to evolving threats. All parts of Army, however, will be involved in regional engagement activities.
A focus on the region to Australia's north will naturally see a range of activities underway, with a range of partners.
Regional missions will become more important than ever as Australia demonstrates its commitment to regional security, as the Army redesigns itself to better operate in the archipelagic environment.
In short, the Army could very well undertake a transformation at least as significant as that which occurred in the 1980s and 1990s.(Page 31).
The Beaumont paper can be found here:
https://researchcentre.army.gov.au/sites/default/files/20200520_Army%20after%20the%20coronavirus%20%28Beaumont%29_INTERNALS%20%28DIGITAL%29_v3.pdf