Taking a Stock of China's Self-Propelled Howitzers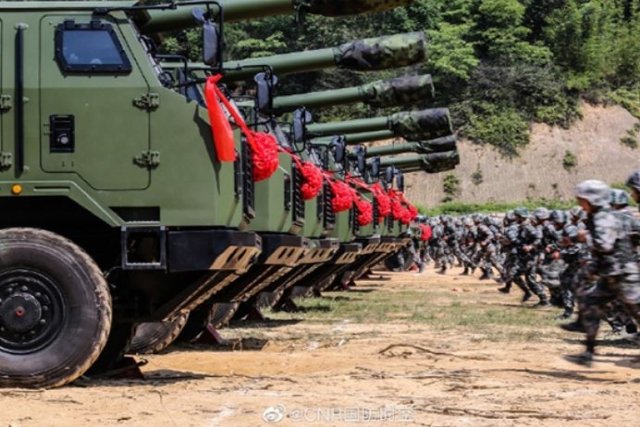 One of the crucial ground-based artillery systems for ground combat is the self-propelled artillery. These systems support ground troops by providing indirect and direct fires. These systems are either tracked or wheeled. They are highly mobile systems capable of 'shoot and scoot' tactics.
With the growing assertiveness of China's military amid the pandemic as China faces international criticisms, this article highlighlights China's growing self-propelled howitzer capabilities and their potential impacts.
China is in the process of replacing, its PL-66 152mm towed howitzer with more advanced PCL-181 155mm self-propelled howitzer.
The system would also replace Type-59-1 130mm towed field guns.
With the ongoing India-China border stand-offs, there could be a possibility of China deploying the PLC-181 howitzers in Eastern Ladakh region. The system in future could be deployed in South China Sea (SCS) region.
As China's military assertiveness and aggressiveness expands across the South China Sea and East China Sea (ECS), China's self-propelled howitzers can play a role in holding and defending terrain.
PLC-181 155mm: The 155mm weapon system is reported to have greater response time, greater reaction time and its ability to be operated automatically as opposed to the PL-66 howitzer that it would replace. Greater mobility further adds to the weapon's greater response time.
The system is can be easily air transported, and also be easily transported on road across bridges that could take only limited weight as well as in rugged terrain.
The weapon system's flexibility and maneuverability make it apt for mountain warfare and for plateaus like in Tibet.
According to reports, the PCL-181 is so light that one Chinese Y-20 transport aircraft can carry two of such vehicles.
According to reports, the light weight of the weapon system is very conducive as in high altitude due to lack of oxygen, there could be an impact on the power of engine which gets negated due to the light weight of the weapon system.
There are six artillery squad members that can be accommodated in the vehicle on which the howitzer is mounted. The vehicle is has protection systems designed to enhance the survivability of the squad that will operate the system.
Highly digitalized control panels that can be found in the cab allows artillery gun deployment with the press of a button, automatic gun calibration and half-automatic ammo reload.
Integrated wheeled chassis and highly automated electromechanical hydraulic servo system gives it better edge during combat.
The system is not tracked but wheeled unlike the other PLZ-05 155mm self-propelled howitzer.
PLZ-05/52 155mm: This 155mm is a tracked self-propelled howitzer and is known by the designation of Type-05. Tracked howitzers would not be road mobile.
The weapon system can reach targets up to a distance of 100kms with the use of specialised projectiles. Since they are tracked, they are best suited in armoured formation and mechanised infantry formations.
Since they are on full tracked chassis, they may find it complex to function in rugged mountainous terrains.
Four squad members can be accommodated in the vehicle on which the howitzer is mounted.
The weapon system has a quick reaction capability with its survivability scope is high.
It can autonomously engage without a survey vehicle's support with the help of laser/fibre optic gyro navigation system.
The weapon system is capable of striking accurately with the help of smart projectiles.
PLZ-45 155mm: The 45 calibre 155mm howitzer has a range of 24kms and 39kms with the use of assisted projectiles including use of laser guided munitions. This weapon system also used trucked chassis.
There can be five crew members in the vehicle. A semi-automatic loading system makes the functioning of the weapon system provide better reaction time. The weapon system is capable of carrying 12.7mm anti air-craft gun.
PLZ-89 122mm– The 122mm self-propelled howitzer and the weapon system has a fire range of 15kms using standard high explosives and 18km with extended range full-bore and 21kms with extended range projectiles.
The howitzer is amphibious using floatation kits on each side of the hull and is meant to accompany armoured troops in the battlefield providing them medium to long range indirect fire support.
PLL-09 Type 122mm- This amphibious self-propelled howitzer is widely used by the People's Liberation of Army (PLA) for providing indirect firing for rapid deployment of brigades.
The wheeled chassis weapon system can move with armoured vehicles including main battle tanks and also armoured personnel carriers and can accompany them to their redeployment locations within a short span of time.
Tyre pressure regulation system on the vehicle and high ground clearance smoothen the mobility of the system.
This mobility is crucial as the system has to accompany a rapid action brigade.
PCL-09 Type 122mm: This truck mounted wheeled howitzer provides indirect fires for a motorized infantry unit.
The vehicle is capable of performing combat roles in different terrains and conditions with the help of central tire inflation system equipped with the truck that provides control over air pressure in each of the tires.
Common with self-propelled artillery systems is the 'shoot and scoot' tactics which the PCL-09 system can perform in less than five minutes by stopping, firing six rounds, and transforming back to traveling mode.
PLZ-07A Type 152mm: The system is a full-tracked howitzer with hull and turret made of armour steel providing protection against small arms firing and shell splinters in battlefield.
China possesses both tracked and wheeled self-propelled howitzers to be able to be battle prepared in any terrain and in any condition.
A balanced mix of 155mm, 152mm and 122mm howitzers add to the strength of China's self-propelled howitzers.
These systems can be deployed at lesser time frame and with greater ease and provide the Chinese military with enhanced options for ground combat and to be able to deploy more rapidly to hold terrain.
Debalina Ghoshal is a Non Resident Fellow, Council on International Policy and an Asia Pacific Fellow, EastWest Institute
The video: "Most likely, work on the creation of a new self-propelled guns began in #China in the early 2010s. In any case, the first photos of the PLC-181 wheeled howitzer in acceptable quality only appeared on the Internet in 2015. And it was possible to consider the new product in detail only in 2018, when the first frames of the installations that moved to participate in the 12th international aerospace show in Zhuhai got on the network. It was the full-fledged Chinese premiere of the new 155-mm self-propelled howitzer."
The featured photo: PCL-181 vehicle-mounted howitzers (image via local media)
Source:https://www.defenseworld.net/news/26931/China_s_replaces_Two_Artillery_Guns_with_Vehicle_mounted_155mm_Howitzer#.XzBnIC2z2TM