Europe's Northern Group and Deterrence in Depth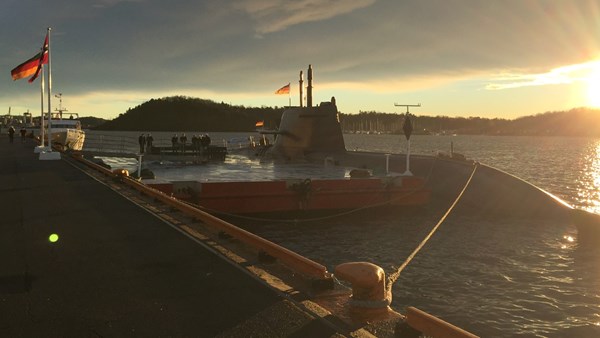 Europe's Northern Group is providing a venue for discussing ways to enhance defense, security and deterrence in the region.
Its membership is build around the Nordic groups, but also includes the most relevant allies for the defense of the region, namely Britain, Poland, Germany, the Netherlands and the Baltic states.
In an article published in 2015 by Elisabeth Brawin World Affairs, the author highlighted the European Northern Group:
Under ordinary circumstances, the Northern Group would hardly be headline news.
The association of northern European countries holds regular ministerial meetings, strategic meetings, and expert-level meetings, but so do many other intergovernmental outfits.
Lately, though, Russian analysts have been watching this very vanilla-sounding Nordic association carefully.
That's because while its member states may consider themselves very peaceful indeed, the five-year-old Northern Group is a military alliance.
Take a look at the group's members: Britain, Poland, Germany, the Netherlands, the Nordic states, the Baltic states.
Only two countries in this 11-strong congregation are not NATO members: Sweden and Finland.
And there they are, collaborating with their northern neighbors on defense issues and participating in talks held by the Northern Group's NATO members.
"The Northern Group provides a key platform to help shape and deliver Europe's and NATO's response to the security implications of Russia's indefensible actions in Ukraine and whose incursions of European air and sea space have increased," Britain's defense secretary, Michael Fallon, said ahead of the group's meeting in November last year, at which point annual air incursions into the members' territory had reached 100—three times as many as during all of 2013.
Not bad for an alliance conceived by then Defense Secretary Liam Fox essentially to keep Britain engaged with its NATO allies.
Sure, the Northern Group is hardly essential to its members who also belong to NATO.
It's a complement, not an alternative, said Norwegian State Secretary Roger Ingebrigtsen at an earlier meeting.
But for Sweden and Finland, who are still vacillating about NATO membership, it provides a convenient partial solution that, handily enough, doesn't require a major political debate.
Though Finland's new government has said that it will conduct a study on NATO membership, the step in no way indicates that Finland will eventually apply to become a member.
Besides, it would have to join with Sweden, whose government has not embarked on a similar fact-finding mission, though in April it announced that it wants to strengthen cooperation with NATO. Even if the pair would apply for NATO membership, it would be a long process before they formally joined.
By contrast, Sweden and Finland are already full members of the Northern Group.
That's good news as far as their defense capabilities are concerned, one might argue.
But it's no surprise that Russian officials suspect the group of really being a mini-NATO. And the Russian military correctly judges that in a crisis situation, NATO would come to Sweden and Finland's aid.
http://www.worldaffairsjournal.org/blog/elisabeth-braw/europe%E2%80%99s-northern-group
Suggestive of the thinking of the members of the Northern Group is the November 9, 2016 public statement released by the Group.
The countries of the Northern Group consisting of Denmark, Estonia, Finland, Germany, Iceland, Latvia, Lithuania, the Netherlands, Norway, Poland, Sweden and the United Kingdom, have met today on 9 November 2016 in Copenhagen at Frederiksberg Palace.
The Northern Group is a valuable forum in which members come together informally for discussions on defence and security issues common to us as Northern European nations, and to explore new opportunities to work together.
Northern Group nations are committed to maintaining security and stability in our Northern European neighbourhood and the wider continent. Each of us support the strengthening of the 360-degree approach to security.
Today, all members of the Northern Group reaffirm their engagement in defence and security in Europe, and reinforce the need for a strong NATO-EU partnership.
Following the election of the new President of the United States of America, we look forward to continuing our fruitful cooperation with the new administration.
We wish to underline the importance of our close transatlantic relationship and friendship with the United States of America, and place fundamental value in our close cooperation and our transatlantic bond which are essential to security and stability in Europe.
https://www.government.se/globalassets/government/dokument/forsvarsdepartementet/joint-statement-northern-group-9-november-2016.pdf
The importance of the Northern Group as well is rooted in the serious defense modernization underway in those states, notably Norway, Denmark, the UK and the Dutch are all pursuing significant defense modernization.
Poland is pursuing new capabilities as well notably with regard to missile defense.
In an article published on December 12, 2018, we highlighted how Poland is providing a cutting edge role with regard to missile defense.
Article III of the NATO Treaty focuses on the need for a country to take its self-defense seriously in order for the rest of the treaty to have real effect, including the Article V clause with regard to an attack on one is an attack on all.
If a country has not prepared to defend itself, it is difficult to see how allies can do that for the given country.
Or put bluntly, if a country cares so little for its own defense that it spends its money and efforts and everything but, why should other allies take up the slack?
Or put even more bluntly, if a country is not working to defend itself, it has put itself into the military world of becoming an area upon which both allies and adversaries will operate to protect their own interests.
With Poland's history and knowledge of the Russians, there is a clear understanding that they have little interest in being the forward edge of a battle.
But the challenge facing Poland and NATO has changed as the Russians have crafted a version of 21st century conflict, which is built around a significant missile strike force with adjacent combat capabilities….
Poland is approaching its Article III efforts by shaping a core missile defense capability, both medium and short range which allows it to deal with the Russian challenge in part with these means.
It is about building a capability which can defend Poland but link into the defense in depth which is necessary in the region.
The Poles are focusing on both building mid-range and short-range missile defense.
With regard to building out their mid-range missile defense, they are doing so with regard to ongoing modernization and building in capabilities for networking back to their own forces and to those of their neighbors and allies.
The system selected by the Poles to fill the mid-range missile defense system is a variant of the Patriot system.
But very noteworthy is the command and control aspect of the approach they are taking.
They are not pursuing a classic prime contractor provides all approach to a system but are opting for an open architecture system which will allow them to both have open ended modernization but also work the linkages to NATO neighbors and allies.
The Poles are acquiring the Integrated Air and Missile Defense Battle Command System or IBCS.
Rather than buying a legacy proprietary C2 system, the Poles are leaning forward to procure an open architecture C2 system.
They won't have siloed systems that require new or upgraded C2 with each new radar or interceptor.
This is important as other allies acquire missile defense systems going forward, and new air systems like F-35 become part of the extended defense equation, as Rear Admiral Wang suggested as well.
It is about shaping a defense in depth capability across Poland, German, the Baltics, Finland and the Nordics. Without shaping common C2 capabilities, defense in depth will be more limited than the defense capabilities could allow for.
Siloed systems do their tasks but do less than they could to provide full up capabilities to the integrated battlespace.
The Poles are also moving in the direction the US Army is looking to transition as well.  
Rather than buying whole systems, and being dependent on prime contractors for the complete integration of those systems, the US Army is looking towards a commodity approach.
What the U.S. Army is looking to do is be able to manage interactions among C2, sensors, and missiles and to plus whichever of these "commodities" needs to be plused up.
It is also crucial for the US Army to be able to integrate the defense systems in the maneuver force as well as to focus on what is necessary for the evolving integrated battle space.
It is not simply about after market integration; it is about building in integration from the ground up as new systems are added as well.
This means that the Polish approach is symmetrical with the strategic direction of the US Army itself. 
Poland is working through the challenge of affordability with regard to missile defense, but senior Polish officials understand that the open architecture C2 system is not an add on but a core capability to the evolution of core Polish defense capabilities.
Asked about speculation that Poland could resign from the IBCS to lower the price of the Patriots, (Deputy Defense Minister) Kownacki stressed that the air defense management system obviously may be the subject of discussion, but "it's not that it (IBCS) fundamentally changes the price proportions in the middle-range air defense system".
 "We are analyzing the document and we will be negotiating, but you must know that IBCS is what everyone will buy. This is the future that awaits all of us, and sooner or later we will bear this cost."
http://www.defence24.pl/kownacki-nieakceptowalna-jest-dla-nas-kwota-105-mld-usd-za-patrioty-mowilismy-to-od-poczatku
In short, Poland has demonstrated NATO leadership in pursing the most modern air and missile defense system available.
They are acquiring a system built not just for today, but to anticipate and counter future threats. 
It is clearly in the US and NATO interests that the US and Poland work together to get to a price that satisfies both sides, while still preserving the investment in the future which IBCS represents.
https://sldinfo.com/2017/12/poland-article-iii-and-missile-defense-shaping-a-way-ahead-in-alliance-capabilities/
And Germany is hovering over the possibility of more defense investments and as they do so, the question of their role in Baltic and Northern European defense could be a defining vector for any significant modernization strategies.
And with the sale of new submarines to Norway, this sale could provide a lynchip pin of relevant modernization as well.
We discussed the submarine dynamic in a story publish February 2, 2017.
Last week, Robbin Laird attended an airpower conference sponsored by the Norwegian Air Force and held in Trondheim, Norway.
The title of the conference was about the shaping of a fifth generation air force, but in reality the conference focused on multi-domain integration and defense transformation in the extended defense of Norway.
In effect, a new phase of NATO development is underway whereby anchor states in key geographical regions take Article III of the NATO treaty seriously and focus on national defense in an allied context.
If you don't the ability of any other state to help you is limited.
For Norway, this means raising the bar on the defense of Norway by acquiring new platforms, fully integrating those platforms into a national C2 system, but doing so in a plug and play context whereby key allies can more easily interoperate with Norwegian defense and thereby providing simultaneously extended Norwegian defense and enhanced Northern tier defense for NATO.
The week before the conference, the Norwegian defense minister announced the decision to acquire four submarines from Germany as part of the transformation process….
The purchase of the German submarines is more than that.
What Norway is looking for is to be interoperable with allies who are operationally prepared to provide for defense of the Northern region.
This means that the manufacturers who sell new equipment to Norway need to understand that they are committed to effective sustainment of the force in Norway under a wide spectrum of conditions.
It is not just about selling a platform.
And for Germany, the Minister of Defense and the Chancellor need to understand that they are committing themselves de facto to active defense of the Northern region, including Baltic defense.
It is not simply about selling equipment; it is about active engagement and enhanced interoperability.
According to the Norwegian MoD, the decision involves a broad and long-term Navy-to-Navy cooperation encompassing submarines and other naval capabilities.
"The cooperation will include training, exercises, spare parts, maintenance and lifetime management of the new submarines.
The identical design of the six boats also would enable the swap of crews."
https://www.defensenews.com/naval/2017/02/03/norway-joins-forces-with-germany-to-procure-new-submarines/
 t is not just a market opportunity to save the German submarine maker from the end of the line which how it has generally been reported.
According to a press release published on February 3, 2017, the acquisition was announced by the Norwegian MoD.
"After a comprehensive evaluation process, the Norwegian Government decided on Germany as strategic partner for new submarines.
"The partnership is based on a German-Norwegian common purchase and lifetime management of identical, new submarines.
"The decision involves a broad and long-term Navy-to-Navy cooperation encompassing submarines and other naval capabilities.
"The cooperation will include a purchase of identical submarines and cooperation on training, exercises, spare parts, maintenance and lifetime management of the new submarines.
"The submarines will be based on the 212-design already in service in Germany and Italy. The cooperation also includes cooperation between Norwegian and German industry.
"Submarines are amongst the Norwegian Armed Forces' most important capabilities and is of great significance for our ability to protect Norway's maritime interests. It is important that we have found a strategic partner that we can build a broad and long lasting cooperation with.
"This lays a good foundation for the long-term relations we need to maintain a credible submarine capability in the future.
"Submarine cooperation with Germany will ensure that Norway gets the submarines we require, and at the same time contributing to Smart defence and more efficient defence material cooperation in NATO, says the Minister of Defence Ine Eriksen Søreide.
"The Norwegian Ministry of Defence has practised equal treatment of the suppliers and their nations.
"The same amount of time and effort has been spent towards France and Germany, and the activities towards both have been balanced. It has been clearly communicated on all levels that it is the totality of the offers that will be the determining factor.  
"Both France and Germany offer excellent submarines that meet Norwegian needs, and both nations have been given good opportunities to come up with a total offer on new submarines and cooperation.
"Norway will now enter into final negotiations with German authorities. When a government-to-government agreement is in place, a German-Norwegian negotiation towards the German submarine supplier ThyssenKrupp Marine Systems (tkMS) will commence. tkMS is the largest producer of conventional submarines in Western Europe. The shipyard has long experience with building advanced submarines and a large production capability.
"The plan is to sign a common contract for new submarines in 2019. This will enable delivery of new submarines from the mid-2020s to 2030. 
"This timeline ensures a continuous Norwegian submarine capability as the Ula-class submarines reaches end of life and starts decommissioning.
"The submarines Norway and Germany will procure ensures a submarine service for the future. Norway has an evolutionary approach to new submarines, and will base the procurement on an existing submarine design.
"This way we avoid an extensive development project with the risks and costs this would involve. In addition, together with Germany, we will get a larger scale in the production, says the Minister of Defence.
"Independent of this decision, the work to establish further cooperation with other nations continue in order to achieve even greater synergies and economies of scale.
"Norway has for several years worked closely towards the Netherlands and Poland to create a broad submarine cooperation.
"This work will continue.
"Norwegian industry is world leading on some of the technology used in submarines, and the Norwegian Government will use the procurement as an opportunity for the Norwegian Defence industry.
"The procurement of new submarines will be used actively towards international partners to further develop a competent and competitive Norwegian Defence industry.
"The scope of the industrial cooperation with Germany is in line with the ambition of the Norwegian Parliament.
"It will provide good opportunities for the Norwegian defence and security industry in the prioritised technological areas as stated in the white paper Meld. St. 9 (2015-2016) Nasjonal forsvarsindustriell strategi."
https://www.regjeringen.no/en/aktuelt/germany-chosen-as-strategic-partner-for-new-submarines-to-norway/id2537621/
https://sldinfo.com/2017/02/the-transformation-of-norwegian-defense-germany-norway-and-submarine-acquisition/
And in a clear recognition of the growing importance of the Northern group to shaping more effective defense and security in the Northern Tier of NATO, Defense Secretary Mattis attended the Northern Group meetings held last year in Helsinki.
This was the first visit of a US Sec Def to the Northern Group and underscores enhanced understanding on the US side of how to address regional dynamics in support of a deterrence in depth strategy.
In a discussion with senior Trump Administration officials late last year prior to the release of the new national security strategy, the perspective of the Administration was highlighted with regard to allies.
Mattis is especially keen to underscore the importance of core allies and partners in shaping an effective strategy. For Sec. Mattis, the President in spite of whatever language he has used in the past is firmly committed to working with core allies and partners.
Notably, because of the return of great power politics or intrastate conflict, the role of partners and allies is of growing significance to the US.
We are seeing the end of a unipolar era and the return of a more diffused global power situation. The diffusion of wealth and technology throughout the world is changing the global geopolitical situation.
State actors remain fundamental players although clearly nonstate actors and transnational groups are of great significance as well.
Priorities within the national security strategy will reflect a refocus state competition and the need to do with the diffusion of global power.
Global rules along with global powers are being contested…..
With regard to NATO, the core challenges clearly are fundamental terrorism inside and outside the region and the resurgence of Russia.
The United States is looking for European states to generate more capabilities and commitments to defense.
The US will also work with adversaries where necessary to deal with the fundamental threats of global terrorism and have to figure out how to handle both the competition and the collaboration with competitors like Russia and China as well.
The US needs to sustain operations in the Middle East; they're not going to go away but we need to maintain these at lower costs and lower level in order to build up our capabilities for higher intensity conflict and operations.
The United States intends to focus on rebuilding a high intensity and warfare capabilities and reduce the burden and frequency of lower end engagements.
https://sldinfo.com/2018/01/inside-the-new-trump-administration-national-defense-strategy/
Featured Photo: Norwegian MoD photo of German submarine.
And the video below highlights the Helsinki European Northern Group meeting held last year.
And a good way to look at the challenges seen from the Nordic states which other NATO members need to not only consider but work to build out capabilities and collaboration was provided in a briefing received at Bodø airbase in April 2018.