Moscow's Message: Back to the Cold War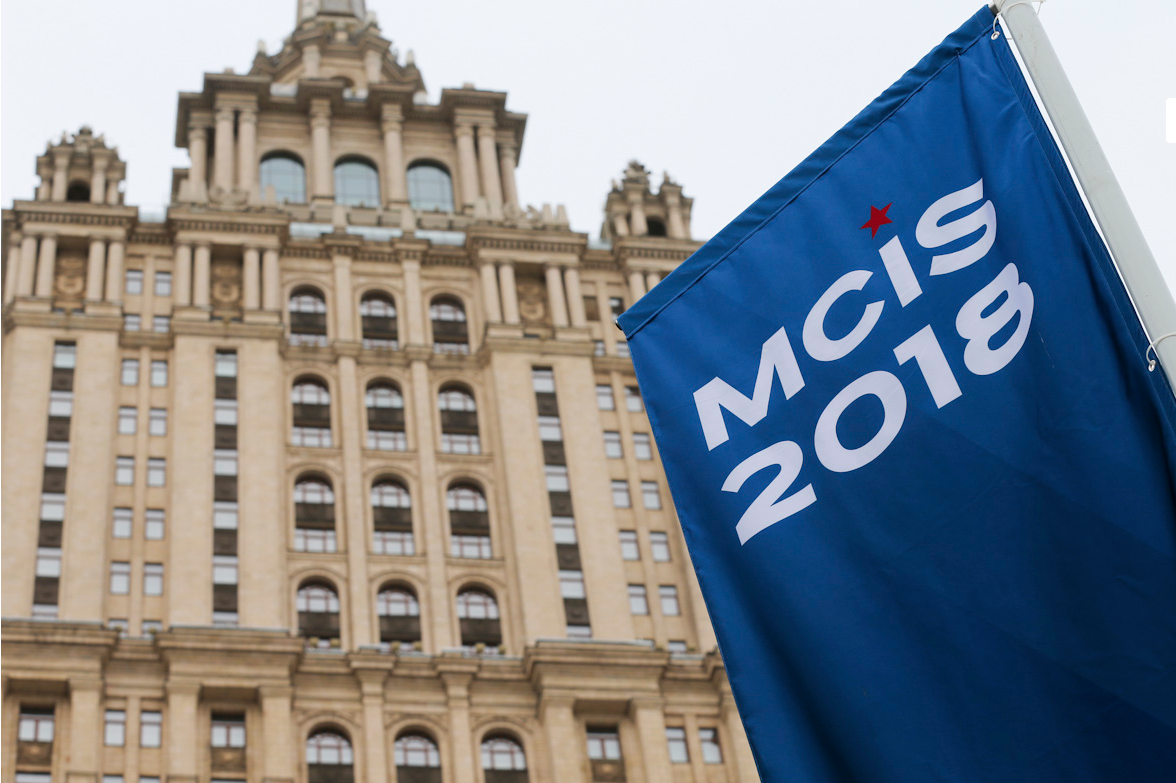 Last month, defense.info attended the seventh annual Moscow Conference on International Security (MCIS-2018), which the Russian government has strived to establish as the Moscow equivalent of the Munich, Shangri-La, and other regional security conferences.
Although the conference has yet to reach that level of influence, it does offer observers insights into Russian military plans and priorities.
Almost one thousand people attended the event, including dozens of defense and deputy defense ministers from Russian military partners in Asia and the Middle East.
Fewer high-level Russian officials participated this year, perhaps because Russian President Vladimir Putin was in Sochi discussing Syria with Turkish President Recep Tayyip Erdogan and Iranian President Hasan Rouhani.
Furthermore, some independently minded Russian national security experts were reportedly not invited this year, contributing to the lack of alternative views among the Russian attendees.
Still, the Russian speakers mirrored the genuinely tense relationship between Russia and the West.
Continuing the focus of previous years, the conference held lengthy panels on transnational terrorism, the role of soft power in international security, and various regional security issues.
The Russian hosts also benefitted from sideline meetings with foreign government representatives, including from China, India, and Pakistan.
In addition, Rosoboronexport executives met with more than two dozen foreign military delegations during the conference to pursue arms sales and other defense industrial cooperation.
In his opening message, Putin called on attendees to assess means of strengthening international collaboration against terrorism as well as other security contributions.
The military campaign in Syria drew considerable attention from other Russian speakers, who highlighting Russia's military victories and rendering of humanitarian assistance while criticizing Western policies.
The Russian speakers hammered home several other themes:
The underlying distribution of world power is becoming increasingly multipolar, but the United States and its allies are fighting a disruptive rear-guard defense of the status quo.
Russia is seeking to address global issues based on the rule of law and through the UN as the "sole and universal body of global governance," but Washington strives to arrogate all important decisions to itself.
Americans pursue absolute security for themselves alone, whereas Russians seek "equal and indivisible security" for all.
By shunning Moscow's offer to cooperate against international terrorism, the West risks everyone's security.
In his address, Security Council Secretary Nikolai Patrushev, saw "a polycentric world order" emerging that requires adherence to international law and respect for the UN as the sole universal body of global governance.
However, "some countries" were undermining international security and justice by interfering in others' internal affairs, violating national sovereignty, applying unilateral sanctions using military force, and "systematically" circumventing the UN's authority by assuming the role of "global prosecutor and judge."
Foreign Intelligence Service (SVR) chief Sergei Naryshkin accused the West of promoting a Cold War mentality based on an Orwellian misuse of words—describing forced regime change as promoting freedom, defending a version of globalization based on "neocolonialism," and undermining the traditional values of religion, nation, family and gender throughout the world. He also saw Washington as exploiting the myth of transatlantic solidarity to force Europeans to embrace an "American-centrist"' world view.
Naryshkin dismissed accusations that Moscow used chemical weapons to assassinate former Russian military intelligence officer Sergei Viktorovich Skripal as "a crude forgery" of Anglo-American intelligence.
He claimed Washington and its allies were recreating an Iron Curtain between Russia and the West due to unfounded hysteria with respect to Russia as well as a reasonable understanding that Moscow was the leading driver of progressive global change.
Meanwhile, Patrushev said that new terrorist groups were expanding their scope of operations, intensifying their activities, innovating their tactics, and exploiting illegal migration and narcotics trafficking to replenish their human and financial resources.
According to FSB Director Alexander Bortnikov, terrorists have killed more than 150,000 people since 2014—over 32,000 last year. He warned that the Islamic State and Al-Qaeda might unite their forces to maximize their global reach.
As in previous conferences, Russian speakers cited the deteriorating Afghan security environment as a threat to Moscow and its allies, claiming almost 4.500 "IS terrorists" operate in the country.
Defense Minister Shoigu argued that the Afghan conflict cannot be resolved by military means.
However, Bortnikov did favorably recall how Russian-U.S. intelligence cooperation had thwarted last year's St. Petersburg terrorist plot.
The Russian speakers offered several policy recommendations.
Patrushev called for enhanced intelligence sharing regarding foreign terrorists fleeing conflict zones, such as Syria and Iraq, and regarding terrorists' exploitation of cyber tools. He also called for establishing rules to govern state behavior in the information domain. Bortnikov offered foreign partners access to Russia's terrorist data repositories.
Yet, expanding Russian-Western counterterrorism cooperation must overcome the conspiratorial mindset evident in Moscow.
According to the Russian conference speakers, the United States and its allies have waged a half-hearted war against global extremism, allegedly using international terrorism as a weapon against unfriendly regimes and a means to keep other countries dependent on U.S. military support.
Shoigu implied that Westerners were behind the long-range strike UAVs attacking Russia in Syria because terrorists could not make strike drones on their own.
Other Russian speakers claimed that the United States had either been misled or exploited the chemical weapons use in Syria as a pretext to blame and attack Syrian government forces.
In a second-day keynote, Foreign Minister Sergey Lavrov accused the United States of being a global revisionist power that circumvents international law and organizations, dishonors its commitments regarding Iran and climate change, strives for global military superiority, exploits terrorism to promote regime change, and sustains "controlled chaos" in the Middle East to legitimize an "open-ended US military presence in the region."
Lavrov likewise faulted Western democracy promotion for focusing on internal rather than international relations: "So far, our Western colleagues, who claim to be promoting democracy in all other countries, have avoided signing any multilateral documents that would stipulate stronger democracy in the global system of interstate relations."
In contrast, Lavrov described "Russia as an independent centre of political power [that] will continue to promote a positive international agenda in the interests of global stability.
"We are not forcing anything on anyone, we are not claiming national exceptionalism, or, worse still, the right to act as we please."
Further, "Our relations with our partners are based on international law, the central role of the UN, as well as on respect for the interests, traditions and distinctive character of all nations."
In a release by the Ministry of Defence of the Russian Federation, the Conference was highlighted in an article published on April 4, 2018:
Today, the VII Moscow Conference on International Security starts in Moscow.
Middle East outlook after eradication of ISIS in Syria" is to be the main topic of the Conference. Particular attention will be placed on discussing post-conflict recovery and establishing peaceful life in the Syrian Arab Republic.
Special plenary sessions will be focused on security in Europe, Asia, Africa and Latin America with an emphasis on cooperation among military departments on security in the regions. The "soft power" phenomenon will be discussed separately as a tool to address military and political issues.
More than 850 guests have arrived in Moscow to attend the forum. Among them there are defence ministers and delegations of military departments, experts and academicians from 95 countries. Heads of the following international organisations will address the forum – the UN, OSCE, CSTO, SCO, CIS and ICRC.
More than 700 representatives of domestic and foreign mass media have registered to highlight the VII Moscow Conference on International Security.
The Minister of Defence of the Russian Federation General of the Army Sergei Shoigu opened the Conference with his introductory statement.
"Today, the world is facing a crucial moment: relations between countries are changing, conflicts are solved by force more and more often. Claims made by a number of countries on their exclusiveness are encouraging a new arms race," stated Sergei Shoigu.
According to him, the leadership of the Russian Federation is taking efforts to ensure national security. Main steps are made to counter terrorist threats as their increased significantly.
US-led anti-terrorist coalition failed to counter terrorism in Syria. However, it was aimed at establishing of military and economical presence in Syria.
As the Russian Defence Minister stated, the coalition included more than 30 countries leading in the military sphere. Nevertheless, territories controlled by the ISIS in Syria and Iraq were increasing.
"It is hard to believe that the powerful coalition could not fight terrorists in the region. It is evident that the coalition had another aims: to undermine situation in the region, and deploy military and economical presence in the area," stressed Sergei Shoigu.
In conclusion of his speech, the head of the Russian military department stressed that challenges and threats in the security field were changing. According to him, it is necessary to analyze them constantly and search for joint decisions.
Sergei Shoigu expressed his hope that "ideas that could make a basis for a renewed security system will be voiced in course of the conference".