Force Sustainability Through A Crisis: An RAAF Perspective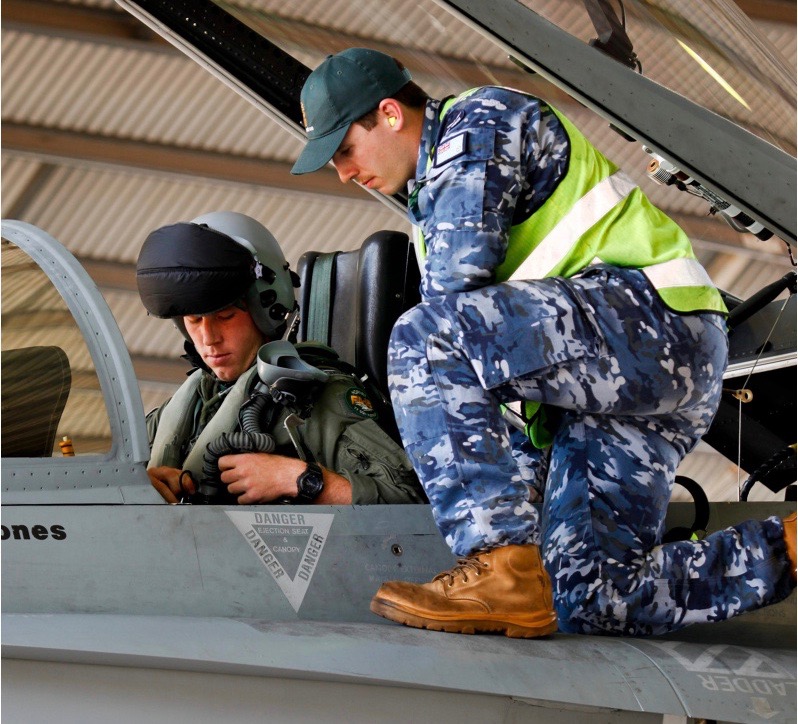 A key question facing the US and the allies in confronting the kinds of crises which they will confront with peer competitors in ensuring that their forces are more sustainability and more robust.
Two key challenges need to be faced.
The first is relying largely on the commercial approach to global supply chain logistics.  In this world, just in time is the goal; not enough to engage and prevail in a crisis.
The second is having taut stocks of supplies. The buying practices of the liberal democracies when it comes to the military is to have taut supply chains, and in so doing having very inadequate stocks of parts when a crisis comes.
Efficiency in parts supplies for a slow mo conflict is hardly appropriate for a crisis in which one has an adversary which is both targeting the logistics systems of the US and allied militaries and seeking to disrupt.
Taut supply will come down to little or no supply.
During my visit to Australia to work with The Williams Foundation, I had a chance to engage in a discussion with three RAAF leaders about the challenge of enhanced sustainability for the force.   The roundtable discussion involved head of the JSF Division Air Vice Marshal Leigh Gordon, DGSP-AF Air Commodore Stephen Edgeley and DGLOG-AF Air Commodore Martin Smith.
The RAAF has spearheaded significant modernization of its force and has provided a significant input into overall ADF force transformation.  The result of this effort is clearly a more integrated force and one able to provide for integrated force packages which can be tailored to a particular mission.
But without proper sustainability the effects which can be achieved by this force will be significantly attenuated in a crisis.
This means that Australia needs a focus on how to sustain the force through a crisis period, but with an approach which is realistic in terms both of resource commitments and the infrastructure in Australia.
The concern was defined by one participant as follows:
"You don't want people to be able to easily coerce you by strangling obvious methods of resupply.
"You don't want to hand an easy win to anybody by providing them the opportunity to coerce you simply by cutting off resupply.
"A review of resilience inside the ADF is not about sustained high end war fighting,
"It is simpler than that.
"In a competitive environment, an adversary is going to look for ways to coerce you, and the most obvious way to coerce you is to affect those things that limit your ability to be resilient.
"This means that we need to look carefully at those elements of our sustainment pipelines that can be most easily coerced and correct those shortfalls."
Building from this approach, Australia needs to build buffer resupply capabilities in=country to sustain the force in a crisis.
The buffer concept is a focus on critical supplies necessary to sustain the force through a crisis period.
And is designed to take off the table coercion options associated with supply chain inputs to sustainability from outside the continent.
This is clearly not about building fortress Australia but about strengthening Australia's role in the region and to meet its roles within the context of its changing alliances.
For Australia, its role is expanding within the region and within the alliance; and the reset of the relationship with the United States is best understood within that context.
To do so will require increased investments in capabilities for enhanced Australian self-reliance.
The Shift from the Middle Eastern Mindset
Another participant highlighted the strategic shift from the experience of the Middle Eastern mindset to a regional one.
"We have been focused on efficiency more than effectiveness.
"Many of the aspects of our logistics enterprise have been efficiency driven, drawing on allies and global supply chains, to operate efficiently in the Middle East.
"Now the focus needs to be more on effectiveness in a regional contingency and the durability of operation."
"We are turning a corner.
"We are focused on logistics and its role in survivability and durability of the force."
The Plan Jericho initiative was cited as providing a focal point on the re-shaping of logistics and finding ways for effectiveness to leverage efficiency, but to enhance force survivability overall.
"The focus of Plan Jericho in this regard to integrating logistics into the battlespace.
'We can not do this by ourselves but we see this as part of our alliance anchoring role within the Alliance."
Put in other terms, as the Aussies have generated significant allied interest in force integration through their example, perhaps they can do so as they reform the sustainability part of force integration, one designed to operate through a crisis.
Energy security is clearly a key element of the effort.
"If you're going from fuel holdings, good enough for a raise, train and sustain force to having fuel holdings that will survive a crisis and provide a buffer, that clearly is turning the page and creating a new approach to sustainable logistics."
And this will mean as well when one comes to IT and C2 systems, that working with commercial providers is fine, as long as the military works with those focusing on enhanced security considerations.
As one participant put it: "I'm fine with the idea of a commercial service provider, but let us work with the right one from a security point of view."
The Case of the F-35
We then discussed the F-35 in this broader sustainability context.
One participant proffered his assessment of how Australia is addressing the F-35 and sustainability issues in the regional context.
"The global support system for the F-35 is a work in progress and much of the evolution is positive.
"We look to our role in the region and the participation of our firms in the program as a key part of working the sustainability piece.
"For example, we have established an engine repair facility in Australia and the first engine going through the facility is not Australian it is onr from a regional partner.
"This means we do not have to go back to the U.S. for this type of repair.
"We have developed common maintenance standards throughout the program which can allow for repairs to be done globally.
"I expect we will get to a point where we can do cross-aircraft maintenance across the partners.
"We're certainly having to challenge some sacred cows to do that but I think it is important and can be done.
"We could not afford an F-35 without a partnership.
"I don't think any of the partners and operators could afford the platform in isolation.
"We have to be part of an efficient and effective network that allows us to make the best decisions based on fleet wide performance data.
"The maintenance approach is evolving and will be a function of what partners and the US services negotiate and implement.
"This will require compromise by the US as well as the partners, but our goal is very clear – we need to maintain and sustain the air system through a crisis."
In this area as in the maritime area, where a UK-Australian-Canadian partnership at play.
A software reprogramming laboratory to support F-35 aircraft from Australia, Canada (should Canada eventually purchase the F-35) and the UK is being stood up.
Known as the ACURL (Australia, Canada, UK Reprogramming Laboratory), the facility is adjacent to a similar USRL (for the US Air Force, Navy and Marine Corps) and NIRL (for Norway and Italy).
A further reprogramming laboratory will support the remaining partner nations and FMS customers.
More broadly, the RAAF is looking at regional partners, including the U.S. services, to ensure capabilities to plus up parts in a crisis as well, with common aircraft like the C-17 operating in the region.
Reworking the Relationship with Industry
The sustainability focus is seeing as well significant change in the working relationship between industry and the Air Force with regard to maintenance.
There is an evolving blended workforce approach designed to enhance availability of aircraft and to provide for a more effective and efficient process of maintaining aircraft as well.
The Aussies have clearly moved beyond a classic depot system to shape a more agile approach to providing for available aircraft.
According to one participant: "The focus is upon an enterprise approach and determining where the choke points are to delivering more aircraft for operations.
"This means that industry is a key part of the solution rather than just a supplier to the resolution."
In short, Australia can build a counter-pressure strategy where sustainability is a weapon system.
The operations of the past decade where the RAAF could operate globally with an integrated air combat package required global logistical support,  Such support has been clearly understood as a key enabler.
But in a regional crisis it is much more than that.
Now going forward that enabler needs to be transformed into a pillar of operational sovereignty.
Such a capability underwrites durable operations in a crisis.
The featured photo shows aircraft maintenance personnel assist the pilot of an F/A-18A before participating in a mission over the Northern Territory as part of Exercise Arnhem Thunder. Australian Department of Defence, June 16, 2015.