QRA at Bodø Airbase: The Perspective of Lt. Col. Henning Hansen Homb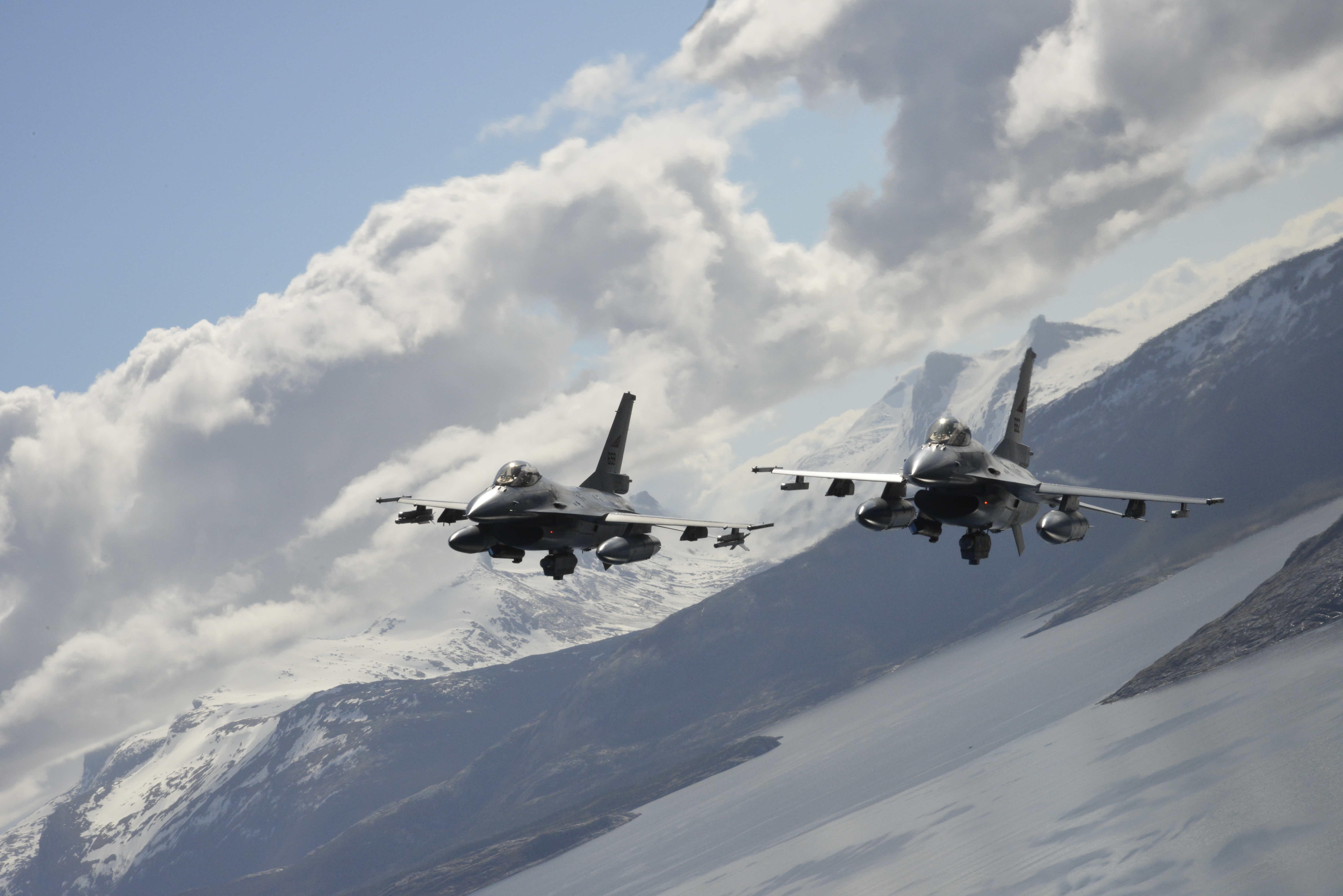 During visits to the United Kingdom, I have had a chance to see and visit with RAF the operators of the quick reaction air capability in the United Kingdom.
A key point is that to have two aircraft ready to fly on a moment's notice, or within 15 minutes, a significant pyramid of support is necessary to deliver a QRA capability.
But the question of what the pyramid looks like beyond this is simply having two pilots ready 24/7 with 2 support staff and eight engineers for each week in support as well.
1(F) Squadron, II (AC) Sqn. and 6 Sqn. provide the aircraft, pilots and engineers for the 24/7 operation. The Air Traffic Control Center is manned 24/7 to enable aircraft to launch at any time. The Ground Support System or GSS provides support to the Typhoons with mission data and computer systems used by the aircraft.
And chefs and catering staff are on station to cook and serve meals for duty personnel, three meals a day, 365 days a year.
To put it bluntly: to be 24/7 ready is a significant demand signal for the Typhoon fleet, and one which can be overlooked in terms of the number of aircraft which are required to remain ready for operational launch, 24/7 and 365 days a year.
According to the QRA North team, the Typhoon has performed its role well, but it requires maintainers, pilots and operations personnel to pay close attention to the rotation of aircraft into the demand side of QRA.
And when the RAF deploys to the Baltics, in effect, the UK is supporting three QRA efforts.
The pyramid is demanding; the photos of the planes on strip alert simply masks the significant level of effort to ensure that they are on strip alert.
This demand side is one which can be easily overlooked by everyone, except those providing the capability and the intruders into UK airspace.
During my recent visit to Bodø Airbase, I was able to discuss the QRA effort at the airbase and the transition being put in place to transition from F-16s doing this mission from Bodø to F-35s operating from Evenes Air Station, where P-8s may operate from as well.
Evenes Air Station is significantly further north from Bodø, which will move the QRA effort further north as well.
The Norwegian government is restructuring its basing infrastructure, closing some airbases and building up others. Bodø Airbase itself is scheduled to close.
I discussed the QRA effort, the past and future of the Bodø Airbase, and the shift from the F-16 to F-35 for QRA with the Lt. Col. Henning Hansen Homb, Group Commander 132 Air Wing and Base Commander Bodø and Major Trond Ertsgaard who is a key member of the Wing as well.
The Bodø Airbase provides the pyramid from which the current F-16 QRA capability is generated. Like RAF Coningsby or RAF Lossiemouth, from which current RAF Typhoon QRAs are generated, Bodø Airbase is a main F-16 airbase and as such provides the pyramid to support the F-16s generated for QRA.
Bodø is strategically located to contribute to both air and maritime defense of Norway. It must always be remembered that Norway has very significant maritime as well as airspace to protect.
As Lt. Col. Homb underscored: "Norway's territorial waters are six times the size of our land area. This is also an area which we need to defend."
The base itself in its current configuration was built during the cold war and can host multiple squadrons and has a number of hardened shelters for operations as well.
As a main F-16 operating base, it can draw upon the personnel who fly, operate and maintain F-16s to support QRA activities.
Indeed, the base has demonstrated in operations, its ability to generate airpower as required by the Norwegian political authorities in times of crisis.
According to Lt. Col. Homb, during the Norwegian contribution to the 2011 Libyan operation, the turn around from the tasking to participate to delivering weapons during first strikes was only six days.
"That certainly proved that our training system clearly works.
"You can not go from a holiday weekend back home, to being ordered to participate in an international operation and then to deliver weapons within six days, if your training is not on track and clearly working."
Bodø Airbase as a large airbase dominates the town and is located at the tip of the peninsula on which the town is located.
The operating conditions are challenging for sure with winds and temperatures which create challenges to operate combat aircraft, and which require a learning curve for allies who come to the airbase to work with the Norwegians as well.
The basic facts as provided by the Wing Commander with regard to Bodø were as follows:
Midnight sun between May 30thand July 12th;
Dark time between December 1stand January 9th;
Average temperature in summer time +13.6 degrees C and in winter time 12.1 degrees C;
Well known as a windy city and for having the world's strongest maelstrom, Saltstraume;
And with the highest mountain in the area being Lurfjelltind, 1.284m above sea level
The following photo captures in some sense the challenge:
Put bluntly, operating a QRA force with a requirement to launch on 15 minutes from the order to launch is not an easy task.
And as a large airbase, Bodø has been a key one where allies come to operate in exercises with the Norwegian Air Force as will be done in this year's Trident Juncture exercise.
And the larger shelters built to house an F-15 can take F-35s as well.
The local knowledge provided by the Bodø airmen are important to inform allies when they come to Norway of the challenges as well.
"We have beautiful scenery for flying but many hazards and dangers as well which we need to inform our colleagues from allied countries about when they fly in our area as well.
"Flying in mainland Europe is not the same as flying in our area for sure."
But the base is being closed as part of a basing cutback to support defense economies in support of an overall defense modernization strategy.
The close down of Bodø does pose challenges as well.
The first challenge is that when the F-35 takes over from the F-16 it will operate at Evenes Air Station, which is not scheduled to be a main operating base for the F-35. 
The main operating base for F-35 will be the Ørland airbase.
This means that a detachment of F-35s to do QRA will be operating from Evenes and supported from Ørland, which is different from operating from a large operating base of the same aircraft.
Getting the deployment support right will be a challenge but one not dissimilar from the Baltic Air Policing or Icelandic Air Policing mission experience.
Currently, the Norwegian Air Force has about 200 personnel to support the F-16 base overall and from that force can support the QRA mission as well.
The second is that Bodø has proven to be a key allied support base and sorting through how best to base allies when they come for an exercise or a crisis is a work in progress, one the Norwegians take very seriously.
But as the future of Bodø is worked out, facilities could remain beyond the currently scheduled search and rescue force.
Shelters could remain in some areas, if the approach is not one of complete elimination, and residual support capabilities could be sustained as projected in the following drawing of a possible future Bodø situation.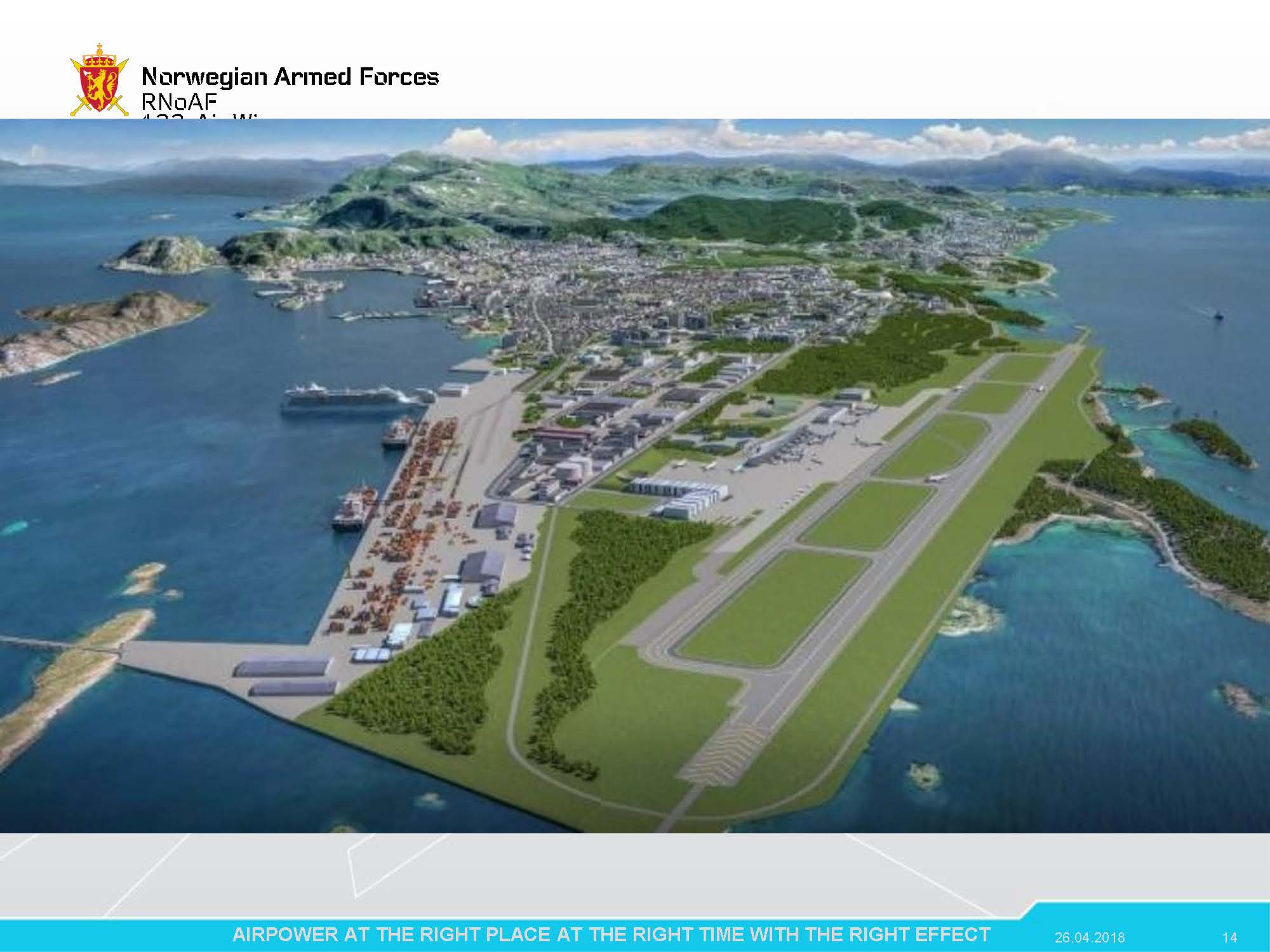 A further challenge seen from the QRA perspective is that the F-35 is not an F-16 or a Typhoon for that matter.
What does a QRA mission conducted by an F-35 look like?
It is a multi-mission and low observable platform; how best to use it in the QRA role?
This is clearly a work in progress in which the Norwegians will be pioneering what I have called F-35 2.0, namely, how will use the aircraft as part of an overall combat transformation process?
Clearly, the Norwegians are modernizing their airpower and reshaping their infrastructure to support it and Bodø is part of that transition.
The current role of the Air Station was summed up by the Lt. Col. Homb in the following chart: