Air-Delivered Nuclear Weapons: The French Case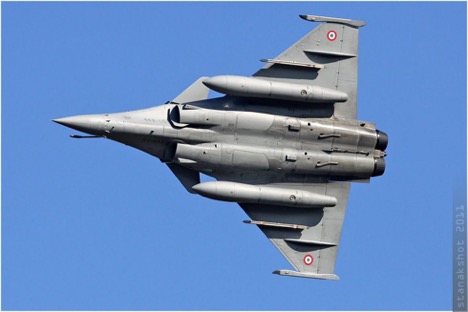 Recently, the French conducted a test of their air delivered nuclear delivery system on French soil.
According to an article by Sebastian Springer of Defense News on February 6, 2019:
The French Air Force has successfully practiced a nuclear strike mission, sending aircraft on an 11-hour mission to sneak a nuclear-capable cruise missile through simulated enemy air defenses and nail it into the sands of a test range south of Bordeaux.
The Feb. 4 mission, billed by the Armed Forces Ministry as "operation-representative," featured a Rafale fighter jet releasing an ASMP-A missile, made by MBDA. Officials designed the drill to include "all phases characteristic of a nuclear-dissuasion mission," including successive refueling by C-135 and A-330 tankers before aiming the missile — without a nuclear warhead — at a missile test area near the town of Biscarrosse.
"This success reinforces the technical and operational credibility of the deterrence that the airborne component has continuously maintained through the Air Force since 1964," reads an Armed Forces Ministry statement from Feb. 5.
Last year, Murielle Delaporte visited the French base where the nuclear capable Rafales operate from and reported her findings in this Breaking Defense story published on May 2, 2018:
Building the trust necessary so that a French mission commander based in the Mediterranean could direct part of the strikes in an autonomous manner did not just happen overnight.
This is the result of years and years of flying and sailing together and operating together whether in Afghanistan or over Libya or in Niger. It is also the result of the joint planning done in 2013, albeit in a very, very different threat environment.
Deconflicting of course led to the evacuation of any living soul from these targets, but still, military planning had to ensure no civilian deaths by operating at night and of course, given the nature of the targets, in perfect aerological conditions. It also of course had to prepare the right response to a potential Anti-Access/Area Denial strategy on the ground, since the fog of war is always much clearer after the war…
Achieving all this synchronicity, C2 integration, redundancy, target selection and precision strike require in other words a very high level of technicity, which tends to stem in France from the fact it has been a nuclear power for more than five decades.
In fact the whole French armed forces model is built around deterrence. France's quick reaction force is defined upon the rigor, reactivity 24/7, safety and ability to penetrate a theater first, far away and in depth.
French Air Force Base 113 in Saint-Dizier is one of the historic fighter base and nuclear base and it is from there that long-range raids can be performed, such as the 10-hour flight that was performed from the mainland to Syria this month over a distance of 7,000 kilometers (which required a total of five refuelings).