The Indian Air Force: Still Short of Needed Combat Aircraft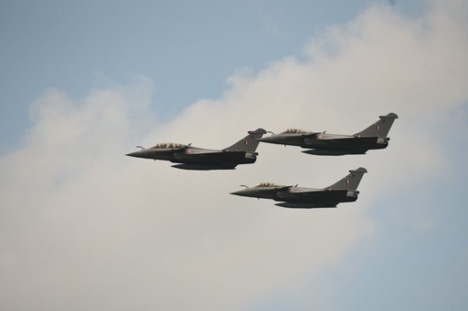 It was in August 2004, 17 years ago, that my colleague in India Strategic, Air Marshal Ashok Goel (Retd), and I wrote that IAF needs at least 300 new generation combat aircraft.
Every Air Chief over the years has stated this figure, and in 2007, IAF and the Ministry of Defence floated a tender for 126 Medium Multi Role Combat Aircraft (MMRCA), bulk of which were to be Made in India, and after the country acquired the manufacturing capability, more could be ordered as required.
We had used the words "IAF is Roaring for Jet Speed at the Ministry of Defence," and I think that observation in The Tribune dated 18 August 2004 is still valid.
This capability was to be distinct from the proposed indigenous Light Combat Aircraft (LCA) or the heavy Russian Su 30 MKIs, of which IAF had 45 aircraft then. The number of SU 30 MKIs, progressively made by HAL, was finally set at 272 and all of them have been inducted.
The LCA programme is maturing gradually, and IAF has its eyes on LCA Mk 1A and its later, advanced variants.
As for the Medium category, capable of Air to Air, Air to Surface and Maritime roles, Rafale was chosen from among the six contenders.
But as it happens in India, controversies were triggered, the MMRCA tender was cancelled in 2015, and, to meet IAF's urgent requirement howsoever, two Squadrons, of 18 each, were ordered in 2016 in a G-to-G agreement with France.
The last reported figure of their delivery a sometime back was 25, and the remaining few should be with IAF by around end of 2021 or early 2022 at the pace of one aircraft/ month.
But that is not enough.
Given the slow pace of induction and faster phasing out of older aircraft, this figure of about 300 Medium aircraft stays, and the Government has a new proposal for acquisition of what is now called Multi Role Fighter Aircraft (MRFA) with the same contenders still in the competition, U.S. Boeing Super Hornet F 18 and Lockheed Martin F 16, Russian Mig 35, Swedish SAAB Gripen, European Eurofighter, and of course, the French Rafale for more aircraft.
There is also the proposal for developing a 5th generation Advanced Medium Combat Aircraft (AMCA) but it will take time.
The delay in the acquisition process has been long.
Newer technologies have meanwhile come up and of course are being offered by the vendors.
The strategic environment around India and the Indo-Pacific regions has changed for the worse, and India needs not only more than 300 combat aircraft now but also short, medium and long range Unmanned Aircraft, or Drones.
The Indian Army started using Israeli Searcher unarmed drones for recce from 1997; it is time now to go in for armed variants, capable of Electronic Warfare, Precision Bombing, and in some cases, Harakiri engagement.
Anti-drone and swarm capability is also needed.
I am not sure how, but the job of getting new Manned and Unmanned aircraft and systems is a challenge the Government has to solve ASAP.
Things are certainly happening overall but IAF needs more than equal attention for some time.
This article was published by India Strategic in August 2021.