Australia and Singapore in Indo-Pacific Endeavour 2021 (IPE21)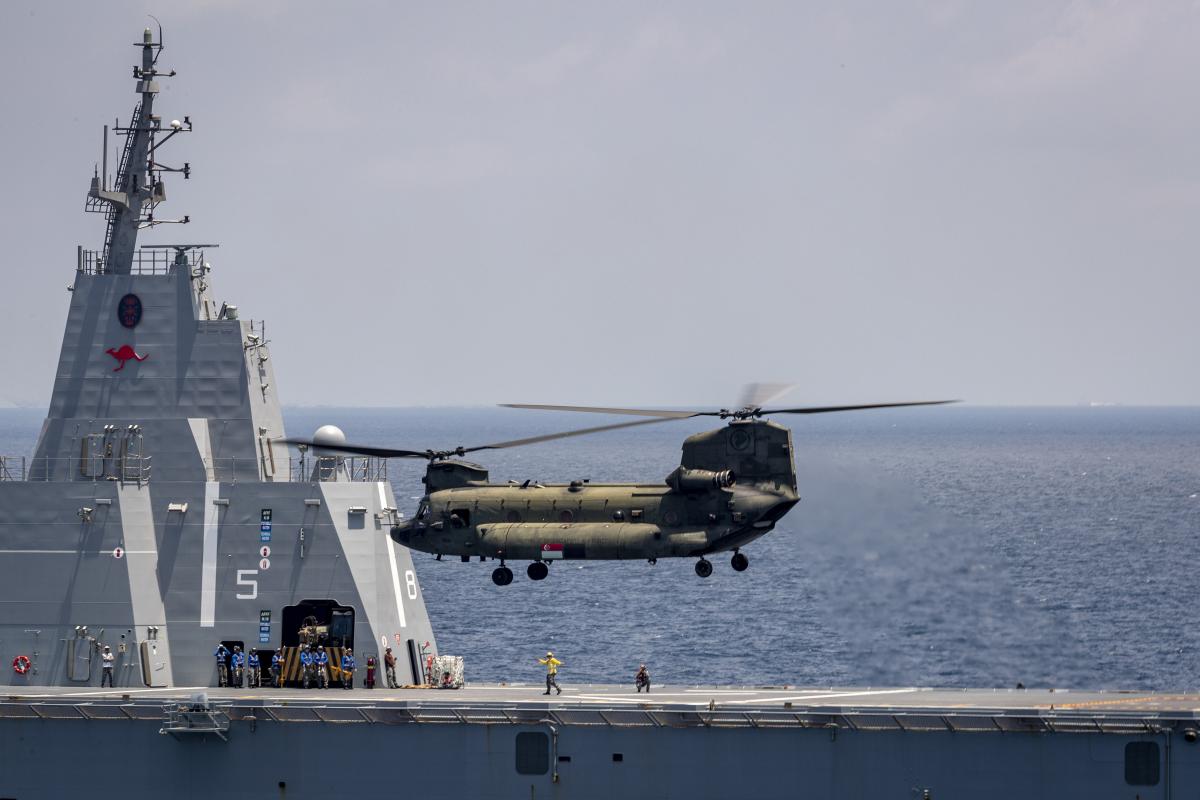 The longstanding bilateral defence partnership between Singapore and Australia was again on display during Indo-Pacific Endeavour 2021 (IPE21).
The cooperative activity, held on September 1, continued a long history of exercising together, which has built trust, precision and technical skill.
This year's activity combined elements from Mine Warfare Team 16, Defence Science and Technology Group (DSTG), air and marine capabilities.
A precision 'at sea' landing of a Republic of Singapore Air Force Boeing CH-47 on the flight deck of HMAS Canberra, handled by RAN Commander Josh Carey's flight team, was one of the highlights of the activity.
Given the longstanding partnership between the two countries, it was of no surprise to Commander Carey that it ran smoothly.
"It was an excellent opportunity for us, once again in the region, to show our presence, and to show how interoperable we are with our regional partners," Commander Carey said.
Part of the flight team is Seaman Tristan Forkin, a young sailor on his first deployment, and on whom the importance of the situation was not lost.
"When there are aircraft from other countries around, you definitely get an understanding of where you fit in the bigger picture," Seaman  Forkin said.
"I enjoy it a lot. I've worked in a lot of different places and none of them are anything like this, and when we're flying it's definitely a good feeling."
The day began early when Republic of Singapore Navy ships RSS Vigour and Stalwart joined the Australian ships and commenced flag hoist training.
Ship-driving manoeuvres were followed by the helicopter landing training and a spectacular air defence exercise, featuring flypasts of four Republic of Singapore Air Force F-15 fighters.
Other ADF members were on the ground in Singapore conducting professional exchanges with their counterparts in a mine warfare and DSTG engagement activity.
Commander IPE21 Commodore Mal Wise said the day's activities reinforced the importance of training with regional partners.
"Australia and Singapore have a close and enduring bilateral defence relationship, built on shared values and a commitment to maintaining a resilient and prosperous region," Commodore Wise said.
"We thank Singapore for making IPE21 a success and for the warm hospitality extended to our personnel."
This article was published by the Australian Department of Defence on September 6, 2021.
Featured Photo: A Boeing CH-47 Chinook, from the Republic of Singapore Air Force, conducts training with HMAS Canberra during Indo-Pacific Endeavour 21. Photo: Leading Seaman Leo Baumgartner