Enhanced Russian-Chinese Collaboration: Zapad/Interaction 2021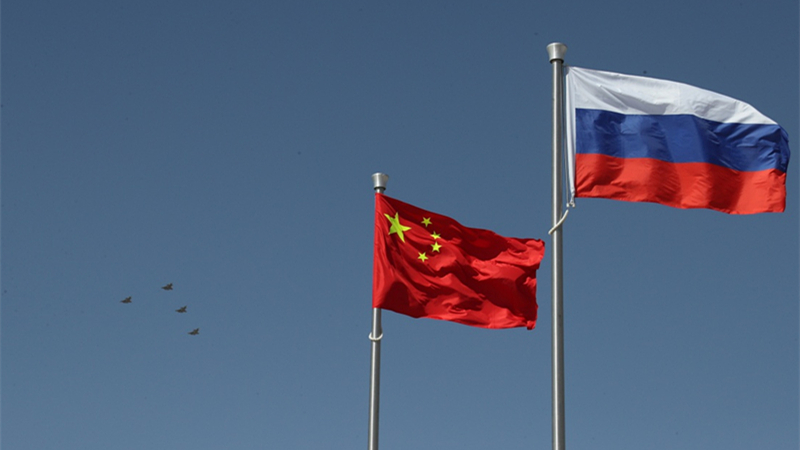 From August 9 to August 13, 2021, Russia and China conducted their most recent combined military exercise, "Zapad/Interaction-2021."
More than 10,000 troops, along with some 200 armored vehicles, almost 100 artillery pieces, and more than 100 fixed-and rotary-wing aircraft took part in the combined exercise.
They engaged in some twenty separate ground, air, and airborne drills.
The Russian units came primarily from the Army, Air Force, and Air Defense units of Russia's Eastern Military District. They included Army motor rifle units and five Air Force Su-30 fighter planes.
Though overseen by the PLA, the main Chinese-led binational joint command incorporated a Russian sub-command center along with a special bilingual command information system supplemented by video and other communication links between the two national forces.
The PRC media provided more details about this Sino-Russian exercise than previous ones. Tan Kefei, a spokesperson for the PLA Ministry of National Defense, said that the drills "marked a new beginning for the Chinese military to conduct high-level exercises in an open and joint manner."
The Chinese Army and Air Force units emanated primarily from the PLA's Western Theater Command, including the combined arms brigade affiliated with the PLA 77th Group Army.
At the opening ceremony, China Central Television reported that the PLA displayed "armored vehicles, wheeled assault guns, self-propelled howitzers, long-range multiple rocket launcher systems, surface-to-air missiles, drones and support vehicles."
These included the PLA's modern 122mm-caliber multiple rocket launcher systems, 120mm-caliber self-propelled mortars, 155mm-caliber self-propelled howitzer, and Type 03 airborne infantry fighting vehicles dropped to the ground by Y-20 air transport planes.
Meanwhile, the PLA Air Force showcased "J-20″ Mighty Dragon" stealth fighters, J-11 heavy fighter jets, J-16 multirole fighter jets, JH-7A fighter bombers, H-6K bombers" as well as the Y-20 transport planes at the ceremony.
KJ-500 airborne early-warning and control aircraft were also engaged.
Additional units comprised more than 30 PLA Army Aviation helicopters from an Army Aviation brigade affiliated with the PLA Xinjiang Military Command, such as Z-10 attack helicopters and Mi-171 transport helicopters conveying special operations forces with Lynx all-terrain assault vehicles.
The PLA air defense forces included that the HQ-17 brigade-level field air defense missile systems, a Type 95 4-barrel 25-mm-caliber anti-aircraft artillery, and surface-to-air missile system.
According to the PLA Commander in charge of the exercise Liu Xiaowu, deputy commander of the Western Theater Command, more than four-fifths of the PLA military equipment involved in the drills were "brand new."
Unprecedented Jointness
The Russian and Chinese personnel formed 13 mixed ground teams and 2 combined air echelons.
For instance, the Sino-Russian air force joint formation employed Su-30s, J-11s, and J-16s.
Furthermore, the Chinese hosts produced equipment manuals and instructional videos in Russian to allow some of the Russian ground forces participating in the exercise to operate major PLA equipment such as Type 11 wheeled assault guns and Type 08 infantry fighting vehicles.
This sharing reciprocated how Russians had allowed PLA units to use Russian T-72B3 tank, BMP-3 infantry fighting vehicle and Igla-S air defense systems when they participated in last September's Kavkaz-2020 strategic exercises.
PRC analysts observed that the exercises promote mutual interoperability since they "allow both sides to better understand each other's way of combat and form better tacit understandings in future joint military operations and antiterrorist missions."
Zhou Chenming, a researcher from the Yuan Wang military science and technology institute, observed that, "For the Russian military, it's also their first time to use so many new Chinese weapons in a large-scale exercise. That will definitely help improve their joint operations and real combat capabilities with their PLA counterparts."
Another PRC analyst said that the nature of the exercise "shows they are pushing for Nato–level interoperability – opening up the possibility for joint military campaigns to counter their common rival the US."
Russian specialist Artyom Lukin, an associate professor at Far Eastern Federal University in Vladivostok, likewise maintained that "it is getting clear that Russia-China military drills are not just symbolic shows of camaraderie, but are increasingly aimed at enhancing battlefield interoperability."
Another Russian expert, Vasily Kashin, observed that, "sharing of weapons and equipment contributed to a better understanding of each other's capabilities and was standard Nato practice."
Chinese analysts expect that the PLA will apply their observations of Russian military tactics, techniques, and procedures into their so-called "Blue Army," against which PLA units rehearse optimized countertactics.
Assessment
The commanders had nothing but praise for each other's forces.
Wu Yanan, director of the Sino-Russian joint exercise and deputy chief of staff of the Joint Staff of the Military Commission, said that the exercise underscored both sides' will and capacity to "respond to security threats and maintain regional peace and stability.'
Lt.  Gen. Nosulev, deputy commander of the joint command of the exercise and deputy commander of the Russian Eastern Military Region, observed that his command had come "to a conclusion that the Chinese People's Liberation Army soldiers have a high level of combat training and are capable of countering various threats in the world today, including international terrorism."
As with all these Sino-Russian drills, the PLA benefits from learning from the more experienced Russian armed forces.
China has not fought a major war in decades; for this reason, a PRC military analyst noted that, "Russia's battlefield experience in Syria, Crimea and Chechnya is very valuable to us, in particular on how they have adjusted their military strategy across time."
 Interestingly, the decision to hold the event in China, at the PLA's Qingtongxia Combined Arms Tactical Training Base, appears to have been rushed.
According to a PRC defense source cited in The South China Morning Post, the drill was moved from its originally planned location in Xinjiang, which is situated closer to Afghanistan and Central Asia, due to its unanticipated large size.
Per this assessment, a superior site, the Zhurihe Combined Tactics Training Base in Inner Mongolia, "would have been an ideal place for the joint drill but it is being used for routine exercises."
 It would be reasonable to presume that the deteriorating conditions in Afghanistan contributed to the last-minute changes in the drills.