Writing FICINT: George Galdorisi's Rick Holden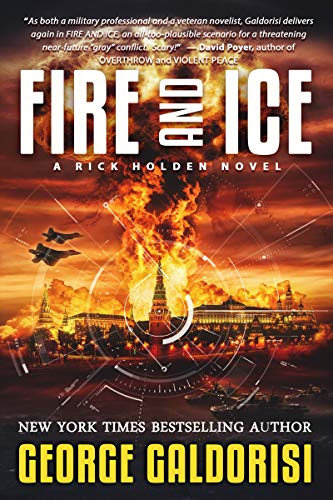 I have just finished reading George Galdorisi's latest novel featuring Rick Holden, a Navy Seal and Naval Intelligence officer, engaged in helping resolve an East-West crisis. The scene of much of the action takes place in a country which I visited in the early 1990s, Belarus. The author has placed Belarus at the center of an East-West confrontation, which the recent Belarusian hijacking of a European aircraft to offboard a Belarusian dissident, reminds us of their potential to do so.
The book is of a genre which has been labelled FICINT or a genere of military-themed works of fiction. In such fiction, future warfare scenarios are shaped and played out and allow the reader to operate within the confines of those scenarios. What such an effort allows the reader to do is to imagine how crises can play out, what tools are most useful to resolving the crises, and how easily the world can spin into significant crises as well.
As Galdorisi has noted: "As one indication of how FICINT is having an impact, a number of U.S. military commands and think tanks focused on military matters such as The U.S Army Training and Doctrine Command, the Marine Corps Warfighting Laboratory, the Joint Artificial Intelligence Center, the U.S. Naval War College, the U.S. Army War College, the Atlantic Council, the Center for International Maritime Security, the U.S. Naval Institute, and others, now sponsor fiction writing contests to tease out good ideas from FICINT writers."
Recently, I had a chance to interview Galdorisi with regard to his latest Holden novel. He explained that with his lifetime of work in and with the U.S. Navy provides a backdrop to understanding how military operations roll out in the real world. But how might such military operations roll out in future contexts, with a changing global security environment?
In his Holden novels, he places military and political leaders in different strategic contexts and imagines how those leaders might react to different crisis settings. In the current novel, he crafted a crisis in which loose nucs in the hands of brokers willing to sell them to terrorists intersects with a significant hijacking of a an American important to the sitting Administration. These two events are woven into a narrative where the European Union and the United States need to work together to constrain the Russian leader from leveraging the crisis to gain a significant advantage.
This means in his piece, the Holden special ops team works within the U.S. military structure and the Washington-based policy team, to deal with events on the ground, European leaders and finding a way to deal with Putin directly, while working to deal with events on the ground in Belarus. Working through the novel reminds you of how many things have to go right to attenuate a crisis; they also remind you of how they might spin out of control as well.
The book is a good read and provides an opportunity to think through how crises can unfold in the evolving context of global disorder.