Did the Apache Decision Provide Best Fit for Australian Strategic Needs?
Recently, the Australian Department of Defence made the decision to replace their Tiger helicopters for the Australian Army.
They chose the Apache as the replacement helicopter.
There is much that makes sense here as the Apache is a well-travelled U.S. Army asset, although not in the Pacific theater.
Certainly, the Australians are keen to ramp up manned-unmanned teaming as seen with the adoption of Triton and its integration in the manned aircraft force.
The Apache has made significant progress with regard to working with unmanned systems to operate in the battlespace.
As the look back to the 2020 year's progress, the PEO Aviation noted: "The Unmanned Aircraft Systems Project delivered four Future Tactical Unmanned Aircraft Systems to Brigade Combat Teams and conducted new equipment training on the systems to support the first Soldier-operated flight testing for the Army Futures Command-directed Future Tactical Unmanned Aircraft System capabilities assessments.
"The joint operational events took place to evaluate selected unmanned aircraft systems to assist in defining the capabilities needed in the next generation UAS for brigade combat teams. PM UAS also delivered four Gray Eagle Extended Range (GE ER) units and almost 120 Soldier UAS to the field.
"The Project Management office successfully completed Follow-On Test and Evaluation of the Shadow Block III UAS. The system completed operational test by recording over 400 flight hours and achieving system firsts in Manned/Unmanned teaming with the AH-64D Apache Attack Helicopter."
But was the Apache the best option for the evolving Australian defence force transformation and strategic shift to the Indo-Pacific?
Ian Bostock, the editor of the well regarded Australian publication, Defence Technology Review, has raised just this question in the latest issue of the journal.
His article is entitled bluntly: "Apache Selection at Odds with Australia's Regional Reality."
He argued that the Apache is a battle tested land warfare asset. But it has "not done so in the Indo-Pacific where the Australian Defence Force's operational focus lies."
He underscored that "with respect to deploying Apache on amphibious ships there is a danger in believing the odd image and press release proclaiming that the aircraft can operate a from ships simply because it demonstrates and ability to take-off and land on one. Any helicopter can do that, and it is not the same as living aboard a ship for extended periods….If it is necessary to deploy a non-marinised helicopter under such circumstances, it will also be necessary to pay the piper."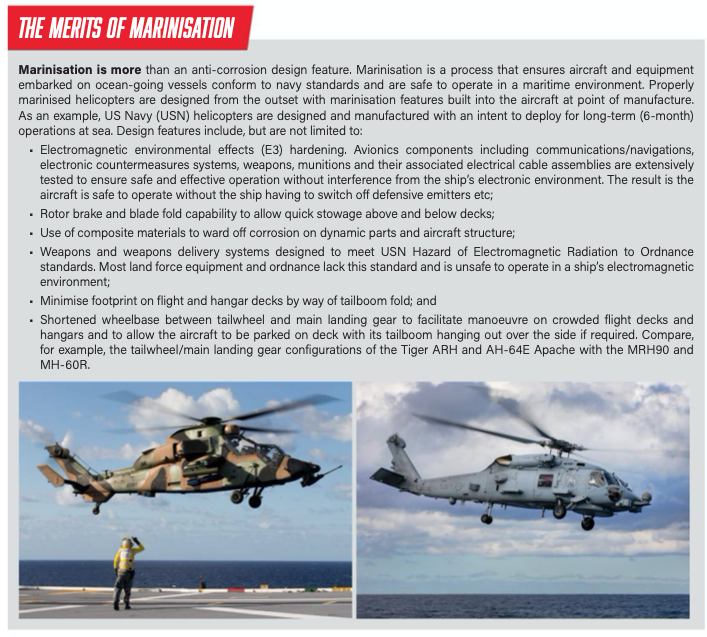 For the complete article, see the following:
https://defencetechnologyreview.partica.online/defence-technology-review/dtr-feb-2021/flipbook/0/
The featured photo shows a US Army Apache landing on the USS Peleliu during a 2014 Rim of the Pacific exercise.