Shaping the Way Ahead for the Maritime Integrated Distributed Force: The Perspective of VADM Lewis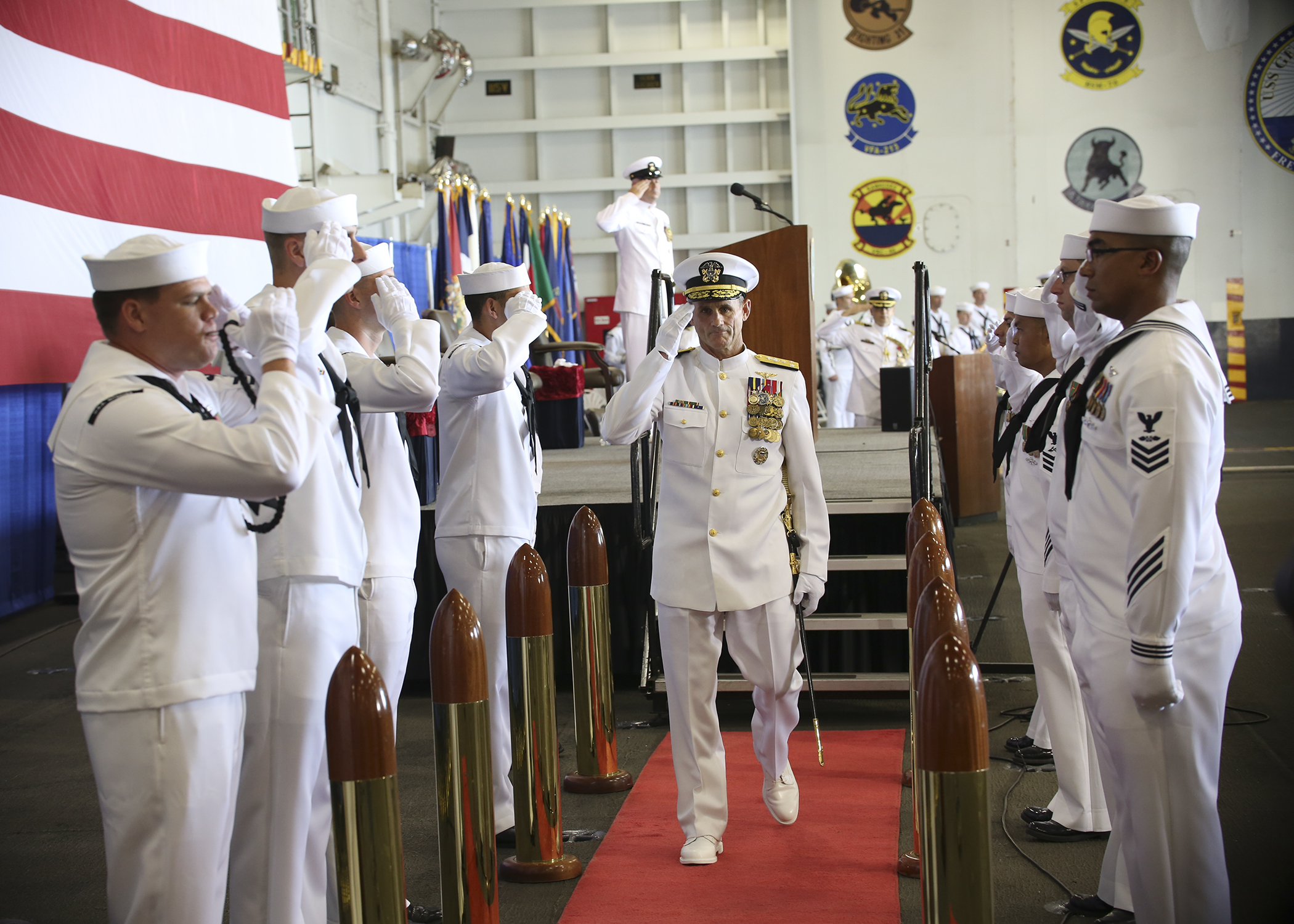 The U.S. Navy is already shaping the foundation for the way ahead to build a more lethal and survivable force in dealing with the challenges posed by peer competitors.
Such a foundation is built around a distributed force which is integratable.
And most notably, not just across the U.S. joint force, but across the entire network of allied forces.
No command is more focused on building this template than U.S. second fleet and its commander VADM Lewis.
It is not about working towards the distant future of a U.S. led Joint All-Domain Command and control (JADC2) force with ghost fleets and artificial intelligence led forces, it is about delivering a more integrated fighting navy working in such a manner with key allies.
In a recent interview with Major General Anders Rex, the head of the Danish Air Force laid out the "future is now" approach with regard to integratability.
As the well-regarded Nordic military leader put it: "For me, joint all domain C2 is clearly the future. But at the same time we have to work on enhanced capabilities with the current force. We need focus on both in parallel. Denmark does not have the muscle to shape the future of all domain command and control, but we also need to drive the change – we need now to get the job done. What I have been focused on over the past couple of years, is to make our force better now. Today."
This is clearly the view of the commander of both 2nd Fleet and the newly established Joint Force Commander Norfolk.
This is probably not surprising in that the Danes are very smart players in terms of what Major General Rex discussed in a 2015 seminar in Copenhagen with regard to "coalitionability," a core capability which he saw then as now as a key way ahead to deter and when necessary fight the Russians.
Recently, VADM Lewis delivered a speech to DSI's 5th Annual Joint Networks Summit.
What follows is that speech, which really does not need further comment, but both its clarity and forcefulness about the way ahead provides guidance on how force building driven by operations means in today's strategic environment.
DSI's 5th Annual Joint Networks Summit Speech
03 Feb 2021
Greetings – I am honored to join all of you here today, to discuss our Navy's efforts toward advancing the concept of a network that is fully integrated across the joint force.
At the beginning of the new year CNO Gilday introduced our Navy's Navigation Plan. Forefront in the plan is fielding a robust operational architecture that supports the joint all-domain command and control concept.
Last year the Navy launched Taskforce Overmatch in the same spirit of NASA's race to the moon, and the ingenuity of Polaris and Aegis to ensure we are ready to compete and win in today's operational environment.  The future fight is over the horizon and will rely heavily on AI and unmanned systems.
My job, however, is to be ready to fight more effectively with the fleet we have today. As such, while many of the conversations here will focus on the aspects of our networks and technology that will drive future battle plans, I want to take the time today to step back and discuss the direction we are heading as a combined force.
My perspective differs from the other warfighters you have heard from, and will hear from. Every strategy has ends, ways, and means. The ends are characterized by those here in the beltway, the means by our budget and relationship with industry, but my role is to focus on the "ways." Translating the strategic plan into tactical activity in the maritime.
The competition will be driven by investments in gray matter as much as gray hulls, airplanes, or tanks. Adversary technology and weapons development are catching up to us. We must create an advantage through how we train and fight.
"Combined" is used intentionally because the only way we will truly have the force we need to face today's security challenges is to strengthen relationships not only within the U.S. armed forces, but also with our Allies and Partners, both in and out of uniform, to include industry, NGO's and academia.
Simply put, a discussion about connection and integration is not complete without our Allies.
Strategic Overview / Background
I have had the honor of being the commander of both U.S. 2nd Fleet and Joint Force Command Norfolk Since 2018. While there are many things I will take from this tour, one realization stands out more clearly in my mind than any of the others.
That is: the importance of cultivating strong relationships cannot be overstated. Maintaining security and stability in the Atlantic is a responsibility shared amongst many in order to ensure the international waters where we all operate remain free and open.
Our collective security and interconnected global economy depend on open shipping lanes, unhindered air travel, and uninterrupted flow of data.
The Atlantic is a critical link to the world-wide fight. Whether our ships are ultimately deploying to the High North, the Eastern Med, the Arabian Gulf, or through the straits of Malacca into the Far East: East Coast ships must first sail across the Atlantic and be prepared to face whatever threats may present themselves in this contested space.
Our history proves this to be true, and has been recognized by American leaders time and time again. I am reminded of this every day, as I am lucky enough to live at the threshold from which President Roosevelt launched the Great White Fleet over 100 years ago.
The strength of our military is dependent upon our ability to get to the fight, and sea control must start in the Atlantic.
Furthermore, the Atlantic isn't simply defined as what floats on or through it, but rather the battlespace from seabed to space, including space, cyber, and the information domains.
As new trade routes open in the Arctic, we must work to ensure they remain free and open for all to safely navigate, but not monopolize, militarize, or restrict.
To achieve this, we are focusing on building and demonstrating our collective strength through interoperability, integration, and ultimately interchangeability as an Alliance.
Together we are more than the sum of our individual parts.
Interchangeability
As such, we organized both Second Fleet and JFC Norfolk as fully integrated. Naval, joint, allied, combined, and active/reserve forces are the foundation of the two commands. As commands in our infancy, we rely heavily on perspectives that come from a diversity of thought, background, and experience.
At C2F, we have integrated officers from multiple allied nations directly into the fleet staff. The U.S. Marines,  reserve component officers, and foreign exchange officers are fully functioning staff members—not just liaison officers—and they include a two-star Royal Canadian Navy officer as the vice commander of C2F.
At JFCNF, an initial team of fewer than ten individuals stood up the command with the help of reserve, joint, and international officers—a testament to integration from its inception.
We are also integrating the staff by functional codes (C2F N-codes in the same building with their JFCNF J-codes), and we aspire to use NATO standards for everything from classification to mission orders and associated command-and-control systems to realize our full potential.
It is not enough that we build and procure systems to further our fighting force. We must break down cultural barriers. As all of us know, we tend to be fairly tribal, especially in the Navy. It's important we look for similarities instead of differences and take the time to open the aperture of conversation to those who think and operate differently than ourselves.
We are doing this through fleet battle problems—challenging our assumptions and testing new concepts and hypotheses to further our understanding of the environment and changing tactics.
We are participating in exercises with allies and partners, such as Operation Nanook, where the USS Thomas Hudner (DDG-116) worked with Canadian, Danish, French, and U.S. Coast Guard ships north of the Arctic Circle. And we are working with other newly formed commands such as Submarine Group Two to test, practice, and refine antisubmarine warfare tactics as seen in the most recent iteration of exercise Black Widow.
This past summer JFC Norfolk hosted a tabletop exercise to analyze the dynamics of our current engagement in the emerging "Fourth Battle of the Atlantic." NATO and U.S. commanders talked through vignettes addressing command relationships, resources, mission priorities, and authorities in the Atlantic.
The exercise's goal was to create a shared understanding of the maritime security environment in the Atlantic amongst all participants, and ultimately to define JFCNF's role in the battlespace as the new command matures.
Spectrum of relationships
Relationships drive all operations, especially in the maritime. In order to operate in the same body of water, we must have awareness of one another, and we must have an understanding of both the battle space, and the intentions of others operating in that space. Awareness is critical with both friends and foes.
This is why it is so critical that all that consider themselves professional mariners adhere to international laws and codes.
Next, interoperability. Interoperability is defined as "the ability to act together coherently and efficiently to achieve tactical, operational, and strategic objects" often involving the ability to exchange information or services by means of electronic communications.
We must then be integrated. The ability for forces to not only work toward a similar mission, but to do so as one unit. An example of this is the Mendez Nunez, who deployed as part of the Abraham Lincoln Carrier Strike Group in 2019.
The final step in the spectrum of relationships is interchangeability. That is the ability to accomplish the mission, regardless of which nation is executing a particular role.
The CNO discusses interchangeability in our NavPlan, saying that our naval power is amplified by sailing and integrating with like-minded navies, and that we must strengthen our alliances and partnerships to ensure our success across the continuum of day-to-day competition, crisis, and conflict.
It continues that "we must continue operating interchangeably with key allies to expand the reach and lethality of our collective forces across the globe." An example of this interchangeability would be the UK's Queen Elizabeth operating with a U.S. Marine Corps squadron of F-35s – the pinnacle of integration and interoperability!
But, in order to support this vision set forth by our leaders, we must first focus on the most three basic tenants of interoperability and integration. People, Processes, and Technology, or more plainly— relationships, procedures, and stuff.
People
First People – since the establishment of both our commands, we have been moving rapidly to build our capability and capacity through partnerships, training and operations; many of which have been hand in hand with our sister services, Allies and Partners across the Atlantic.
No one nation can face today's security challenges alone. The Joint service, allies and partners are force multipliers. Serving together, studying together, and participating in exercises together only increases our combined operational readiness.
However, these relationships require time, effort, and we cannot assume that because they exist today, they will exist tomorrow. We value these relationships and it takes concerted effort to build and maintain them – a critical advantage we hold over our competitors.
I would wager that I spend more than 80% of my time maintaining relationships – both up and down the chain of command, and outward and externally with my counterparts in various organizations on both sides of the Atlantic.
Relationships don't cost anything, and though hard to see immediate success and measured results, if cultivated correctly, these force multipliers will lend themselves to more efficient processes and coordination, and ultimately interoperability, by which we operate.
As I said at the start, maintaining security and stability in the Atlantic is a responsibility shared amongst many in order to ensure the international waters where we all operate remain free and open.
Rather, it is a shared responsibility to ensure we are making changes to the way we operate TODAY, vice waiting until after hostilities start. We cannot afford to learn those lessons the hard way.
Processes
Which brings me to my second point – Processes.
We recognize in the Navy and the Joint Force that we have capability gaps that require our attention – one of which is what we are here to discuss today – C2 networks and the integration into a single structure.
As we work to create a more networked force, we need to be agile in the way we think and how we operate with one another.
And I'll take it one step forward, as a dual-hatted commander of a U.S. and NATO command, if we are going truly operate as a joint force and an alliance, we need to implement processes at the beginning and provide more opportunities to train to the NATO standard – in addition to a standard across the Joint force.
We put a premium on "local knowledge" and we look to leverage the knowledge and expertise from our Allies in operating under the NATO umbrella as we drive towards a new standard.
An example I mentioned before, we recently sent the destroyer USS Thomas Hudner up to the Arctic to participate in Operation Nanook with our Canadian, Danish, and French counterparts. Operating alongside our allies and partners in a region where we haven't operated frequently in the past decade helps us better understand the operating environment, especially those where we see communication degrade at higher latitudes.
When we lose our ability to effectively communicate – by GPS or satellite communications, or even line-of-sight or digital communications, we have to revert back to our basic training and the processes by which we execute operations.
As I mentioned previously, our competitors are engaged in operations just below the threshold of conflict— in the gray zone. More and more the electromagnetic spectrum is infringed upon and manipulated by nefarious actors and as such we need to rely upon mission orders – or processes – in order to maintain the initiative.
Technology
Which bring me to technology – the "things" that connect us together – and for all intents and purposes, the reason many of you are here at this forum today.
There is no doubt our military leaders recognize the importance of a connected network across the joint force. A networked fleet of the future requires a resilient operational architecture to integrate our command and control, sensors, shooters, and weapons – and one in which naval forces play a critical role as we frequently operate in multiple domains.
The vision includes joint forces operating in multiple warfighting domains while using emerging technologies.
From a naval perspective, if we can focus on organizing and merging cooperation surrounding our carrier strike groups, underwater superiority, navy-marine corps integration, and future unmanned and artificial intelligence warfighting capabilities across the joint force, we WILL remain on the leading edge of this great power competition.
The Navy will continue to participate with other services in JADC2 experimentation venues as we also work at the fundamentals of interoperability.