Norway and Energy Security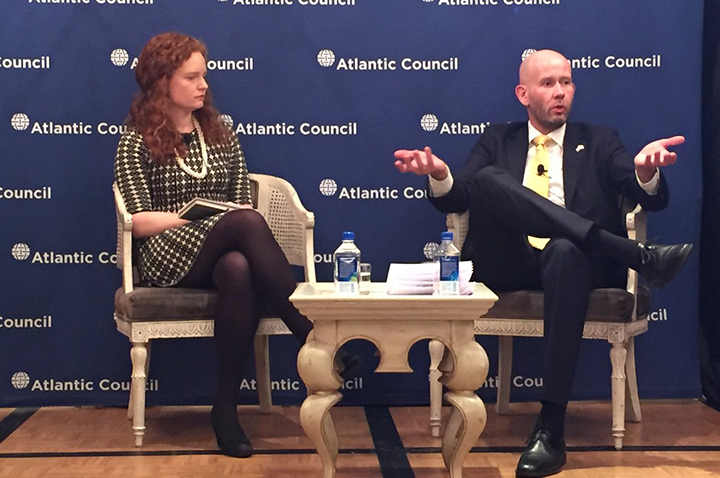 The Norwegian approach to energy security was outlined in a 2016 presentation by a senior Norwegian official.
That approach was highlighted and discussed in an article first published on February 26, 2016.
That article follows:
Yesterday at the Atlantic Council in Washington DC, Tord Lien, Norway's Minister of Petroleum and Energy presented his assessment of Norway, the High North and European Energy Security.
Because he is neither the Foreign nor the Defense Minister, his discussion of security was limited to discussing security for the market more or less for Norway and for sustained economic growth in the European region.
http://www.atlanticcouncil.org/events/webcasts/gas-from-norway-s-high-north-bringing-energy-security-and-opportunities-to-europe
Having grown up in the Norwegian High North, the Minister emphasized that Norway unlike other members of the Arctic Council were working their resources in the region virtually year round.
Known as the Blue Arctic, Norway is able to extend its production techniques shaped in the Norwegian Continental Shelf to the Arctic region.
He focused on the importance of shaping a global natural gas market, and upon the contributions which natural gas can provide as Europe gets off of the use of coal, such as the current UK government has stated as a strategic objective.
https://www.regjeringen.no/en/aktuelt/a-secure-source-of-energy-for-europe/id2465185/
Energy security in the broad sense for Europe, for the Minister, was having a diversity of supplies. Norway and Russia are the top natural gas suppliers to the European market, and by having the Norwegian channel as well as LNG imports from the United States, and growing supplies from Africa, Europe would not need to be dependent upon Russia, which would, thereby, enhance Norway's security.
Another aspect of security, which the Minister discussed, was that of the pipeline network, and he expressed concern with regard to the Russian-German pipelines from this perspective.
He also focused upon the need to expand the pipelines from the High North further South into an expanded European pipeline network. Obviously, ensuring the security of such a pipeline from both a safety and protection sense is important as well.
Because Norway is already expanding its use of Arctic resources, due to its relative benign conditions, it will set the tone for dealing with Russia and other Arctic states, like Canada as the Arctic opens more generally.
And although the Minister was presenting a market driven analysis of the High North and how it fits into the long-range energy plans of Norway, there are broader security and defense challenges of course, notably with regard to Russia.
The ethnic homogeneity of Norway clearly allows Norway to use its economic benefits from the energy trade in a way countries shaped by immigration dynamics, such as Canada and the United States will not.
It is also the case that because the Norwegian High North is an integral part of Norway in a way Greenland and the Faroe Islands are not for Denmark that the concerns about outside intrusion within the internal Arctic development affairs which are central in Denmark, are not a preoccupation for Norway.
It really boils down to dealing with their closest neighbor with regard to the Arctic, namely Russia. And here the question is how to cooperate but also best to protect one's sovereign interests.
This topic was discussed recently in Canada by the Norwegian Ambassador to Canada at the Conference on Security held in Ottowa, Canada on February 19, 2016. At that event the Ambassador highlighted the importance of the Arctic and the challenge of dealing with Russia.
To understand the rationale behind Norway's approach it is often instructive to look at the world from a circumpolar perspective and Norway's position geographically and strategically.
80% of our maritime areas are north of the Arctic Circle and almost 90% of the export revenues come from the sea-based economic activities and resources.
In short, Norway has important economic interests to safeguard in the north.
Norway is therefore consistent in our support for international law. Our democracy and our welfare depends on it. 
Russia 
Located on NATO's northern flank, Norway puts special emphasis on the need for predictability and stability in our relations with Russia.
This is an area where NATO and Russian interests meet.
We have a common interest in keeping the High North a region of peaceful cooperation and sustainable development.
This is the situation today.
We want to keep it that way. 
Russian aggression in Ukraine has demonstrated that Russian will and ability to use military force have changed the security landscape in Europe. Norwegian reactions to Russia's violation of international law in Ukraine have therefore been clear and unambiguous.
At the same time, as neighbours that share common resources and challenges in the north, Norway has been able to continue important practical cooperation and political contact with Russia. Confidence building is in Norway's interest. 
Norway continues to support cooperation efforts in the Arctic Council and other regional forums where Russia participates. As we see it, engagement with Russia in the north contributes to maintaining the High North as a region of cooperation, low tension and respect for international law.
This year the Arctic Council celebrates 20 years of successful cooperation and enjoys a stronger position than ever internationally. [ref]This summary of the Ambassador's remarks was provided by Chris MacLean, editor of Front Line Defence.[/ref]
In many ways, the Norwegian position taken with regard to the Russians and the Arctic is similar to how Australia discusses its relationship with China, namely, it is about enhancing commitments to rules-based regional order.
As the Norwegian Foreign Minister highlighted in a speech in Oslo on February 1, 2016 that challenge of dealing with a Russia which is a partner in the Arctic but also a global competitor:
In Europe, Norway stands firmly with Ukraine, our allies and partners in defense of the principles that have made our security and prosperity possible. We all stand to lose from an international system where no cost is imposed on those that break the rules. 
Norway's policy towards Russia will always be influenced by geographical proximity and a range of common interests, even in times of political differences.
During the Ukrainian crisis, Norway and Russia have been able to continue important practical cooperation and political contact. 
Maintaining peace, stability and cooperation in the High North is a key foreign policy priority for Norway. Continuing our cooperation in the Arctic Council will remain important. 
We also need to address the broader security implications of Russia's actions – by strengthening Nato's military capabilities and reassuring our Eastern allies of our solidarity and support. Their concerns are our concerns….. 
All allies must be confident that their security concerns are taken seriously.
Norway will continue to raise Nato's situational awareness in our region.
https://www.regjeringen.no/en/aktuelt/security_challenges/id2473261/
The video below is of Norway's Minister of Petroleum and Energy, Tord Lien, speaking at an event hosted by the Atlantic Council's Global Energy Center in Washington on February 25, 2016.
Editor's Note: It might be noted that while the Norwegian Minister was in Washington, Norway was leading a major NATO exercise on Norwegian territory called Cold Response.
As the UK Ministry of Defence has described the exercise from a UK point of view:
Exercise Cold Response will draw in around 750 personnel from the Royal Navy and Royal Marines, along with two warships. It will give the UK and its NATO Allies the opportunity to test crisis response during the demanding winter months.
The multi-national exercise, taking place in Norway, will also involve Denmark, the Netherlands, Sweden and the US.
It follows the Defence Secretary's announcement earlier this month that the UK will double its maritime deployments to NATO in 2016.
Defence Secretary Michael Fallon said:
This underlines the UK's resolve to defend our northern allies at sea.
We are spending more on defence and increasing our maritime commitment to NATO in 2016.
All of this sends a clear message that we will respond to any threat in an increasingly dangerous world.
Exercise Cold Response covers land, sea and air elements. UK involvement focuses on maritime and will involve around 350 Royal Marines from 3 Commando Brigade working closely with Dutch marines.
The UK is also committing Type-23 frigates HMS Iron Duke and HMS Sutherland, each carrying around 200 Royal Navy personnel.
The purpose of the exercise is to demonstrate the flexibility and speed of response to reinforce NATO's northern flank. It forms part of the UK contribution to NATO's Assurance Measures.
Exercise Cold Response offers significant training value. The Royal Marines are the UK's cold weather warfare specialists and this exercise concludes their annual cold weather training period in Norway.
This would constitute another element of what one might call a multifaceted Norwegian response to dealing with the Russians,
The featured photo shows Norway's Minister of Petroleum and Energy, Tord Lien, spealomg at an event hosted by the Atlantic Council's Global Energy Center in Washington on February 25. Annie Medaglia, Deputy Director of the Center, moderated a discussion with the Minister. (Atlantic Council)