Indian Navy and Its Future: The Perspective of Chief of Naval Staff Admiral Sunil Lanba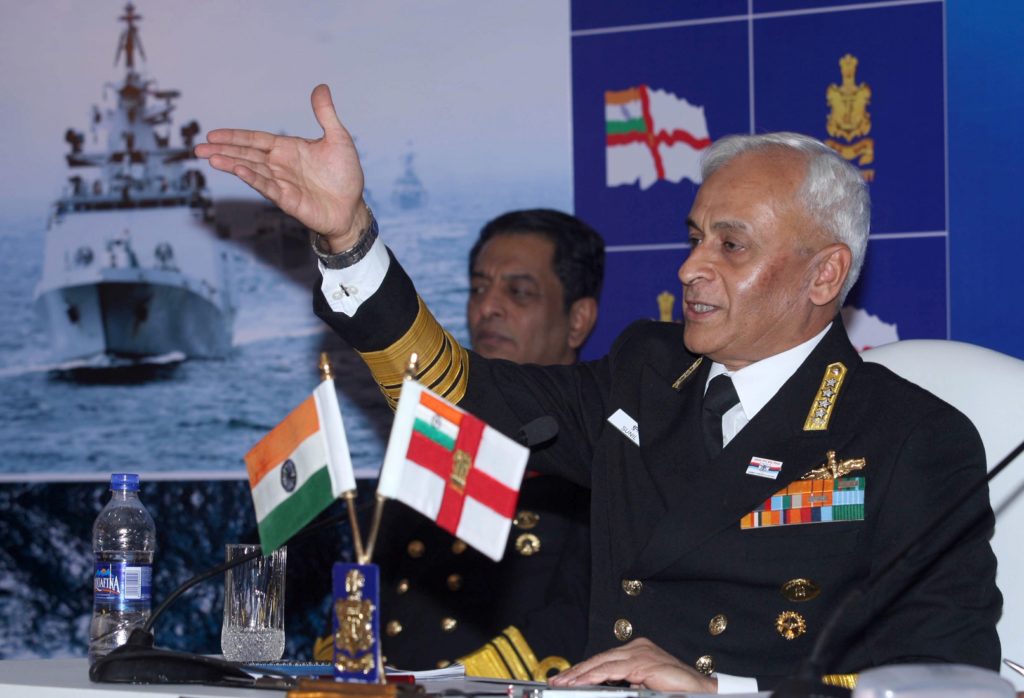 New Delhi, India will have a "200 ship, 500 aircraft, world class Navy" by 2050," Chief of Naval Staff Admiral Sunil Lanba has stated.
Speaking on the eve of the Indian Navy Day December 4, he unveiled the blueprint for a relentless naval build-up intended to retain India's position as the leading military power in the Indian Ocean Region, and disclosed: "Thirty-two warships are under construction at Indian shipyards at the moment. Approvals have been given for the construction of another 56 warships and six submarines."
Admiral Lanba was addressing his annual press conference in New Delhi, and responding to questions on Chinese Navy's increasing buildup in the Indian Ocean. He acknowledged that its presence in the waters close to India had escalated to between six and eight warships at any point of time, generally including at least one submarine in India's maritime backyard.
For instance, a Chinese PLAN – as the Chinese Navy is known – conventional submarine was present in the Indian Ocean for about a month around October this year.
He did not say but it is known that China has been securing bases in India's neighbourhood, and in Pakistan, it has taken control of the strategic port of Gwadar and 5000 acres around it on the Arabian Sea on near permanent terms. Contractual terms are not known specifically but in the case of Gwadar and surrounding area, it should be a 99-year lease in return for huge monetary deal.
The implications are obvious and need not be elaborated.
About the Indian Navy's future programme, Admiral Lanba observed: "If I crystal gaze ahead to 2050, we will be a 200 ship, 500 aircraft world class Navy." disclosing the intended force levels. The build period for the new lot of 62 warships and submarines will be spread over a decade.
The current strength of Indian Naval warships is about 140. Some of the ships in the lineup under construction will be replacement for those being phased out and some for force accretion, the naval Chief said.
Among the significant announcements he made are commencement of construction of India's third aircraft carrier within three years, and impending approvals for programmes to build six additional conventionally-powered Project 75 (India) submarines with Air Independent Propulsion (AIP) and as many as 134 naval helicopters under the new Strategic Partnership Programme.
Approvals of the Defence Acquisitions Council (DAC) are expected soon.
"We're hopeful that in the coming months, contracts for LPDs (Landing Platform Docks), fleet support vessels and other ships will be finalised," the Navy Chief added.
Justifying the requirement for a third carrier battle group, Admiral Lanba reasoned that this ensures operational availability of two carriers at any time, exercising presence off both of India's western and eastern seaboards. The third has to be under maintenance and periodic refit.
He pointed out that "a submarine is for sea denial while a carrier battle group is for sea control."
Notably, it takes a long time, like 10 years to build an aircraft carrier after all the financial and technological approvals are given. With some speed, construction time for India's third carrier, designated IAC II, will be "seven-to-ten years" he said.
At the moment, India has only one aircraft carrier, INS Vikramaditya, acquired from Russia while China has known plans for four.
India's first indigenous carrier, the 40,000 ton Vikrant, is in the third and final stage of its construction at Cochin Shipyard, and will be ready for sea trials within three years, he said.
Going public on the concept for the form, fit and size of the second Indigenous Aircraft Carrier (IAC-II), Admiral Lanba said, "It will be a 65,000 ton, conventionally powered CATOBAR carrier with indigenous twin-engine fighters developed and produced indigenously by the Aeronautical Development Agency (ADA) and Hindustan Aeronautics Limited (HAL) operating from its deck.
While the Navy has not accepted the single engine Light Combat Aircraft (LCA) Tejas because of its shortcomings for deck operations, it has nonetheless given substantial funding to HAL for technology building and demonstration, and apparently, the naval Chief is now referring to the Advanced Medium Combat Aircraft (AMCA) that ADA and HAL are working on.
The Indian Government has made known to foreign vendors that all new aircraft being acquired by the Navy, Indian Air Force (IAF) or Army will have to come with significant technology transfer to facilitate the growth of the Indian aeronautics industry.
The naval Chief's announcement is a significant signal to the global arms bazaar, which has been pitching competing offers of foreign-made deck-borne fighters to the Indian Navy for the IAC-I and IAC-II.
In an interaction though with India Strategic, Admiral Lanba said the requirement of 57 aircraft for IAC I continues to be examined from the international market. The Navy is looking at twin-engine US Boeing F-18 Advanced Super Hornet, French Rafale, and an upgraded version of Russia's MiG-29K which it is already operating on INS Vikramaditya.
Admiral Lanba said the Navy has always accorded importance to indigenisation and that "there's a big focus in aligning India's naval build-up with the Make in India agenda."
For instance, business committed to Indian companies since 2014 accounts for "82 per cent of Acceptances of Necessity (AONs) (for naval platforms and weapon systems) on cost basis, 72 per cent of cost of contracts concluded, and two-thirds of the procurement budget."
Admiral Lanba also gave details of an ambitious plan to address the critical shortage of anti-submarine and utility choppers.
The case for import of 24 MH-60R Multi-Role Helicopters, with anti-submarine warfare capability, initiated with the US for a government-to-government deal, is intended for commencement of delivery in two years.
Two additional programmes are being processed for building 123 more multi-role and 111 utility choppers under the Strategic Partnership Programme. In fact, the naval utility choppers will be the first programme under this model, and approval has already been given by the DAC, the Navy Chief disclosed.
Notably, while the Chinese shadow is evident over India's construction plans, India's military leadership does not appear to be overly worried.
"In the Indian Ocean Region, the balance of power is in our favour," Admiral Lanba observed, while in the South China Sea, it was apparently in favour of the Chinese Navy.
He also expressed confidence in dealing with any Pakistani threat from sea.
The Indian Navy is matching its ambitious build-up plans with a high operational tempo.
Its biggest ever exercise, Tropex, will be conducted from January to March next year, in which every single operational ship, submarine and aircraft of the Navy will be deployed. The Indian Coast Guard (ICG) will also participate in strength, and a parallel exercise Sea Vigil will test all elements involved in coastal security. "The tempo of exercises is at an all-time high," he stated.
Admiral Lanba said India has exercised with about 20 foreign navies this year.
Notably, in the thick of all this frenetic posturing, the theme for the Indian Navy for the coming year, aptly, is: Mission Deployed and Combat Ready.
This article was first published by our partner India Strategic.