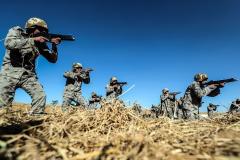 France won arms export orders worth €8.33 billion ($9.3 billion) in 2019, down 8.7 percent from €9.1 billion in the previous year, with France seeking to stay competitive in a weapons market made tougher by the Covid-19 virus, an official report to parliament said.
French companies delivered €9.9 billion of arms last year, a 43.4 percent rise from the previous year, the armed forces ministry report to parliament said.
"The pandemic we are going through exacerbates existing challenges and we have to ensure the economic shock the world is experiencing does not hit too hard our defense industrial and technology base," armed forces minister Florence Parly said in the report, published June 2.
National sovereignty was at stake as the health crisis would hit industry and strain the French budget, she said. Overseas clients will be more demanding and seek greater industrial returns for their spending.
"Competition will be fierce," she said.
"We are aware of it and we are taking action to draw up the battle order."
The ministry expects a "fairly large fall in orders in 2020," with the 2019 sales seen as "a very good figure," afternoon daily Le Monde reported. That positive view of last year's sales factored in the absence of an order for the Dassault Aviation Rafale fighter jet.
"The average for the years without a Rafale contract is between €6-€7 billion," the official report said.
A year-on-year comparison can be of limited use as major deals take time, a consultant said.
"Everything depends on the big deals, which are not won every year," said François Lureau of EuroFLconsult.
Lureau is a former head of the Direction Générale de l'Armement procurement office. The number of sales prospects is a key factor.
"Patience is needed," he said.
Sales to European Union nations further gained in importance, with deals accounting for 42 percent of sales last year, the report said.
The 42 percent compared to 25 percent in 2018, with the latter marking the first time European sales had risen above an average annual 10 percent in previous years.
Contracts with European nations outside the 27-strong EU raised the value to close to 45 percent, the report said.
An arms export agreement reached with Germany in October marked a "major advance" in cooperative programs and for companies shipping components, Parly said.
The report confirmed the Franco-German agreement setting a threshold of 20 percent of French or German industrial content before requiring authorization by the partner nation for a foreign arms deal.
French companies had hoped for a higher threshold, to gain greater freedom before requiring German approval.
Deals with Belgium, Hungary and Spain meant there were three European clients in the five largest contracts signed last year, signalling the importance of Europe in the French export policy, Parly said.
In 2019, Belgium acquired a fleet of minehunters worth €1.8 billion; Hungary ordered 36 helicopters worth €630 million; and Spain bought two military communications satellites worth €430 million.
The two other large deals last year were two Gowind corvettes to the United Arab Emirates and a design contract in the Australian project for an Attack class submarine.
"In 2020, we will pursue this European export policy," Parly said, adding that France will pursue a large European defense fund, new European financial instruments to acquire arms, and an internal market regulation to promote European weapons projects without "external dependency."
France also seeks to loosen export restrictions, to boost capability developed among European nations, she said.
On prospective export deals, Italy is considering "approval of a new arms deal" with Egypt, including frigates, Eurofighter Typhoons, and a military satellite, according to Italian daily La Repubblica, Middle East Monitor website reported June 1.
That potential acquisition stems from Egypt seeking to "satisfy the government in Rome and to compensate" for the murder of Guilio Regeni, an Italian Cambridge University graduate who was abducted, tortured and killed in Cairo in 2016, the Middle East Monitor reported July 24, 2019, drawing on a report from The New Arab or Al-Araby Al-Jadeed, a London-based website.
The New Arab drew on an Egyptian diplomatic source for its July 24 report, Middle East Monitor reported.
French warship builder Naval Group has been pursuing a sale to Egypt of two Gowind corvettes, to add to the four-strong fleet of the French light warship.
In general, an arms order is a form of political statement, while client nations seek to diversify their base of suppliers, Lureau said.
On the delivery of the first Rafale to India, the fighter had been due to fly to India in May, but that had been delayed due to the lock down of the Merignac factory in response to the pandemic, Financial Express of India reported June 2. The first four-strong batch of Rafale is now expected to be delivered "towards the end of July."
An official ceremony was held Oct. 8 at Merignac for hand over of the first Rafale to India, with the Indian defense minister Rajnath Singh attending.
Featured Photo: Egyptian police trainees in Cairo. Egypt is the biggest importer of French arms. (Photo by Mohamed al-Shahed/AFP via Getty Images)