Black Widow Exercise: Shaping a Way Ahead in Anti-Submarine Warfare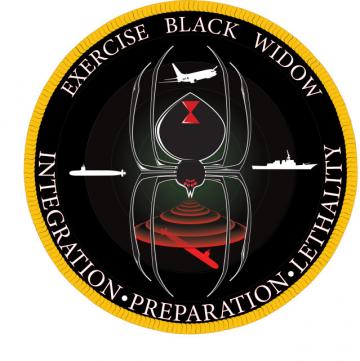 Anti-submarine warfare is a key element of the overall control of the seas and the defense of the homeland.
An exercise underway by 2nd Fleet is highlighting the new way ahead.
This is not classic ASW, but one in which new capabilities are being woven into shaping a 21st century version of ASW to deal with a 21st century threat posed from the sea.
ASW is becoming reshaped by the interactive kill web approach of multi-domain assets focused on a core warfighting capability and set of relevant skill sets.
According to an article by Petty Officer 2nd Class Joshua M Tolbert published by U.S. 2nd Fleet on September 16, 2020:
U.S. Navy aircraft, surface ships and submarines will participate in Exercise Black Widow 2020 in the North Atlantic Sept. 12-18.
During Exercise Black Widow our Fleet warfighters employ, hone, and evaluate tactics, techniques, and procedures to enhance our readiness for real world operations, with specific focus on advancing our theater undersea warfare advantage in a multi-domain environment. This exercise will allow us to develop new doctrine and innovative tactics that address the capabilities of our near-peer competitors across the range of missions we expect to encounter in major combat operations.
This year's participants include the amphibious assault ship USS Wasp (LHD 1), the Arleigh Burke-class guided-missile destroyers USS Arleigh Burke (DDG 51) and USS McFaul (DDG 74), a Virginia-class fast-attack submarine, a Los-Angeles class fast-attack submarine, Patrol and Reconnaissance Wing 11, and Helicopter Maritime Strike Squadrons 46 and 72.
This marks the first time U.S. 2nd Fleet (C2F) and Commander, Submarine Group (SUBGRU) 2 will lead the force. 
"The reestablishment of Submarine Group 2 enables the Navy and our Allies to finely tune our efforts in this resurgent battlespace, and reinforces the critical trans-Atlantic link," said Vice Adm. Andrew Lewis, Commander, U.S. 2nd Fleet. "Exercises like Black Widow give the undersea force a venue to showcase how we are agile, persistent, flexible, interoperable, and resilient." 
Participating units will refine communication techniques between platforms and simulate real-word application to enhance the lethality of the team as one cohesive fighting force. Black Widow also provides a chance for an increased focus on training in anti-submarine warfare on multiple platforms to enhance strategies and heighten the combat readiness of the fleet. 
"Black Widow is a high-end undersea warfighting exercise that brings together Navy aircraft, surface ships, and submarines to rehearse our unique undersea warfare capabilities, while refining and innovating multi-domain tactics and communication," said Vice Adm. Daryl L. Caudle, Commander, Submarine Forces. "We train like we fight, and strive for innovation, development, and improvement across all spectrums of warfare. To maintain superiority, we must be more agile in concepts, geography and technology."
During exercise Black Widow, SUBGRU 2 will work for C2F and SUBLANT, and in cooperation with Undersea Warfare Development Command in Groton, Connecticut, overseeing the tactical operations of all assets to increase the lethality of our fighting forces by forming one cohesive unit.
"Black Widow is a graduate level undersea warfare, building team mastery to ensure superior lethality and undersea dominance in the Atlantic," said Rear. Adm. Jim Waters, Commander, Submarine Group 2. "I am proud of our team's ability to work together throughout the unforgiving undersea environment as one effective fighting force in defense of our homeland."
Exercise Black Widow is conducted in the Atlantic to advance the art of theater undersea warfare in a multi-domain environment in response to the rise of great power competition. Our submarines, surface ships, ASW capable aircraft, and other undersea capabilities work together in a dynamic environment to prepare our teams for challenging operations against near-peer competitors. Our persistent presence in the Western Atlantic is foundational to our security strategy in defense of the homeland.
Featured Photo: An MH-60R Seahawk Helicopter, attached to Helicopter Marine Strike Squadron (HSM) 46, prepares to lower a dipping sonar transducer during anti-submarine warfare (ASW) training with the amphibious assault ship USS Wasp (LHD 1). Wasp is currently underway conducting ASW training in support of Exercise Black Widow 2020. (U.S. Navy photo taken by Mass Communication Specialist 2nd Class Eric Shorter)
An article by Mallory Shelbourne published by USNI News on September 16, 2020 provided further detail from a media roundtable held that day.
"It's pretty well-known now that our homeland is no longer a sanctuary. And so we have to be prepared here to conduct high-end combat operations in local waters, just like we do abroad now, because of the threats and just through these nuclear-powered ships that can travel great distances on the water, nothing's a sanctuary any longer. So that's part of why we have to be so ready," said Vice Adm. Daryl Caudle, the service's commander of Submarine Forces Atlantic.
Navy officials said that the exercise will allow 2nd Fleet to experiment with and better understand its command and control structure.
"Because I have 2nd Fleet now here stood up and a true fleet commander, with a theater undersea warfighting commander working for him, now this is truly – it really is a rehearsal," Caudle said. "So the submarines and surface ships that are involved in this exercise are in a command and control structure that would be identical that if they were deployed to 6th Fleet."
Joint Force Command Norfolk, 2nd Fleet, and Submarine Group 2 will steer Black Widow, U.S. 2nd Fleet Commander Vice Adm. Andrew Lewis told reporters.
Submarine Group 2, led by Commander Rear Adm. Jim Waters, was also recently reactivated as the U.S. recalculated its strategy due to the Russian undersea threat.
"This is where the fight is – where the competition is – that we've got to maintain our positional advantage over the adversary, specifically in the Atlantic the undersea capability of the Russians," Lewis said.
While the exercise includes systems testing, Cardle pointed out that Black Widow also allows the Navy to do command and control testing now that Waters has platforms under his purview that would typically fall under a carrier strike group.
"Part of Black Widow and what makes it different . . . is we are not only testing new capabilities — which means the actual gadgets, devices, sensors, those types of things — along with tactics, techniques and procedures that undersea warfare development center is trying to test," Caudle said. "But we're also testing that command and control structure and making sure that Jim Waters can actually bring those forces to bear on the scenario under the command of Admiral Lewis."
The exercise features one Los Angeles-class submarine, one Virginia-class submarine, destroyers USS McFaul(DDG-74) and USS Arleigh Burke (DDG-51) and amphibious assault ship USS Wasp (LHD-1), according to the service.
Helicopters from the "Grandmasters" Helicopter Maritime Strike Squadron (HSM) 46, the "Proud Warriors" of HSM 72 and aircraft assigned to Patrol and Reconnaissance Wing (CPRW) 11 are also participating.
Lewis declined to say whether they are employing unmanned systems for the Black Widow exercise, but said undersea warfare will include both manned and unmanned platforms in future operations.
"The future of undersea warfare, as well as a lot of other warfare, is in the combination of unmanned and manned and the integration of those," Lewis said.
And in an article by Geoff Ziezulewicz published by Navy times on September 16, 2020, this comment was added:
Black Widow is part of an effort to ensure the service is ready to fight enemy subs, regardless of the Navy platform, U.S. 2nd Fleet commander Vice Adm. Andrew Lewis told reporters Wednesday.
Playing the role of the undersea bad guys are members of the Navy's undersea aggressor squadron, or AGGRON, a unit stood up last year to educate deploying crews and play the enemy elsewhere in the water column.
Battling enemy subs fell down the list of priorities during the past two decades, when the wars in Iraq and Afghanistan, and against asymmetric terrorism, took precedence.
"We've got some incredible warfighters in the submarine community that have stayed on top of this, the rest of us are getting back into that," he added.
The diverse array of surface, air and undersea units in the exercise reflects the priority the Navy is placing on making sure its sub-fighting capabilities are up to snuff, Lewis said.
Editor's Note: This year we have visit Jax Navy, Mayport, North Island Air Station, San Diego, Fallon Naval Air Station and Norfolk and have discussed with a number of the communities involved in the exercise the way ahead on surface and ASW warfare. Ed Timperlake has focused on the expanded role of ASW in homeland defense and advanced multi-domain warfighting as well. 
Some of those articles, for we have many of them, so will only highlight a few representative samples:
O.K I am a P-8 Operator: But How do I Train to Work in a Kill Web?
The Challenge of Manning, Training, and Equipping Maritime Patrol and Reconnaissance Forces for the New Strategic Environment
The Transformation of the Maritime Patrol "Aircraft" Enterprise: The Perspective of Rear Admiral Peter Garvin
21st Century Anti-Submarine Capability as a Key Element for Shaping Escalation Dominance
The Future is Now: The US Navy, the Kill Web and Dealing with Putin's Challenge
A Look Back at the History of US Navy ASW Con-ops and Capabilities
The Surface Fleet, ASW and Defeating Hyper-Sonic Cruise Missiles: The Case of the Zumwalt Class
Shaping a 21st Century Kill Web Approach to ASW: Leveraging the S Cubed Revolution