Working SA and C2 in the Integrated Battlespace: The Case of the RAAF's Surveillance Response Group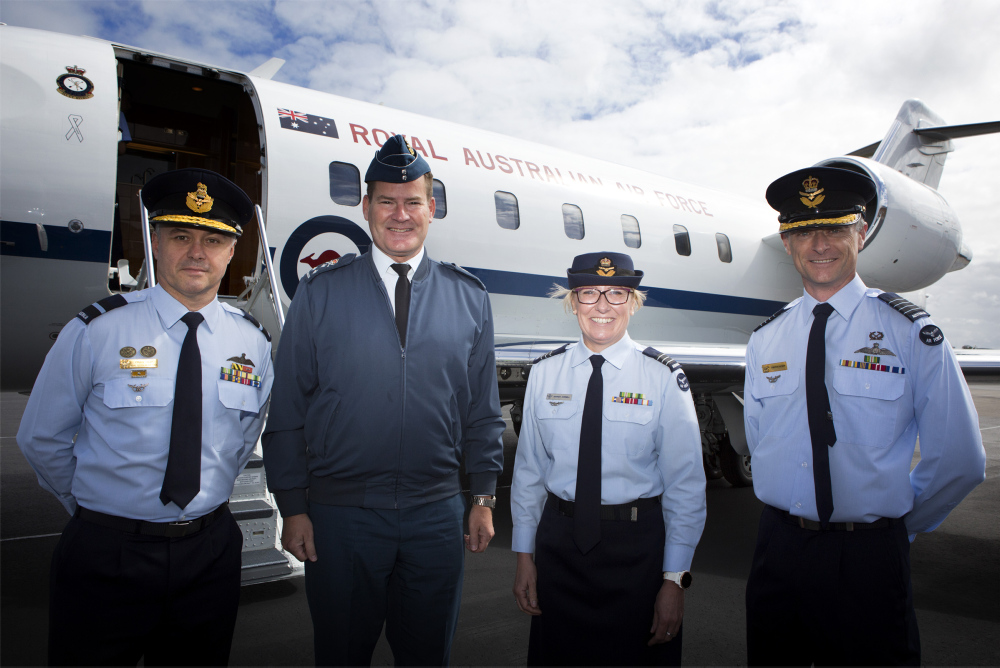 During my visit with Murielle Delaporte to RAAF Williamtown in mid-March 2018, we had a chance to meet with Air Commodore (AIRCDRE) Craig Heap the Commander of the RAAF's Surveillance and Response Group (SRG).
I have had a chance twice before to talk with AIRCDRE Heap as well as to visit other bases where the SRG operates to gain knowledge and understanding of how this diverse command, which is critical to the RAAF's future capability integration as the RAAF evolves, operates.
Indeed, the various Wings in the command can be seen to be operating capabilities that significantly enhance the situational awareness of the Australian Defence Force and the C2 capabilities of any coalition operation. 
Several new capabilities are being added, along with the modernization of core competencies and skill sets to provide for an enhanced ability to protect Australian territory and wider interests as Australia faces dynamic changes in the Pacific regions strategic environment.
One key way that the SRG is contributing to greater capability in the new environment is redundancy and cross support of a variety of platforms and systems to provide greater assurance that the ADF can operate in a contested environment.
With the addition of the P-8A Poseidon, the Triton, of new space capabilities, enhanced ground-based radars, enhanced Air Traffic control radars and systems and the modernization of Wedgetail, the RAAF is seeing an enhanced capability to have greater situational awareness and information to inform and guide the force as Task Forces are assembled to support operations.
At the heart of the change in shaping a more integrated ADF is the ability to shape flexible task forces crafted to deal with specific missions and to do so in contested environments.
This is a work in progress, but the new and evolving capabilities of the SRG are key enablers of such an evolution.
Take Triton as a key example.
The RAAF is standing up its P-8A and Triton force at RAAF Edinburgh in South Australia.
The two are physically "replacing" the P-3's classical maritime patrol and response capability, but are actually capable of much more than their predecessor, and therefore need to be considered through a different lens.
With regard to Triton, AIRCDRE Heap highlighted how the new platform would add a significant new capability not simply to provide greater SA but to drive more effective decision-making in the operation of the ADF.
Notably, it can operate over Australian territory or in the maritime reaches to provide a more persistent and rapidly deployable surveillance capability.
Triton will enable ADF task forces to gain swift and credible real time information to shape not just where to go, but how to build an appropriate task force for a specific mission.
"For example, in a HADR event, the first asset to arrive in the future would conceptually be a Triton.
"Currently, we would normally send a P-3 out to conduct  ISR.
"For a Pacific island scenario, with tasking and then extreme time and space issues, it can take about 12 to 24  hours to get an asset on station, let alone have an analysed product to inform higher decision making.
"With Triton it will deploy much more rapidly with tremendous persistence and an ability to push various critical pieces of information back in real time.
"The result is that we will know what to put on the C-17, or the amphibious ship as we send aide to the country suffering the HADR event.
"We will know that a hospital is damaged or an airfield unusable or degraded, including what we will need to restore essential services.
"And with that information we can better prepare an appropriate Task Force to support the nation".
"The Triton piece is very important because it's a different concept of operation, Wide Area Surveillance WAS (WAS).
"With manned P-3s and P-8s we have to go to the event. With Triton we can deploy the manned assets to the area of interest prior to engaging the rest of the force, to more efficiently and effectively assign resources and taskings".
AIRCDRE Heap emphasized as well that Triton plus the manned response aircraft, plus space provides redundant capabilities, and such capabilities are crucial in contested operations.
Without redundancy, one has less assurance of the flow of information to deploy and execute the mission's central to the force.
The SRG originated by combining two legacy forces in 2003; the P-3 force and the ground-based Surveillance and Control elements; both Air Battle Management and Air Traffic Control, including battlespace control. The P-3 capability was designed for classical maritime patrol and response such as ASW and ASUW, which then evolved into overland surveillance as well. The ground-based capabilities, which included the continually evolving Jindalee over the horizon radar and space capabilities.
There is a diverse portfolio of platform capabilities in the SRG, however, the digital nature of the force is shaping flows of information to manage and to support command and control regardless of the composition of the task force.
The new platforms and capabilities are not stove-piped but coordinated with stakeholders in the evolving integrated approach of the RAAF and the ADF.
The shift from P-3 to the P-8/Triton WAS dyad is a significant way forward as both are software upgradeable platforms with their data analyzed to provide a more cohesive and coherent SA narrative to the force as it operates regardless of location.
My visit to RAAF Edinburgh highlighted this point in terms of the infrastructure being built to support the two platforms.
At the heart of the enterprise is a large facility where Triton and P-8 operators have separate spaces but they are joined by a unified operations centre. 
It is a walk through area, which means that cross learning between the two platforms will be highlighted.
This is especially important as the two platforms are software upgradeable and the Aussies might well wish to modify the mission systems of both platforms to meet evolving Australian requirements. They are leveraging their cooperative partnership with the USN to maximise these outcomes, which is also tremendously beneficial to the USN. 
The ground-based radar capability will be significantly modernized with the intent to maximize support to the land and maritime-based missile systems acquired by the Australian Army and Navy, while also introducing an Air Force capability in accordance with the Australian government's white paper intent.
And this piece is being actively worked between Army and the Air Force to ensure that their systems work together as an integrated blue force rather than exposing the force to fratricide risks.  The first Army junior NCO from 16 Air Land Regiment has recently graduated as an Air Surveillance Operator with SRG.
This trend of joint education and alignment, including the sharing of specialized skills across all Services, will be further normalized in the future, setting the ADF up well to maximize the future introduction and integration of these complex but decisive capabilities.
The goal is to work to ensure integration of Land 19 with Air 6500, two key Army and Air Force programs designed to provide for better integration of defensive capabilities.
Air 6500 will replace the legacy Vigilaire system, with a follow on system, while providing a much more capable integrated air defence system for the wider ADF, while Land 19 Phase 7B from Army will look at the closer range fight.
SRG is a key player in this effort and will assist in shaping a more integrated approach.
Number 41 Wing within SRG provides persistent (24/7) ground-based surveillance of Australia's air space and air battle management for the ADF.  Number 41 Wing has the task of generating theRecognized Air Picture from all sources to inform higher ADF situational awareness and decision-making.
As this capability evolves with technology, mobility is being enhanced to provide support for a deployable force. This is important to deliver high intensity combat effects while supporting power projection of the force against threats from adversaries capable of operating at a high tempo.
Within SRG's 41 Wing is also No. 1 Remote Sensor Unit or 1RSU. 1RSU is the Royal Australian Air Force unit responsible for operating the Jindalee Operational Radar Network (JORN) and many of Australia's emerging space capabilities. While 1RSU's operations center is located at RAAF Base Edinburgh, the JORN sites near Longreachin Queensland,Alice Springsin the Northern Territory, and Laverton in Western Australia provide the feeds. 1RSU is the first space operations unit in the Australian Defence Force as well.
The Australian government is also investing in new land based radar capabilities and to enhancing the redundancy of the systems, again looking forward to requirements of dealing with threats in the region.
During our visit, the Australian government announced funding for AIR 2025 Phase 6 which is a mid-life upgrade to JORN. The upgrade to the over-the-horizon radar (OTHR) network is designed to 'open' the system's architecture enabling the insertion of next generation technologies and extend the operational life of JORN to beyond 2042.
As the RAAF adds new systems like P-8A and Triton, it is modifying other SA and C2 capabilities such as the ground-based C2 system and associated ground-based radar as well as a key asset operated by SRG, namely the E-7A or the Wedgetail system. 
Here the software upgradeable systems on board the aircraft along with hardware modifications will be crafted to both enhance, and be enhanced by changes in other parts of the force.
The airborne radar and how it operates on the E-7A is very effective, but it is the Electronic Support Measures System as well which provides enhanced SA for the force, notably in contested and complex operating areas. Knowing the electronic environment and exploiting this advantage through electronic warfare, and superior C2 is critical, and indeed potentially decisive, in any future high intensity operation.
And Wedgetail as a multi-mission system can switch from its primary radar role to a primary ESM role as the threat and need dictates.
It is empowered as well by its ability to link with other systems but "if those links are jammed or degraded in a contested environment, Wedgetail is also positioned to enable a redundant C2 solution with the system which remains"
As we concluded our discussion, AIRCDRE Heap was asked how he would describe the difference in the threats he faced when he entered the force from the evolving threats today.
His answer was both clear and insightful.
"We have gone from dealing with relatively small tactical SA and strike bubbles, missile engagement zones in relative terms, around warships, airfields or other critical assets, to much wider, more complex and denser zones.
"We are shaping complimentary capabilities, which need to operate effectively, with levels of redundancy, in these high threat environments, while being able to defend against ever more capable threats across the spectrum of conflict.
"To achieve this aspirational goal, we need to engender a multi domain outlook, which includes not just hardware, but cross-domain education and operational practice, such as that we have seen being led through Jericho, and with the Air Warfare Centre.
"The other change is how radars operate.  Legacy radars generate wave forms which we could detect, identify, classify and engage; now the systems are more complex and harder to classify. They are very complex in waveform and are often fleetingly emitting. The new systems are delivering the effects at greater range and with more fidelity than the classical parabolic radars of the 20thcentury."
"In a high intensity conflict, that all comes to a head in a technological contest to see who can achieve a sustained and decisive advantage in that electronic warfare fight.
"And then there is the parallel challenge of determining if, how, and when, through robust integrated C2 and a myriad of tactical options, you may want to effect this battlespace by kinetic or non-kinetic means".
For the structure of the Surveillance and Response Group, please see the following:
https://www.airforce.gov.au/about-us/structure/air-command-headquarters/surveillance-and-response-group
The featured photo shows Senior Australian Defence Force Officer for Williamtown, Air Commodore Craig Heap, CSC; Commander of the Royal Canadian Air Force, Lieutenant General Michael 'Mike' Hood, CMM, CD; Commanding Officer No 26 Squadron, Wing Commander Amanda Cornell and Officer Commanding No 81 Wing, Group Captain Timothy Alsop, on the RAAF Base Williamtown flight line.
October 18, 2017.
Credit: Australian Department of Defence