C2, Amphibious Operations and Enabling the Integrated Distributed Force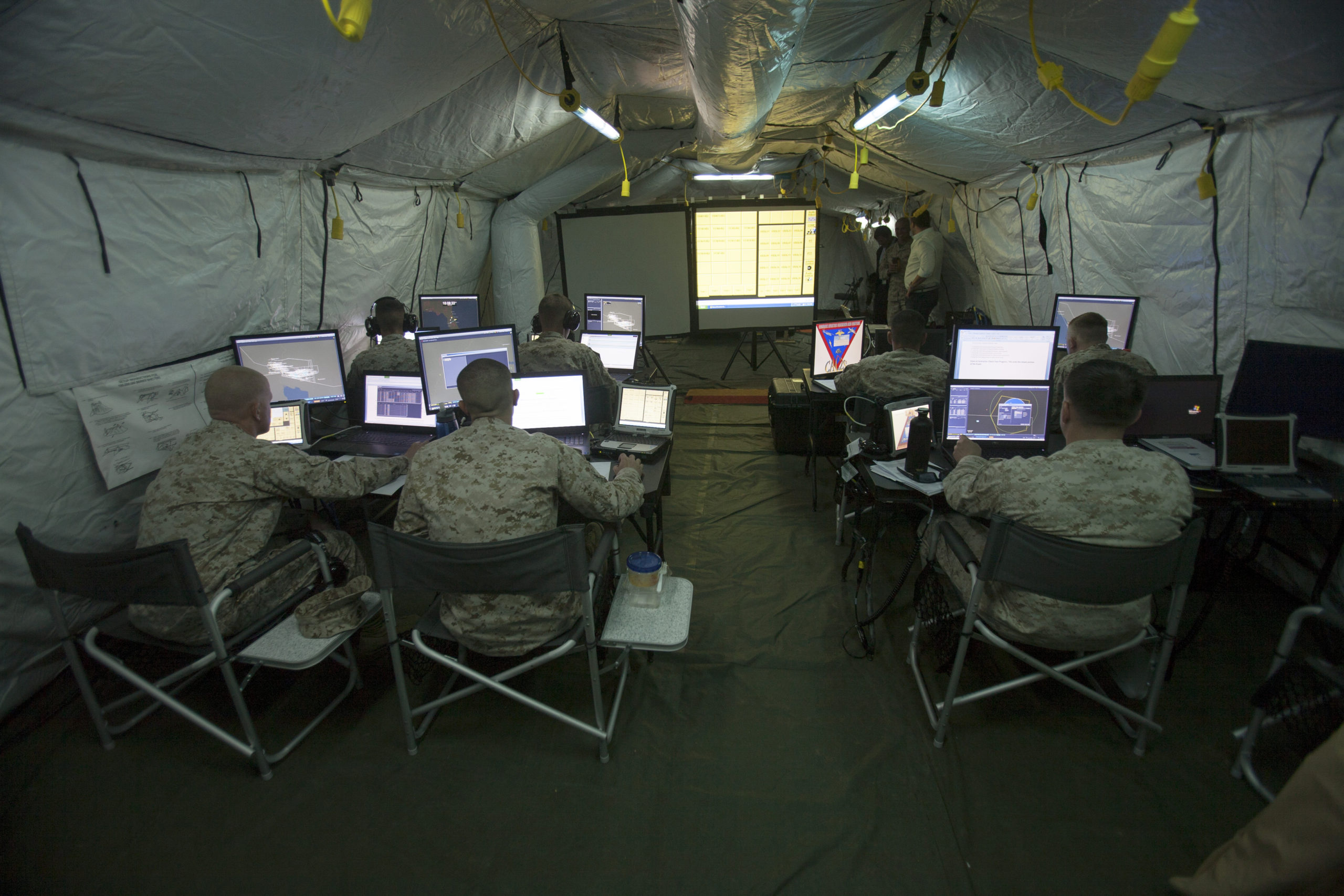 To deal with threats from peer competitors, U.S, and allied forces are working ways to distribute the force but to work ways for integration within those force modules and among them.
With the innovations in C2 and ISR systems underway, the ability to shape distributed forces which can integrate at the point of interest is enhanced.
And as modular task forces operate, when they can connect to other modular task forces, obviously the overall integrated combat or crisis management effect can be enhanced.
But it starts with very flexible C2 capabilities combined with an ability to have sufficient ISR at the point of interest to be able to craft effective operations in that area of operation.
Mission command guides a diversity of modular task forces which deploy into the areas of interest and provide engagement density.
Sensor networks and C2 enable the modular task force to execute its mission and to do assessments to ensure that the mission effect is being achieved.
As my colleague Ed Timperlake has noted: "It must always be noted that in a very short paper, one page, the late Andrew Marshall, Director of Net Assessment introduced what he visualized as a Revolution in Military Affairs (RMA). His brilliant insight is captured by two points: information War and precision guided munitions with remote sensors.
"Over time the word "information" was captured and essentially bigfooted by all things "cyber."
"Fortunately, an appreciation is coming back on all aspects of "information" as a key valuable strategic driver with cyber subsumed as just an important and critical tool.
With the issue of precision guided munitions, many often looked at the technological necessity of trusted remote sensors."
At the strategic level, rather than the experience of the land wars where central control drilled down to the battalion level and geographic control, the focus is upon understanding the interactive multi-domain combat effects.
With the multiple modular task forces, the kill webs may reshape the entire battlespace.
The centralized command, in turn, is focused on leveraging those evolving effects to shape combat or crisis management outcomes.
We have seen this set in motion by the USMC during the Bold Alligator 2014 exercise.
A key part of the Bold Alligator 2014 exercise was a major effort to rework command and control for force insertion from the seabase able to work with the maneuver forces ashore.
Follow up interviews in 2015 with Maj. Gen. Richard L. Simcock II, Commanding General, 2d MEB, and Maj. Marcus Mainz, lead 2d MEB planner for Exercise Bold Alligator 2014 highlighted the evolving approach.
They underscored that innovations in aviation allowed the Marines to extend their reach and provide greater flexibility for amphibious operations. The reworking of the amphibious fleet to deliver capabilities to project power from the sea and the ability of the infantry to implement innovations in maneuver warfare and force insertion require creativity in operational design and C2.
2d MEB exercises C2 of scalable and modular forces by delegating it to a level where tactical operations are more effective.  This construct facilitates mastery of the operational environment in a fluid combat situation by keeping focus at the appropriate levels. It gives the MEB CE (command element) the capability to focus on the operational art that bridges the strategic and tactical levels for political objectives.
Execution of the mission, empowerment of subordinate leaders at the appropriate level, and maintaining situational awareness of the overall situation is a key challenge for C2. The complexity begins with incorporation of joint and coalition forces for Combined Joint Task Force (CJTF) operations. Given that joint and coalition capabilities enhance response time and effectiveness of global operations, C2 takes on a whole new meaning when shaping the appropriate composite force for missions across the ROMO (Range of Military Operations), which makes it central to effective Marine Corps Operations.
Maj. Gen. Simcock explained in his interview that the importance of "providing the Combatant Commander with a force capable of plugging into various joint, coalition, and interagency requirements is essential. The realities of the 21st century security environment demand a smart power approach inclusive of all services of the military, our partners and interagency organizations, which play an integral role in fulfilling National Security Strategy."
Integration of allied and partner nation operational capabilities and systems with the U.S. amphibious fleet will develop, in effect, a global U.S.-Allied amphibious fleet capability. Maj. Gen Simcock also discussed emerging demand for partnership with 2d MEB in global security "since the Marine Corps has revitalized the MEB concept capable of world-wide deployment, we have been contacted by many of our coalition partners, allies and other nations interested in training and operating with 2d MEB."
The way Maj. Mainz explained it: "Composite forces are created when you take disparate forces, which are underneath different command and control structures, and place them underneath one commander tasked with a specific mission. The 2d Marine Expeditionary Brigade is 'a receiver of forces.' We work various compositing options and shape the C2 for those forces coming together to perform the mission."
Maj. Mainz likened the 2d MEB Command Element (CE) to a Swiss army knife. "We want to be the Swiss Army knife of command and control.  We want to morph or adapt into whatever environment we're in – coalition or joint. 2d MEB sees itself as a scalable CE capable of C2 for disparate forces, coalition and/or joint, to address the unique requirements of Combatant Commanders in uncertain environment. The unique term we used during Bold Alligator is we can become a Commander of MAGTFs, not a MAGTF Commander. What that means is we see our Command Element as so flexible we don't have to go into a normal Marine construct."
Evident in the 2014 Bold Alligator Exercise, now the Marines are working to accelerate their working relationships with the U.S. Navy under the Commandant's new guidance.
The challenge being faced is a significant one: How to work the co-evolution of the Navy with that of the USMC to ensure that sea basing and the use of mobile or expeditionary baes as an integrated solution set can be achieved?
A key challenge for the Marine Corps force is working two key elements at the same time: how to contribute as a task force element and how to be able to deploy as a self-sufficient force in a crisis?
On the one hand, what is being worked are new ways to shape modular task forces within which the Marines bring core competencies and capabilities.
On the other hand, how to ensure that the Marines are a survivable force when they deploy as a unit?
Featured Photo: Tactical air defense controllers and air control electronics operators with Marine Air Control Squadron 24, 4th Marine Aircraft Wing run simulations on the new Common Aviation Command and Control System (CAC2S) Sept. 12, 2013. The Marines received training on the new systems during their fielding of the new system, which was the final fielding in Phase I of the CAC2S program.