The Australians Work "Amphibiosity"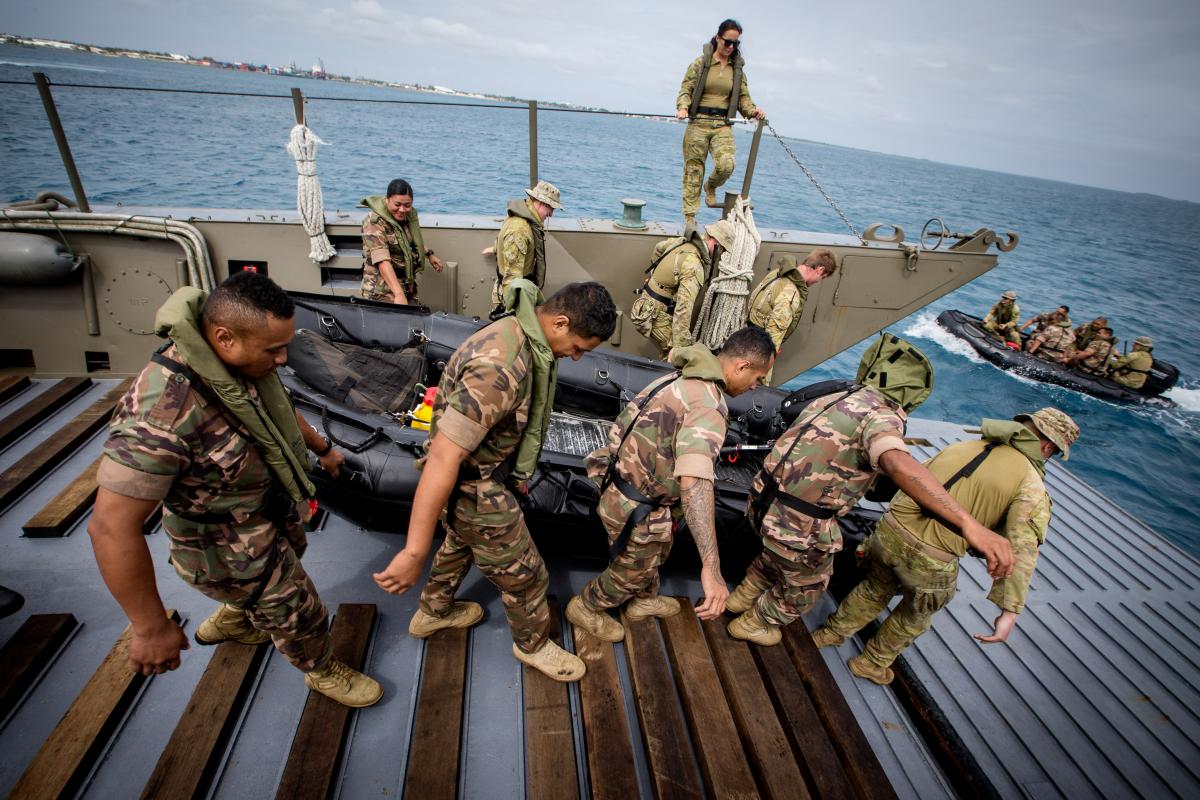 Armed forces from Tonga and the ADF combined for an amphibious beach landing exercise in Nuku'alofa on November 19.
Landing helicopter dock (LHD) HMAS Adelaide's amphibious capability was put on show for the activity, during which soldiers from His Majesty's Armed Forces of Tonga (HMAF) worked closely with their ADF counterparts.
HMAF soldiers boarded the LHD before disembarking aboard Australian Army 35th Water Transport Squadron's two embarked landing craft mechanised Mark 8s (LCM-8).
Adelaide's six-person general purpose inflatable boats were then deployed from the LCM-8s to carry ADF and HMAF personnel ashore.
LCM-8 Coxswain Corporal Nicholas Clark said it was a successful exercise.
"The purpose of the amphibious beach landing was to get personnel and equipment to the beach, as well as work with HMAF to display the capability that landing helicopter docks can provide," he said.
Adelaide's capability includes Humanitarian Assistance and Disaster Relief.
"Our assets could potentially be used as a response to a natural disaster in the Pacific if we needed to get stores and people to shore in order to provide aid," Corporal Clark said.
The islands in the vicinity of Nuku'alofa provided a scenic backdrop for the exercise, with sandy beaches, palm trees and crystal clear water.
"The port visit to Tonga was really nice," Corporal Clark said.
"Nuku'alofa is a nice clean city and the people are very friendly – they'd do anything to help you and they're always smiling.
"There is very strong mutual respect between Tonga and Australia."
Air support for the exercise was provided by MRH-90 helicopters from Army's 5th Aviation Regiment embarked in Adelaide. The aircraft performed winching and load-carrying serials as well as transport for ADF and HMAF observers.
The ADF has an ongoing presence in the Pacific as part of Australia's Pacific Step-up and enduring Defence Cooperation Program.
Australia and Tonga have a strong relationship based on shared ideologies of security, peace and prosperity for all nations in the Pacific.
This article was published by the Australian Department of Defence on November 21, 2019.
The featured photo shows soldiers from the Australian Army and His Majesty's Armed Forces of Tonga prepare to board a Zodiac from an Australian Army landing craft during an amphibious training exercise in Nukuʻalofa. Photo: Corporal Jessica de Rouw