The Quad Comes of Age: An Indian Perspective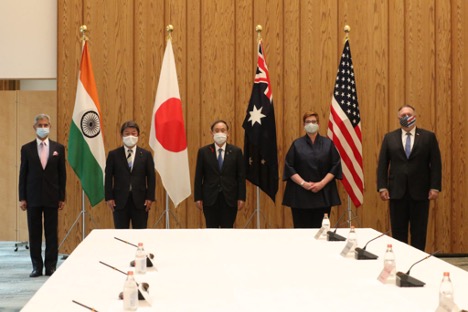 Foreign Ministers of the four member countries of the Quadrilateral Security Dialogue or the Quad, comprising Australia, India, Japan and USA congregated in the Japanese capital of Tokyo on 6th October to deliberate on a variety of issues including maritime security architecture and other challenges confronting the region and the world.
Foreign Ministers of the four member countries of the Quadrilateral Security Dialogue or the Quad, comprising Australia, India, Japan and USA congregated in the Japanese capital of Tokyo on 6th October to deliberate on a variety of issues including maritime security architecture and other challenges confronting the region and the world.
Indian External Affairs Minister S. Jaishankar (left), Japanese Foreign Minister Toshimitsu Motegi, Japanese Prime Minister Yoshihide Suga, Australian Foreign Minister Marise Payne and US Secretary of State Mike Pompeo at the Quad meeting in Tokyo on October 6.
This meeting recorded many firsts. To begin with it was the first stand-alone meeting between the four countries since the revival of this Grouping in Manila on the sidelines of the East Asia Summit in November, 2017. All the previous meetings – 4 of them at the official level and one at Ministerial level – over the past three years were held on the sidelines of major regional or global Summits. It is quite remarkable that all the four Ministers travelled from their capitals for these deliberations during the period of the highly infectious Covid 19 pandemic.
This underlined the seriousness that all the countries attach to this grouping. This becomes even more evident when it is realised that the Australian Minister, Marisa Payne, would be required to quarantine herself for two weeks on her return as per Australia's standard protocol.
No one could have anticipated this development just about a year ago when the Quad met for the first time at the ministerial level on the margins of the UN General Assembly Session in New York in September, or for that matter when the concept of the Indo-Pacific and the Quad re-emerged in 2017. All the four countries have vibrant and dynamic economic relations with China. None of them wants to put them in jeopardy by taking open and up-front confrontational positions against it.
All these countries try to manage their relations with China in the best manner possible although each one of them has several areas of discord with China.
For instance, problems between Australia and China have been brewing for the last many years after Australia realised that China was relentlessly infiltrating its important institutions in fields of politics, business, media, academia, think tanks etc.
Military Dimensions
And of course, China's claims of sovereignty are a big irritant for all of China's maritime neighbours, Australia included. (North Korea is the only exception). China's creation of artificial islands in the South China Sea and their militarization is clearly aimed at threatening its neighbours. China wants to take over Taiwan by 2021, but any attempt in that direction will certainly lead to a war involving multiple countries.
With India, China's relations re bad due to its continuing intrusions and incursions on the border, the most conspicuous of which was China's attempt to create infrastructure in Bhutan which would have posed a significant threat to India's security. The 2017 Doklam crisis was an eye-opener for India, whose Prime Minister Narendra Modi had gone out of the way to extend hands to build and strengthen friendship with Chinese leader Xi Jinping.
China's inexorable support to Pakistan in its actions against India, acquisition of one of the biggest commercial – and naval – bases in the world from it, Gwadar, and attempts to contain India by relentlessly making military and economic inroads into India's neighbourhood have added to the friction. Chinese troops have been increasing their intensity in border clashes for some time, and India is responding with a counter build-up.
China's maritime and aerial threats against Japan in the East China Sea and dispute over the Senkaku islands has soured relations between these countries. And the friction on account of the trade and technology war as well as the fight for global supremacy between USA and China has been going on for the last many years, despite the fact that it is the US which has propelled China's economic rise by becoming its biggest consumer of goods.
Corona or China or Wuhan Virus
To the above potent and unsavoury mix was added the lethal element of the coronavirus at the beginning of this year. This has had a deleterious impact on the health, economies and social systems of many countries around the world.
China's deception and denial of its culpability has been further compounded by the aggression and muscle flexing by it in the Ladakh region against India, in the South China Sea against Vietnam, whose fishing boat it sank, and against Malaysia by chasing its oil exploration vessels, and several aggressive manoeuvres against Taiwan, Japan and others.
China appears to have looked upon this as a god-sent strategic opportunity when the whole world, particularly its main challenger, the United States, is grappling with the health and economic crises due to Covid-19 while it itself, as per its own version, has been able to overcome the impact to a significant extent.
China has used the tragedy caused by its virus, which has killed more than a million people globally in the past four-five months, to strengthen itself internally and externally and prepare itself better to assert its supremacy. In addition, its wolf -warrior diplomacy and its weaponization of several essential drugs and medical implements like ventilators, testing kits etc has united much of the world against it.
According to a poll by the respected Pew Research Organisation, the reputation and influence of China and its President Xi Jinping has suffered heavily over the last few months.
India Fights Back
China seems to have thought that India would be an easy target to subdue. That is where it made its biggest mistake. China has become used to winning battles and grabbing other countries' territories without firing a single shot. It would have thought that a similar strategy would work against India. It unleashed its battery of psy-ops and slickly produced information warfare films on its TV channels and social media hoping that India would succumb when they see the huge "technical superiority and preparedness'' of the Chinese forces. This did not happen.
In fact, it strengthened India's resolve to call China's bluff and give a befitting reply to it while protecting its territorial integrity and sovereignty. Even as the Chinese used barbaric, medieval tools like nail-studded batons against unarmed Indian soldiers – as per an established understanding – they were hit two to one by the brave Indians.
India and Quad
In the post-2017 phase, it is reported that India was reluctant to either upgrade the level of Quad interactions or expand the areas of discussion. This time around however, thanks to China's aggressive attempts to take slices out of Indian territory, it was India which was the keenest in having a face-to-face meeting amongst the Quad foreign ministers.
Several important and far-reaching decisions were taken, the most important being that regular meetings between the four foreign ministers will take place from now on. In addition, meetings at official and experts level will also be held.
This will be a big step forward in formalisation of the Quad structure although currently there are no moves to establish a permanent Secretariat of this Grouping.
India has a regular 2+2 Dialogue mechanism at Ministerial (Foreign Affairs and Defence) with all the three member countries of the Quad. It is conceivable that in the coming years, a joint 2+2 amongst all the Quad members could also take place. This will go a long way in bringing jointness and compatibility in the policies and world view of the member countries.
Discussions between the member countries took place on the expansion of the Grouping. The most suitable candidates could be ASEAN countries as South China Sea and the conflicting maritime claims of several ASEAN members including Vietnam, Philippines, Malaysia etc and China have emerged as the biggest friction points in the region. Since ASEAN operates on the basis of unanimity and several of the smaller and weaker countries have been co-opted by China through financial inducements or otherwise, it would be useful to look at countries individually like Indonesia, Vietnam, Philippines etc. who might be willing to collaborate with the Quad on specific issues.
In addition, some other countries like UK, France, Canada, Germany and others who have interests in the region, are wary of China's increasing power and untrammelled, aggressive behaviour and are keen to maintain the Rule of Law, could also be interested to become members of this Grouping. Peace and freedom of Navigation, not China's command in the waters, is what they all want.
China and the Quad
It is clear that China needs to be thanked for providing a strong impetus to the member countries of the Quad to come together. Although maritime security is an important subject of discussion among the Quad members, both at the official and ministerial level, it is inconceivable that the four countries would bring their forces together to confront China if such an eventuality were to arise today.
Nonetheless, China calls the grouping an "Asian NATO". Howsoever, in the coming years the Quad could evolve to provide a bulwark against threatening postures by China.
Significantly, India has signed Logistic Support Agreements with all the three other members of the Quad and regular exercises between all the three countries in various permutations and combinations have increased the inter-operability amongst their forces. India's relations with the three other member countries have also witnessed a sharp jump in all spheres including political, security, strategic, military, business etc. It is very likely that because of the enhanced trust and confidence between the countries, India invites Australia to the annual Indo-US Malabar naval exercises expected to take place in November, 2020.
Going Forward
Going forward, the Quad could actively contemplate expanding the coverage of issues that it would deal with. These could include but not be limited to 5G technology, quality infrastructure, resilient supply chains, connectivity, HADR (Humanitarian Assistance and Disaster Relief), cyber-security, rare-earths, counter-terrorism, countering disinformation, combating piracy and others.
An Indo-Pacific security architecture would need to be evolved. This should ensure a free, open and rule-based Indo-Pacific confirming freedom of navigation, respect for territorial integrity and sovereignty of all states, and resolution of all disputes through dialogue and in conformity with international law.
The increasing aggressiveness of China is a challenge that the Quad and all like-minded countries need to confront together. The recent Quad meeting in Tokyo demonstrated the resolve of these countries to work jointly so that China's threat to peace in the region and the existing rule-based world order is contained.
Ambassador Ashok Sajjanhar is a 30-year veteran of the Indian Foreign Service. He has served as Ambassador to Kazakhstan and also to Sweden.
This article was published by India Strategic on October 16, 2020.