Nigeria, the Super Tucano and the Cobra: A Tale of Two Aircraft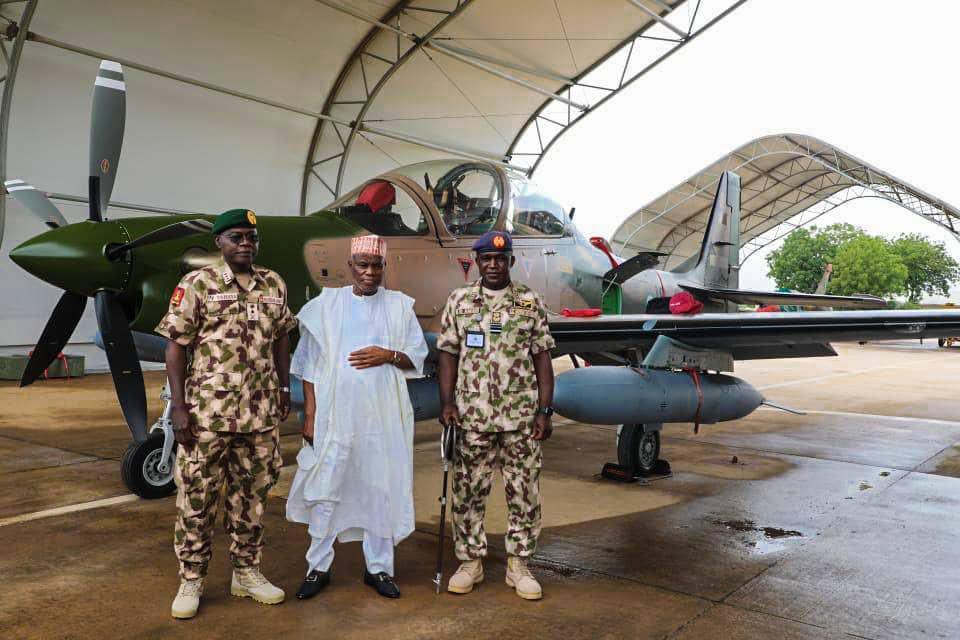 Nigeria is in a tough neighborhood and to assist the government in dealing with those challenges, the Trump Administration cleared the sale of Super Tucanos from the United States to Nigeria.
But now Democratic Senators are blocking the sale of Cobras to Nigeria.
It is a tale of two aircraft caught in the cross-winds of United States politics.
The situation with regard to both aircraft for Nigeria have been laid out by our colleague, Guy Martin, the editor of defenceWeb. a leading South African defence publication.
In an article published on July 23, 2021, Martin indicated that Nigeria had received its first six Super Tucanos.
The first Super Tucanos have arrived in Nigeria.
The Nigerian Air Force (NAF) on Thursday received its first six A-29 Super Tucano aircraft out of 12 on order, after a week-long journey from the United States.
The aircraft arrived in the northern city of Kano where they were received by defence minister Major General Bashir Magashi (Rtd), Chief of Army Staff, Lieutenant General Faruk Yahaya and Chief of Air Staff, Air Marshal Oladayo Amao.
The six aircraft, accompanied by a Dornier 328 support aircraft, left the United States on 14 July and transited through Canada, Spain, Greenland, Iceland and Algeria before arriving Nigeria. They will be officially commissioned into service in August.
The remaining six Super Tucanos will be delivered before the end of October 2021. The four-year period between order and delivery has been partly due to the challenges of configuring the aircraft to meet NAF specifications.
Two different types of camouflage are being used on the Super Tucanos – light desert camouflage and darker forest/jungle. Two of the six (19-2039 and 19-2040) have been delivered in jungle camouflage and the other four (19-2033, 19-2034, 19-2036 and 19-2038) in desert camouflage.
The United States under then-President Donald Trump agreed to sell the aircraft to Nigeria in 2017, resurrecting a deal frozen by the Barack Obama administration after the Nigerian Air Force bombed a refugee camp. On 28 November 2018 the United States Department of Defence placed the $329 million contract with Sierra Nevada Corporation to manufacture the Nigerian Air Force's 12 Super Tucanos. The contract is worth $329 076 750 for the aircraft, although the total not-to-exceed amount is approved at $344 727 439 and is to include Forward Looking Infrared (FLIR) systems for six of the aircraft.
The first Nigerian Super Tucano flew in April 2020 and by the end of 2020, six Super Tucanos were being used for conversion training of NAF pilots at Moody Air Force Base in Georgia, who were there along with 26 engineers, technicians and logisticians. Another set of 35 personnel were also scheduled to join them early this year. In addition, a team from the USA is currently in Kainji overseeing the construction of critical infrastructure provided in the contract ahead of the delivery of the aircraft.
It is expected that Nigerian Super Tucano will be armed with Paveway II guided bombs and laser-guided rockets.
The new aircraft will help Nigeria battle rising insecurity, including mass school abductions in the northwest, Islamist insurgencies in the northeast and kidnappings for ransom and armed robberies nationwide.
Having received Super Tucanos, one has to wonder at the logic of Democratic Senators with regard to blocking the sale of Cobras.
With the Chinese engagement in Africa, a key concern, and with the Afghan legacy of American engagement where it can not win, one wonders why arms sales are not a key means of influencing states to work with the West. And with our closest European allies heavily engaged in the counter fight in Africa, this becomes even more puzzling.
Guy Martin in his July 30, 2021 article focused on the AH-1 Cobra issue.
Nigeria is attempting to acquire a dozen AH-1 Cobra attack helicopters from the United States, but the sale is being held back by US lawmakers over Nigeria's human rights record.
US officials and congressional aides told Foreign Policy that Nigeria is seeking to acquire 12 Bell AH-1 Cobra helicopters and associated equipment in a deal worth around $875 million, but the Senate Foreign Relations Committee has delayed approving the sale. It is not known if the requested sale covers new-built AH-1Z Vipers or second-hand AH-1W Super Cobras.
With foreign military sales, the US State Department notifies Congress through the Senate Foreign Relations Committee and House Foreign Affairs Committee in advance of a formal notification. If committee members raise concerns about the proposed sale, the committees can freeze the sale until their concerns are addressed by the State Department.
According to Foreign Policy, the top Republican in the House Foreign Affairs Committee, Michael McCaul, has signed off on the Cobra sale, but Senator Bob Menendez, chairperson of the Senate Foreign Relations Committee, and Senator Jim Risch, the top Republican on the Senate Foreign Relations Committee, have apparently placed a hold on the proposed sale over concerns with Nigeria's human rights record.
Quoting anonymous officials, Foreign Policy reported that the US State Department informed Congress of the intended sale in January. The deal involves 28 GE Aviation engines, 14 Honeywell navigation systems and 2 000 Advanced Precision Kill Weapon Systems laser-guided rockets.
In June this year Menendez told the Senate Foreign Relations Committee that "coups in Mali and Chad have undermined international counterterrorism and development efforts, and Nigeria requires a fundamental rethink of the framework of our overall engagement."
In October last year he condemned the Nigerian government's crackdown on protestors calling for an end to police brutality, saying, "I condemn the shooting of innocent civilians in Nigeria, and call for an immediate transparent investigation into the alleged actions of the military. I stand in solidarity with Nigerians who are peacefully calling for police reforms and an end to government corruption, and call on President Buhari to ensure security forces cease their violent crackdown on demonstrators. Civilian control of the military is a hallmark of a true democracy and the eyes of the world are now on Nigeria and President Buhari."
Thousands of Nigerians protested nationwide for nearly two weeks last October, demanding an end to a police unit called the Special Anti-Robbery Squad (SARS), which they said was responsible for extortion and human rights abuses. The police disbanded SARS, but denied most accusations.
Nigeria has had a sometimes rocky road in acquiring military hardware from the United States. In 2014, the United States blocked any sale by Israel of surplus American-made weapon systems to Nigeria, nixing the proposed sale of ex-Israeli AH-1 Cobras after citing human rights concerns, saying Nigeria was not doing enough to avoid civilian casualties in the fight against Boko Haram. In 2014 the Nigerian Air Force expressed interest in acquiring a dozen Scorpion jets from Textron AirLand to fight Boko Haram insurgents, but nothing came of this.
Under former President Barack Obama's administration, arms sales to Nigeria were cut back, but when Donald Trump assumed power in 2016, his administration agreed to sell Nigeria 12 A-29 Super Tucano turboprops manufactured in the United States by Sierra Nevada Corporation. The first six arrived in Nigeria this month.
Nigeria continues to acquire military hardware, including from Russia, Pakistan and China, to fight the Islamic State-allied group Boko Haram in the northeast and armed bandits in the northwest of the country. Nigeria is also battling rising armed robberies and kidnappings for ransom where thinly deployed security forces have struggled to contain the influence of armed gangs.
Recent Nigerian Air Force acquisitions have come from Pakistan (three JF-17 Thunder fighter jets and ten MFI-17 trainers), Italy (six armed AW109M light helicopters), Russia (a dozen Mi-35M attack helicopters), and China (CH-3, CH-4 and Wing Loong II unmanned aerial vehicles). The Air Force is also overhauling its existing fleet and bringing grounded aircraft, such as Alpha Jets and L-39s, back into service.