Blue Water Expeditionary Operations: The Role of Mobile and Expeditionary Basing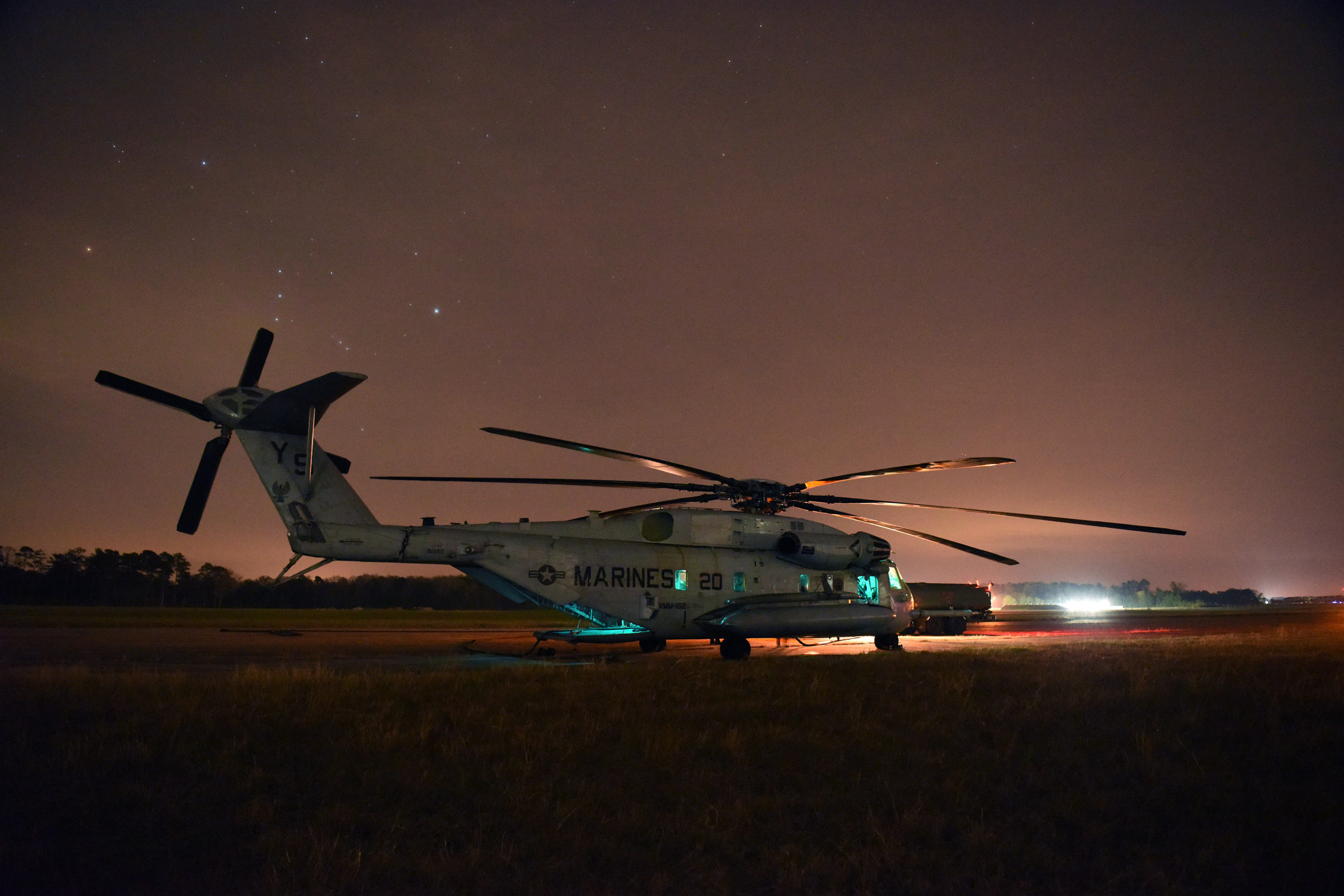 As the USMC focuses on how it can best help the U.S. Navy in the maritime fight, two key questions can be posed: "How is the Marine Corps going to contribute most effectively to the Pacific mission in terms of Sea Control and Sea Denial? And how to best contribute to the defensive and offensive operations affecting the SLOCs?"
Skill sets associated with sea control, sea denial, SLOC offense and defense do not translate easily from the Middle East land wars. How then to shape the new skill sets?  And what is the underlying combat architecture which shapes the approach around which skill sets can be identified? These are not easy questions to answer or even to frame properly. But if you are the center for excellence for Marine Corps air enabled operations you clearly need to find some sound answers, and to shape an effective way ahead. Currently, this is what MAWTS-1 is doing.
As the discussions in 2020 with officers at MAWTS-1 have highlighted, there is a major focus on how to do expeditionary and mobile basing in new ways to support the maritime fight. A key element for an evolving combat architecture clearly is an ability to shape rapidly insertable infrastructure to support Marine air as it provides cover and support to the Marine Corps ground combat element.
This clearly can be seen in the reworking of the approach of the Aviation Ground Support element within MAWTS-1 to training for the execution of the Forward Air Refueling Point mission.
During a visit to MAWTS-1 in early September 2020, a discussion with Maj. Steve Bancroft, Aviation Ground Support (AGS) Department Head, MAWTS-1, MCAS Yuma provide insights into how the Marines are reworking the Forward Air Refueling Points or FARP mission set, a key capability for effective delivery of payloads in a networked expeditionary basing engagement force.  In this discussion it was very clear that the rethinking of how to do FARPs was part of a much broader shift in in combat architecture designed to enable the USMC to contribute more effectively to blue water expeditionary operations.
The focus is not just on establishing FARPs, but to do them more rapidly, and to move them around the chess board of a blue water expeditionary space more rapidly. FARPs become not simply mobile assets, but chess pieces on a dynamic air-sea-ground expeditionary battlespace in the maritime environment.
Given this shift, Maj. Bancroft made the case that the AGS capability should become the seventh key function of USMC Aviation. He argued that the Marine Corps capability to provide for expeditionary basing was a core competence which the Marines brought to the joint force and that its value was going up as the other services recognized the importance of basing flexibility,
But even though a key contribution, AGS was still too much of a pick-up effort. AGS consists of seventy-eight MOSs or military operational specialties which means that when these Marines come to MAWTS-1 for a WTI, that they come together to work how to deliver the FARP capability.
As Maj. Bancroft highlighted: "The Marine Wing Support Squadron is the broadest unit in the Marine Corps. When the students come to WTI, they will know a portion of aviation ground support, so the vast majority are coming and learning brand new skill sets, which they did not know that the Marine Corps has. They come to learn new functions and new skill sets."
His point was rather clear: if the Marines are going to emphasize mobile and expeditionary basing, and to do so in new ways, it would be important to change this approach.  "I think aviation ground support, specifically FARP-ing, is one of the most unique functions the Marine Corps can provide to the broader military."
He underscored how he thought this skill set was becoming more important as well. "With regard to expeditionary basing, we need to have speed, accuracy and professionalism to deliver the kind of basing in support for the Naval task force afloat or ashore." With the USMC developing the combat architecture for expeditionary base operations, distributed maritime operations, littoral operations in a contested environment and distributed takeoff-vertical landing operations, reworking how to execute FARP operations is a key aspect.
FARPs in the evolving combat architecture need to be rapidly deployable, highly mobile, maintain a small footprint and emit at a low signature.
While being able to operate independently they need to be capable of responding to dynamic tasking within a naval campaign. Marines need to be configured and operate within an integrated distributed force which means that the C2 side of all of this is a major challenge to ensure it can operate in a low signature environment but reach back to capabilities which the FARP can support and be enabled by.
This means further that one is shaping a spectrum of FARP capability as well, ranging from light to medium to heavy in terms of capability to support and be supported. At the low end or light end of the scale one would create an air point, which is an expeditionary base expected to operate for up to 72 hours at that air point. If the decision is made to keep that FARP there longer, an augmentation force would be provided and that would then become an air site.
Underlying the entire capability to provide for a FARP clearly is airlift, which means that the Ospreys, the Venoms, the CH-53s and the KC130Js provide a key thread through delivering FARPs to enable expeditionary basing.
This is why the question of airlift becomes a key one for the new combat architecture as well.
And as well, reimagining how to use the amphibious fleet as "lilly pads" in blue water operations is a key part of this effort as well. In effect, an ability to project FARPs throughout the blue water and littoral combat space supporting the integrated distributed force is a key way ahead.
In short, the strategic shift is a crucial one for the liberal democracies. That strategic shift is from a primary focus on counter insurgency and stability operations to operating in a contested environment with high tempo and high intensity combat systems as a primary tool set. It is about managing conflict with peer-to-peer competitors.
Military capabilities are being reshaped to operate in such an environment, and there is a clear opportunity to leverage new platforms and systems to shape a military structure more aligned with the new strategic environment.
Mobile basing and recrafting combat operational architecture are clearly key parts in shaping military capabilities for the new strategic environment.
Mobile basing is an air-maritime-army effort to shape a chessboard of capabilities which can deal with the threats of peer competitors which deploy into the extended battlespace.
The featured photo: A U.S. Marine CH-53 Sea Stallion heavy-lift helicopter stands ready to be used by Marines assigned to the 24th Marine Expeditionary Unit from Camp Lejeune, North Carolina, to conduct forward arming and refueling point (FARP) operations during a ship-to-shore exercise at McEntire Joint National Guard Base, South Carolina, Dec. 11, 2020.
FARP operations minimize fixed and tilt-rotor aircraft response time while decreasing their turnaround time during direct support of sustained operations.
McEntire JNGB is home of the South Carolina Air National Guard's 169th Fighter Wing and routinely hosts multi-service small and large-scale exercises because of its desirable rural setting and ability to provide tailored training options to meet specialized training needs.
(U.S. Air National Guard photo by Senior Master Sgt. Edward Snyder, 169th Fighter Wing Public Affairs)
For the video: U.S. Marines with Marine Air Control Squadron 4 Detachment Bravo (MACS-4 DET B) and Marine Wing Support Squadron 171 (MWSS-171) conduct a Forward Arming and Refueling Point (FARP) exercise at Marine Corps Air Station (MCAS) Iwakuni, Japan. Dec. 13, 2019. FARP training offers MCAS Iwakuni the capability of forward deploying a helicopter and fixed wing arming and refueling point anywhere in Japan. Video by Cpl. Christian Castro. Marine Corps Air Station Iwakuni
For the first piece in this series:
For the second piece in this series: