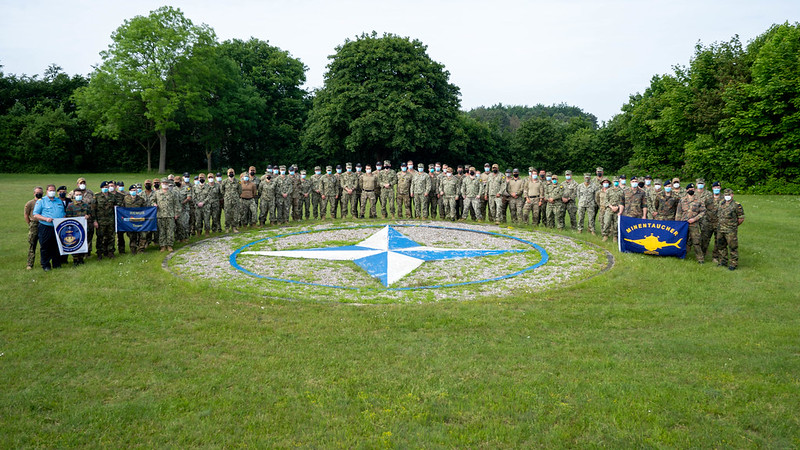 Naval Striking and Support Forces NATO (STRIKFORNATO) concluded the 50th Baltic Operations (BALTOPS), the premiere annual maritime-focused U.S. European Command and U.S. Naval Forces Europe exercise in the Baltic region, June 18.
The two-week evolution saw several "firsts," making this year's iteration a more diverse multi-domain training environment than ever before.
16 NATO and two partner nations participated in BALTOPS 50, bringing together more than 40 ships, 60 aircraft, and over 4,000 personnel. With two standing NATO maritime groups, the exercise reinforces NATO's commitment to regional security, reducing the chance of conflict in the Baltic Sea region.
"This 50th BALTOPS continues to increase NATO's maritime readiness, building the foundation of seamless interoperability," said Vice Adm. Gene Black, commander, U.S. Sixth Fleet and STRIKFORNATO. "Though our ships, aircraft, and commanders have changed through the last 50 BALTOPS, the exercise continues to adapt, ensuring our ability to provide collective defense in the Baltic Sea."
This year's "Break into the Baltic" theme significantly enhanced the geographical scale of the exercise, with participants operating from the Jutland Bank in the west, to Gotland in the North, and Lithuania in the east.
U.S. Marines with the 26th Marine Expeditionary Unit (MEU) and sailors with the Expeditionary Strike Group 2 (ESG-2) participated in BALTOPS 50 at STRIKFORNATO headquarters, in Oeiras, Portugal. This was the largest contingent of U.S. Marines STRIKFORNATO has ever hosted.
"Naval exercises in Europe, like BALTOPS 50, provide us an opportunity to strengthen the relationships, interoperability, and interdependence with our allies and partners while demonstrating our commitment to the collective security within the region," said Col. Dennis Sampson, Commanding Officer of 26th MEU. "BALTOPS 50 provided a unique opportunity for the 26th MEU to train and study emerging concepts associated with the NATO Amphibious Leaders Expeditionary Symposium (NALES), Expeditionary Advanced Base Operations (EABO), and Littoral Operations in a Contested Environment (LOCE). This exercise is one of several critical components of our long-range training continuum that ensures the 26th MEU remains ready, relevant, and capable of aggregating forces and deploying quickly in support of crisis response and expeditionary operations from the land or sea."
The 2nd Marine Expeditionary Brigade and ESG-2 commanders embarked USS Mount Whitney (LCC 20) to command and control the exercise's amphibious forces, developing and enacting modern Allied amphibious warfare tactics. The exercise's amphibious forces, embarked Royal Marines in HMS Albion, conducted amphibious operations in Lithuania as part of the linked exercise BALTIC FORTRESS 21.
"The ESG and MEB staffs have been fully integrated and worked side-by-side as we planned and executed complex warfighting scenarios," said Rear Adm. Robert Katz, commander, Expeditionary Strike Group 2. "We have had an incredible time, working in this vitally important region and coordinating with joint and partner military forces we would not ordinarily cross paths with when working from our headquarters in Virginia."
This year's exercise demonstrated NATO's ability to ensure freedom of navigation in the Danish Straits, and continues to develop the integration of air and maritime warfare, while conducting the full spectrum of naval warfare. The exercise has expanded to a multi-domain battlespace including air power, cyber, and space.
NATO's northern Combined Air Operations Centre at Uedem, Germany again controlled the flying activities during BALTOPS 50 ensuring safety and professionalism in a busy airspace. BALTOPS50 incorporated the German-led Multinational Air Group training event, demonstrated Italian F-35 Link capability with NATO maritime units, and continued to exercise U.S. Air Force joint capabilities by providing KC-135 aerial refueling support and B-52H Stratofortress integration, once again.
"My team of air command and control experts have done a tremendous job enabling the success of truly joint operations of this major maritime-led BALTOPS50 exercise," said Lieutenant General Klaus Habersetzer, Commander of Combined Air Operations Centre Uedem. "In addition to our main enduring mission – NATO's 24/7/365 Air Policing safeguarding airspace and preserving its integrity above the Northern European Allies – we have also integrated the German-led Multinational Air Days and ensured the synergies of both exercises benefited all participants and supported the training objectives," he added.
With an increasing awareness of space capabilities and its influence on our everyday lives, the NATO Space Centre has been integrated into BALTOPS for the first time this year. Space is essential to the Alliance's deterrence and defense, including the ability to navigate, track forces, gather intelligence, and detect missile launches.
For the first time BALTOPS incorporated defensive cyber warfare tactics, techniques and procedures, adding an extra element for Commanders to contend with.
"BALTOPS 50 has delivered everything we set out to achieve. Contributions from well over half of the NATO alliance members, working together with Sweden and Finland," said Rear Admiral James Morley, STRIKFORNATO's Deputy Commander.  "Working together and training together drives integration and cohesion, and improves alliance capability. BALTOPS 50 is the largest maritime exercise to be conducted in the Baltic region, and reinforces and underscores NATO's commitment to regional security and stability."
Two of NATO's four Standing Naval Forces (SNF), Standing NATO Maritime Group One (SNMG1) and Standing NATO Mine Countermeasures Group One (SNMCMG1), participated in BALTOPS 50 during a number of scripted and free play serials. BALTOPS 50 presented a number of opportunities for both SNMG1 and SNMCMG1 to work together to overcome specific operational challenges.
BALTOPS 50 also demonstrated new mine warfare capabilities, ensuring freedom of navigation and enabling secure sea lanes. SNMCMG 1 provided safe passage for all units through the Danish Straits, by clearing the Denmark's Great Belt Region of sophisticated exercise sea mines and Water-Borne Improvised Explosive Devices. The mine warfare program included experimentation with unmanned mine countermeasure (MCM) systems and the integration of Navy MCM detachments with Marine Corps Explosive Ordnance Disposal capabilities.
BALTOPS is an annual U.S. European Command scheduled, U.S. Naval Forces Europe conducted, U.S. Sixth Fleet executed and a STRIKFORNATO delivered exercise conducted in the Baltic Sea. Participating nations included Belgium, Canada, Denmark, Estonia, Finland, France, Germany, Italy, Latvia, Lithuania, the Netherlands, Norway, Poland, Spain, Sweden, Turkey, the U.K. and the U.S.
BALTIC FORTRESS 21 trains Estonia, Latvian, and Lithuanian naval officers to operate at the task group level. BALTIC FORTRESS, provided complex live operations, which incorporates multi-dimensional harbor protection training to provide security from the maritime, across the littoral enabling holistic coast defense.
This article was published by 6th Fleet on June 18, 2021 and was written by Chief Mass Communication Specialist Heidi Cheek.
Also, see the following:
BALTOPS 50: Part of the Mosaic of Re-Working North Atlantic Defense